At VisArts' ArtVenture Summer Camp, young people make art with some of Richmond's most talented artists and educators. We look forward to ArtVenture each year because our building is filled with so much energy and creativity!
ArtVenture 2023
This summer, we're excited to be able to offer on-site classes each week for young people ages 5-14. 
To keep our community safe, our on-site classes will follow a set of safety precautions in addition to following our building-wide COVID-19 Safety Guidelines.
 Camp Information + Safety Policies
Schedule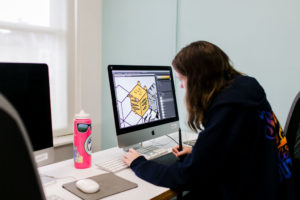 ArtVenture runs for 10 weeks, June 12 through August 18. Each class runs from Monday through Friday. On–site classes are scheduled from 9 a.m.–12 p.m. or 1-4 p.m. A supervised lunch hour is included if you're signed up for on-site classes in both the morning and afternoon. Campers should bring their own lunches. 
There is no class on Monday, June 19 in observance of Juneteenth, or Tuesday, July 4th in observance of Independence Day.
Prices
All on-site classes are $165. VisArts family members receive 10% off tuition!
Classes scheduled for the weeks of June 19th and July 4th are $140.  
Extended Day
Can't make it to VisArts by 4 p.m.? Purchase our extended day add-on for just $55 per week and pick up any time before 5:30 p.m.  This is a great option for working families who may need a little extra time for pickup. 
How to Register
Registration opens to VisArts family members on Wednesday, January 25 at 9 a.m. Public registration opened on Wednesday, February 1 at 9 a.m. Parents and guardians can register their campers online at visarts.org or by calling 804-353-0094. 
Classes for students ages 15-18
Our Art League Program is open to students ages 15 to 18 years old. Art League classes will be published in our summer catalog along with adult and family classes. Summer class registration opens in April. 
Financial Aid
At VisArts, it's part of our mission to ensure that people of all backgrounds, ages and skill levels can explore the visual arts and live creative lives. To ensure that our art classes really are for everyone, we have made Financial Aid aid available to adults, youth and families. Kids and adults can apply to take a class and we scale the cost of the class based on their income level. 
LEARN MORE ABOUT FINANCIAL AID
Have questions about ArtVenture? Contact our VisArts Education Manager Tesni Stephen at [email protected].