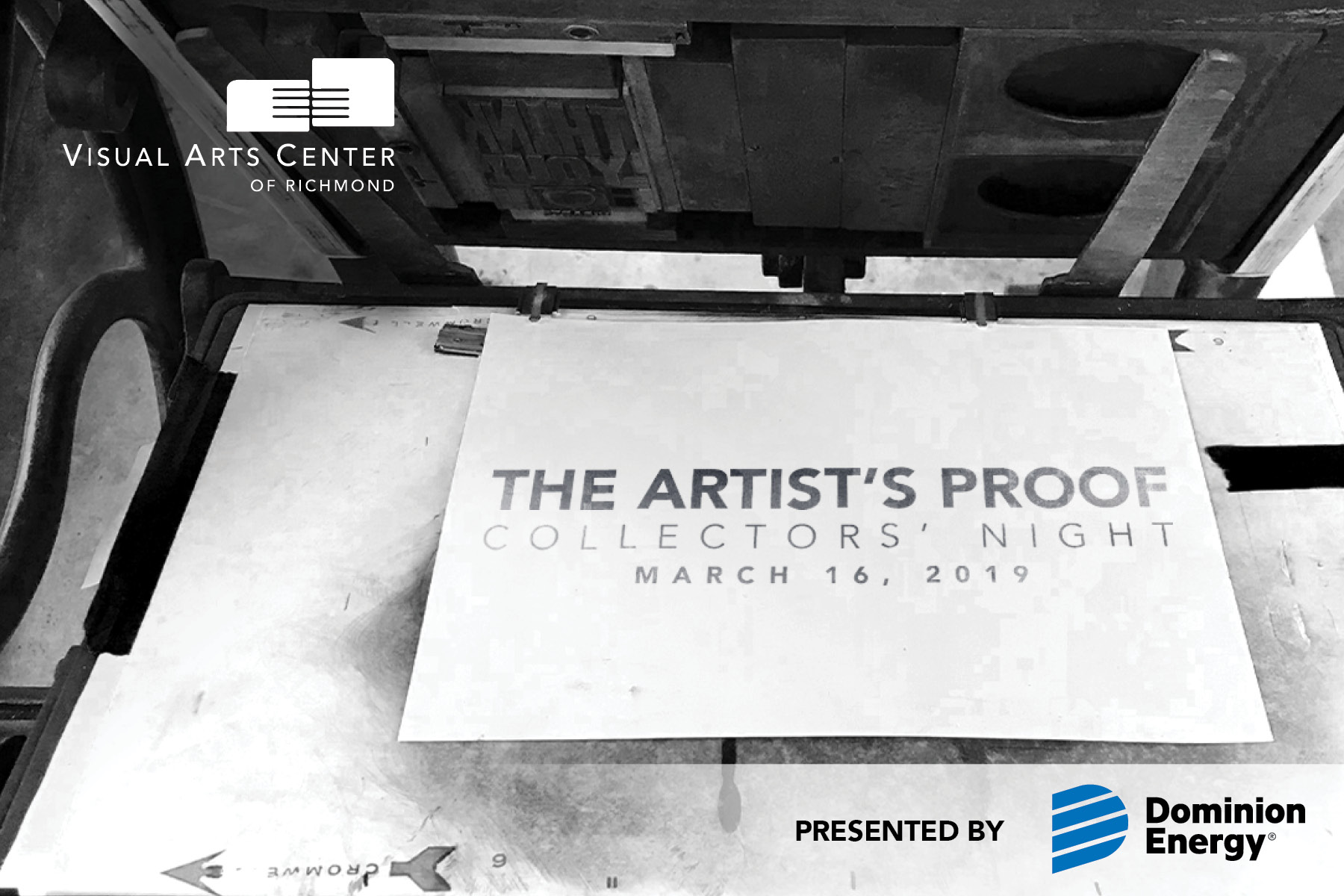 Collectors' Night 2019 is sold out,
The Visual Arts Center of Richmond will host its 33rd Annual Collectors' Night on March 16, 2019 at 6:30 p.m.  This year, we're celebrating our printmaking program and the new Vivian Keasler Letterpress + Book Arts Studio. Guests enjoy a cocktail reception, silent auction and seated live auction.
VisArts will also be unveiling the Dominion Energy Studios on West Main. Proceeds from Collectors' Night support VisArts' education and outreach programs.
Each year, VisArts recognizes a longtime friend with the Distinguished Service Award. The recipient is an individual who has demonstrated a sustained and extraordinary commitment to the organization. The 2019 Distinguished Service Award recipient is Brian Jackson.
History of the Event: Collectors' Night, launched in 1987, is the Visual Arts Center of Richmond's most significant annual fundraising event. The 350-person gala is held in every March and includes a cocktail reception, a silent auction and a seated live auction. Proceeds from the event support VisArts' outreach programs. VisArts—and its contingent of guest curators—works with some of Richmond's most beloved artists, and the result is an art auction that's full of local artwork.
Sarah Irvin
Disaster, 2017
ink on yupo
Special thanks to the artist for this 100% donation

Mary Scurlock
Snow Day
mixed media on panel

Special thanks to the artist for this 100% donation

Barbara Atkinson
Vintage Crochet Collar
cut and sandblasted 3/8″ plate glass on steel frame

Special thanks to the artist for this 100% donation
Gordon Stettinius
James River, 2004
sepia toned gelatin silver pinhole photograph
Special thanks to the artist for this 100% donation

 

Amie Oliver
Arcadia Lost Series: Dusk on the Rappahannock
ink and Rappahannock river water on polypropylene vellum

Ed Trask
We Waited for the Train to Pass, Then Followed the Access Road Home
acrylic on canvas
Gabriel Ofiesh
Pearl Pendant
18K gold and pearl pendant with diamonds on coil 

Special thanks to the artist for this 100% donation

Aimee Joyaux
Cardinal Virtues
mixed (acrylic, shellac, crayon, oil stick) on canvas

Special thanks to the artist for this 100% donation

Robert Walz
Form Follows Function (Love + Architecture)
hand drawing on archival paper (ink wash, pigment and graphite)
Jon-Phillip Sheridan
Cumulus
archival pigment print

Laura Loe
Mountain Wall, Bath County
oil on canvas
Special thanks to the artist for this 100% donation

Kiyomi Iwata
Chrysalis Three, 2013
kibiso mounted on canvas
Frankie Slaughter
VOICES
encaustic collage on panel
Special thanks to the artist for this 100% donation

 

Josh George
Feel Free to Internalize Your Accomplishments
mixed (acrylic/collage/varnish) on wood

Diego Sanchez
Composition #111
opaque acrylic on panel
Paul DiPasquale
Oliver Hill Maquette
bronze & marble 

Andras Bality
Justify Wins the Triple Crown
oil on canvas 

Mark Rickey
Curved Console
brazilian walnut base with wamara ebony top

Special thanks to the artist for this 100% donation 
Alex Nyerges
The Thames
archival digital photo on acrylic 

Special thanks to the artist for this 100% donation 

Sally Bowring
Yep Again
acrylic on panel 

Sean Donlon
We Are All of Many Parts (16 bit series)
flameworked glass
Louis Poole
American Home
oil on canvas over panel