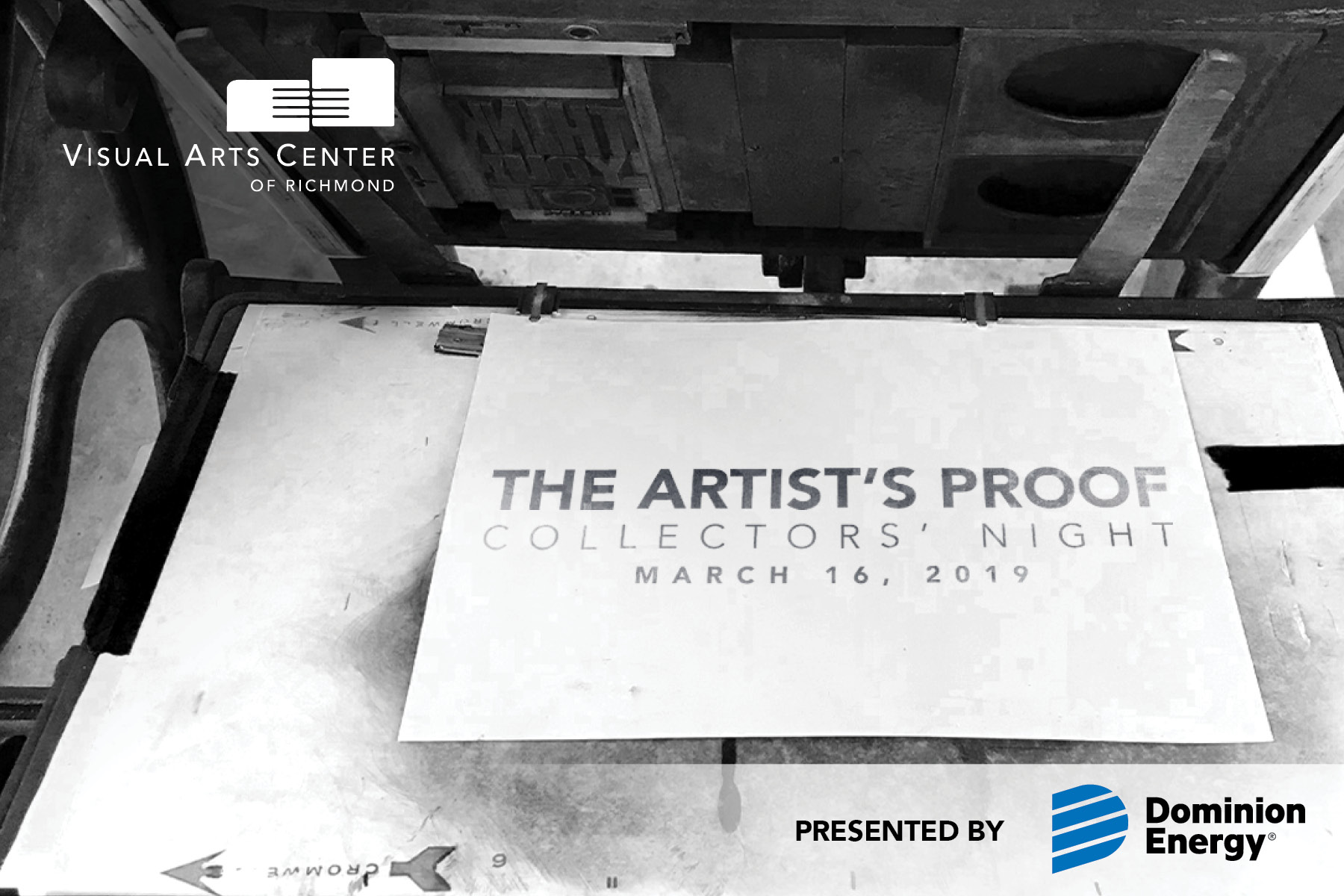 Make plans to be at the Visual Arts Center of Richmond on March 16, 2019 at 6:30 p.m. for our 33rd annual Collectors' Night. This year, we're celebrating our printmaking program and the new Vivian Keasler Letterpress + Book Arts Studio. Enjoy a cocktail reception, silent auction and seated live auction.
We'll also be unveiling the Dominion Energy Studios on West Main. Proceeds from Collectors' Night support VisArts' education and outreach programs. Collectors' Night tickets are now on sale. This event has sold out the past two years.
Each year, VisArts recognizes a longtime friend with the Distinguished Service Award. The recipient is an individual who has demonstrated a sustained and extraordinary commitment to the organization. The 2019 Distinguished Service Award recipient is Brian Jackson.
History of the Event: Collectors' Night, launched in 1987, is the Visual Arts Center of Richmond's most significant annual fundraising event. The 350-person gala is held in every March and includes a cocktail reception, a silent auction and a seated live auction. Proceeds from the event support VisArts' outreach programs. VisArts—and its contingent of guest curators—works with some of Richmond's most beloved artists, and the result is an art auction that's full of local artwork.
2019 live auction art will be posted on March 6th
2018 LIVE AUCTION ART
Tara Locklear
Foundation Necklace
Recycled Broken Skateboard, Hand Fabricated Sterling Silver
Special thanks to the artist for this 100% donation

Sarah Irvin
Domain
Ink on Yupo

Alyssa Salomon
06130013-2 2016-06-13 PFVA
Van Dyke Photo Emulsion on Pigmented Cotton Rag Paper
Mary Scurlock
Equation in Blue
Mixed Media on Panel
Special thanks to the artist for this 100% donation

 

Jere Williams
We're having fish for dinner, honey!
Ash, Steel

Sophie Treppendahl
Texas Beach
Oil on Canvas
Leigh Suggs
Trailing Lines IV
Handcut, Acrylic on Yupo

Martin Johnson
Life Riddled with Livid Multi Colored Ladies
Polymer Acrylic

Gordon Stettinius
Boston, 4th of July, 2010
Archival Pigment Print
Matt Lively
Dog House
Oil on Canvas on Panel

Laura Loe
Pops-iii
Oil on Canvas
Special thanks to the artist for this 100% donation

Andrea Donnelly
Flora #1 from the Garden of Forking Paths
Rayon Thread, Textile Pigment, Sewing Pins. Woven, Painted, Unwoven & Rewoven
Aimee Joyaux
Muted Neutrals (ub2)
Acrylic, Shellac, Oil Pastel, Oil Stick on Canvas
Special thanks to the artist for this 100% donation

 

Sally Bowring
A Lot to Take In – A Lot to Give Up
Acrylic

Paul DiPasquale
Connecticut scale working model, #1/6; 2017
Cast Resin and Fiberglass with Bronze Finish
Diego Sanchez
Composition #76
Oil on Panel

Louis Poole
Blue Craftsman
Oil on Canvas over Panel

Kiyomi Iwata
Auric Gauze Two
Kibiso, Silk Thread, and 24K Gold Leaf
Josh George
Ad Infintium
Mixed Media (Collage, Acrylic and Oil Paints, Varnish)

Jon-Phillip Sheridan
Threshold.02:02
Archival Pigment Print

Robert Walz
For Once, Then, Something
Hand Cut and Incised Painted Wood, Pen and Ink, Graphite, Acrylic Rod
Alex Nyerges
Water Wall V (Variant)
Photograph
Special thanks to the artist for this 100% donation

Andras Bality
James River Park, Southside Canal
Oil on Canvas