|
|
Current Studio Access Residents
Current Studio Access Residents
The Visual Arts Center of Richmond's Studio Access Residency is designed to support emerging and established visual artists as they develop new ideas and to foster artistic exploration by providing free access to VisArts' 17 communal studio spaces.
---
Jennifer Bui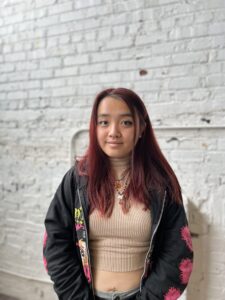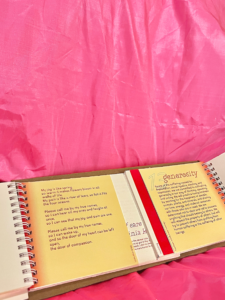 Jennifer Buiis a multimedia artist who aims to stir intimate feelings and self-reflection, in order to foster empathy and connections—sometimes with those in her life, sometimes with the self, sometimes with a larger community, sometimes with a general audience or population. Drawing a lot of her inspiration from literature, poetry, lyrics, or her own writing, words play a very important part in her creation process. Used specifically, words can have such a strong impact and significance and they have always existed side-by-side with her art.
www.jenniferpbui.com
@ensoimilk
---
Julie Kinu Egresitz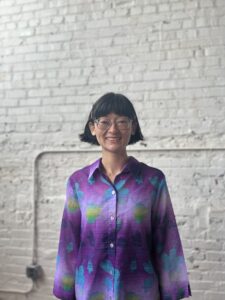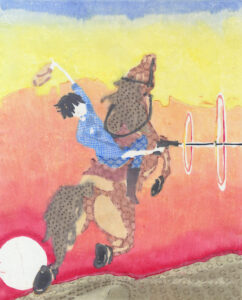 Julie Kinu Egresitz is a visual artist and a fiction prose writer from Southern New Jersey. She graduated from the Rhode Island School of Design in 2023 with a BFA in Printmaking and a concentration in Literary Arts and Studies.   
Julie's artwork can be described as a marriage between visual art and literary narrative: two loves that come from the same place. As a continuous theme, she intends to use her artwork as an opposition to the lens that childhood is beautiful, hazy, and forever haunting. Growing up half-Japanese and half-white, her work depicts moments in which children use "playing pretend" as a way to navigate their identity, which can often be fantastical or macabre. Julie writes fictional short stories and creates silkscreen, Moku Hanga, and photo-plate lithography prints to go along with her narratives about childhood. 
https://juliekinuegresitz.com/ 
---
Emily Gibbs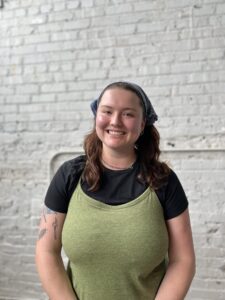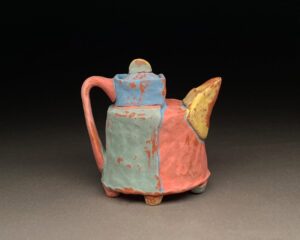 Emily Gibbs studied Ceramics and Communications at the University of North Florida. While studying at UNF, she had a focus in wood-firing functional pottery. Recently, she has shifted her wares to more colorful and playful pots. Outside of clay, Emily has recently started working as a florist assistant and really enjoys learning a new medium.  
@Emlyclay 
---
Marcia Haffmans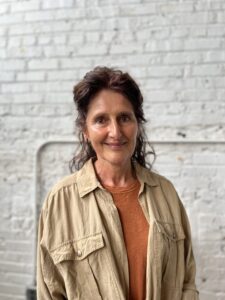 Marcia Haffmans, once a public defender from the Netherlands, has continued her advocacy for women in jails, using conceptual mixed media installations to highlight voices oppressed by systems. Her approach has been to use personal handwriting as creative expression, the benefits of which have been published in Women's Health Reports 2020, 'Inside Out: Change Through Art'. Haffmans' funding sources have included the Jerome Foundation, MN State Arts Board and CultureWorks/National Endowment for the Art. Haffmans has participated in artist residencies at Vermont Studio Center and Anderson Center for Interdisciplinary Studies (MN). Her work has been exhibited across the US, including a 2-year traveling exhibit organized by Norman Rockwell Museum, and overseas in Europe and S Korea. She has recently been selected as a Trawick Prize Finalist.  
www.haffmansart.com
@marcia.haffmans.art.
---
Mecca Harris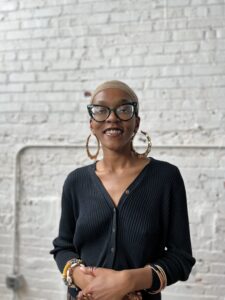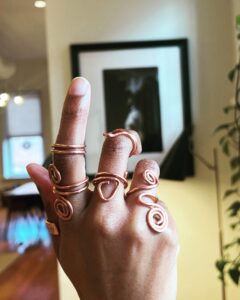 Danielle "Mecca" Harris likes to think of herself as a Muti-Disciplinary artist who doubles as a time traveler.  A lot of her work is inspired by African History, culture, Afro-Futurism, and Spirituality. Through many mediums, she explores sacred shapes, patterns, numerology and musical frequencies to create not only wearable art but also healing adornments.   
---
Jud Judson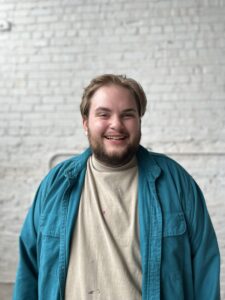 Alex Judson, "Jud", is a queer multidisciplinary artist based in Richmond, VA. Most of their works are focused on their inner child and healing from within through their practices and community. With a focus on ceramics and printmaking, you can find vibrant colors, textures, and experimental processes within their pieces.
@morselcraft
---
Ali Kaeini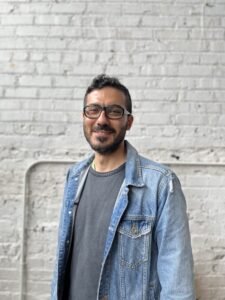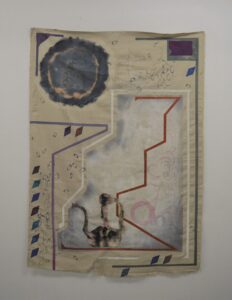 Ali Kaeini, an Iranian artist, weaves a tapestry of discourses exploring displacement,historical identity, and the Iranian diaspora, drawing inspiration from Iranian history, art,and architecture to create intricate geometric structures surrounded by spiral organicforms, rebelliously departing from traditional techniques. His suspended paintings inspace create a sense of barrier and wall, each painting acting as an independentlandscape and a wall in front of another, while his figurative calligraphy and silhouette ofmuseum objects serve as metaphors for the displaced body. Kaeini has exhibited hiswork from the U.S. to the Middle East, Iran, and Europe, and was a finalist in theBethesda Contemporary Art Awards in 2022. Kaeini received his MFA degree fromVirginia Commonwealth University in 2023 and he attended Skowhegan School ofPainting and Sculpture in 2019.
www.alikaeini.com
@alikaeini
---
Ọmọlará Williams McCallister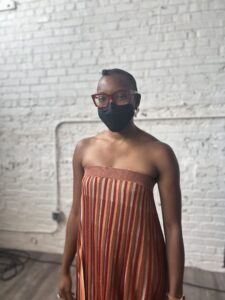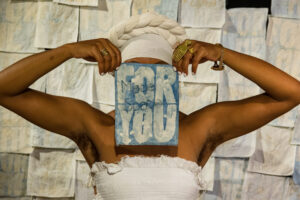 Ọmọlará Williams McCallister (pronouns: o, love, beloved) is a dynamic creator who shows up in many forms. O's work is a call and response blend of sculpture, performance, installation, ritual, space holding, community building, surface design, adornment, word, sound, song, movement, moving images and photography. The roles that Ọmọlará steps into include:  artist, educator, organizer, cultural strategist, conjurer. In all forms O's work is immersive and interactive, it is co-authored by the people who inspire and encounter it.
Ọmọlará is from Atlanta, Ga. O's artistic journey began in church at 7 years old as a classically trained vocalist and bassist. Love attended Dekalb School of the Arts, a magnet 8 – 12 public school. Beloved has actively organized around social justice issues on the local, regional and national levels since age 13. Ọmọlará's upbringing in the Black south is the foundation for O's work.
O's work is how O manifests paths toward personal and collective liberation. Beloved's work is made possible by the expansive deliciousness of love's chosen families. These families are ecosystems of interdependent people who dare to define ourselves, shape our experiences, and create new worlds and ways of being everyday. We do all of this while living at the intersection of multiple marginalized identities.
@adornedbyo
@bmorecommunityweavingstudio
---
Hanami Morris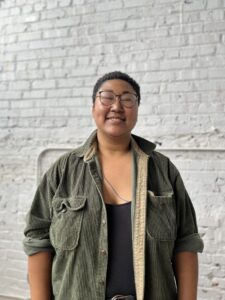 Hanami Morris primarily uses metal and clay to fabricate objects revolving around his identities and how they intersect. He also has interests in world-building and organisms.
@yes.liketsunami
---
Lydia Mutone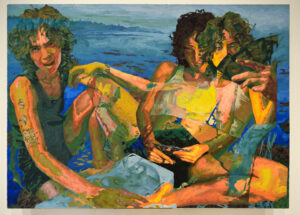 Lydia Mutone is a painter from New Jersey, currently based in Richmond, Virginia. She received her BFA from Virginia Commonwealth University in Spring of 2021. Mutone has previously been the two-time recipient of The Anderson Space Grant and her paintings have been exhibited in several shows within Richmond including; Cabin Fever (1708 Gallery), Homebody (ADA Gallery), and Paintings 1 & 2 (The Anderson). Mutone's figure paintings play with bright, saturated color schemes and a digital interplay between legibility and abstraction.
lydiamutone.cargo.site
 @lydiamutone
---
Joe Myers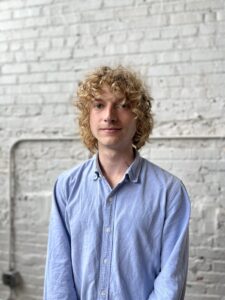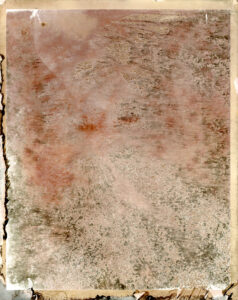 Joe Myers is a Richmond-based artist whose work is heavily centered around darkroomexperimentation. He uses harsh chemical processes to capture the subjectivity of reality andmemory informed by his own experiences with loss and substance abuse.
eojoemyers.myportfolio.com
@eojoe
---
Emily Schreer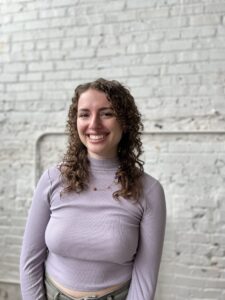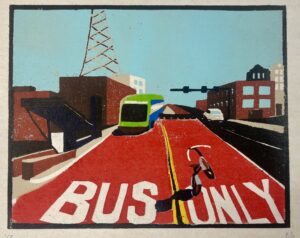 Emily Schreer was born and raised in New York, and now lives in Richmond working in public health. She has found that, through printmaking and letterpress, she can draw connections between her experiences in community health, her research and ambitions in urban planning, and her love of art. Her current artwork explores the impact that infrastructure (and the historical forces that shaped it) continues to have on the physical, economic, and emotional health of Richmond's neighborhoods. By creatively visualizing data and public health concepts, Emily can let out the frustration familiar to any state employee, as well as brainstorm ideas about our collective future. 
---
Alejandra Sullivan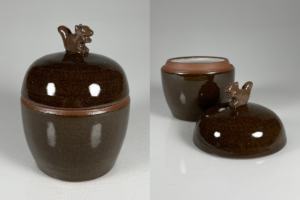 Alejandra Sullivan was born in Key West, Florida and grew up in Charlottesville, Virginia. She recently graduated from William & Mary with a BA in Sociology and a minor in Studio Art. Alejandra primarily works in ceramics but also enjoys relief printmaking and painting. Her work has been shown in William & Mary's annual Non-Majors Art Show during her junior and senior years. Her current work explores the relationship between sculptural presence and functional form. While at the Visual Arts Center, she is looking forward to pushing her work in new directions and refining her artistic voice outside of an academic setting.
---
Halle Williams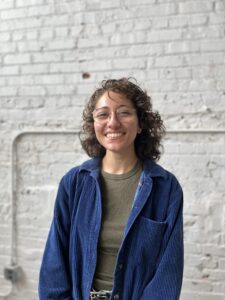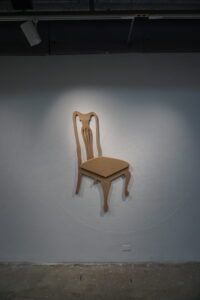 Halle Williams is a multidisciplinary artist working primarily in wood. They are interested in function, humor, and storytelling; and in the relationships between the three.
---
Quynh Vantu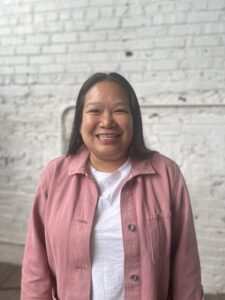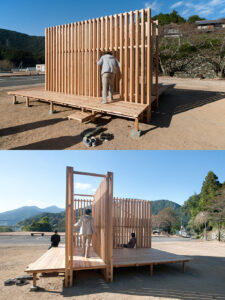 Quynh Vantu is a licensed architect and artist with a studio-based practice devoted to spatial experimentation. Drawing from her upbringing in the "American South", Vantu is particularly interested in the notion of hospitality and thresholds of social interaction. Working in situ she creates her works across cultural boundaries and employs an interdisciplinary practice utilizing architecture as a foundation.
She recently received her PhD in Architecture (2021) from the Bartlett School of Architecture-University College London and her Master of Architecture (2009) from Cranbrook Academy of Art in the USA and her Bachelor of Architecture (2001) from Virginia Polytechnic Institute and State University in the USA. She has been awarded numerous grants and awards both nationally and internationally, including a Worldstudio AIGA Grant (2009); the StewardsonKefee LeBrun Travel Grant-AIA NY (2009–10); and a DAAD Stipendium, Berlin, Germany (2010-11). She has been awarded several artist residencies, including at the Skowhegan School of Painting and Sculpture in Skowhegan, Maine (2012); the McColl Center for Art and Innovation in Charlotte, North Carolina (2014); Kamiyama AIR in Kamiyama, Japan (2015); and Nanji –Seoul Museum of Art in Seoul, South Korea (2016). She was the recipient of a DAADStipendium to study at Olafur Eliasson's Institut für Raumexperimente in Berlin, Germany(2010–11); a Fulbright Fellowship to study in the UK (2012–13); a finalist for the Harvard Graduate School of Design's Wheelwright Prize (2015); a grant from the Graham Foundation for the Advanced Studies in Fine Arts (2016); named a fellow for the US-Japan FriendshipCommission's Creative Artists Program in 2017; and a Smithsonian Artist Research Fellowship in 2020.
www.quynhvantu.com
@quynhvantu