|
|
Drop Off, Pick Up + Parking
Drop Off, Pick Up + Parking
Drop-Off + Pick-Up 
VisArts uses a car drop-off and pick-up system to get kids to and from camp safely and quickly.   
We will only use our back gate for drop-off and pick-up. If you arrive outside the times listed below, please use the front door, as the back gate will be locked. All students should be picked up promptly at the end of class. If they are enrolled in our extended day program, students must be picked up by 5:30 p.m. at the front entrance.
Morning Drop-off: 8:30am-9:05am

Morning Pick-up: 12:00pm-12:15pm

 

Afternoon Drop-off: 12:30pm-1:05pm

 

Afternoon Pick-up: 4:00pm-4:15pm

 

Extended Day Pick-up 

at Front Entrance only

: 4:15pm-5:30pm

 
PIKMYKID APP
We will be utilizing the PikMyKid app. Caretakers can download the app here:
Please utilize this app in order to streamline our pick-up system. If you do not have a smart phone, we will give you a paper slip with your students' information on Monday morning that you can display on your dashboard or bring with you. 
View app Instructions (english)    View app Instructions (Spanish)
If you need help with the app, call PikMyKid at (813) 864-7627.
If you have general questions call the front desk at 804-353-0094 or email Tesni Stephen, Education Manager, at [email protected].
If you feel you need to drop off or pick up your child in-person, email VisArts Education Manager Tesni Stephen at [email protected].
Carline Directions
We will utilize a "car line" for drop-off and pick-up which will begin in the Binford Middle School parking lot to minimize traffic for our neighbors. Binford is located at 1701 Floyd Avenue: please enter through the alley on Vine St., proceed through the parking lot, cross Allen St., and enter the alley to VisArts' back parking lot.  You will exit via Granby St.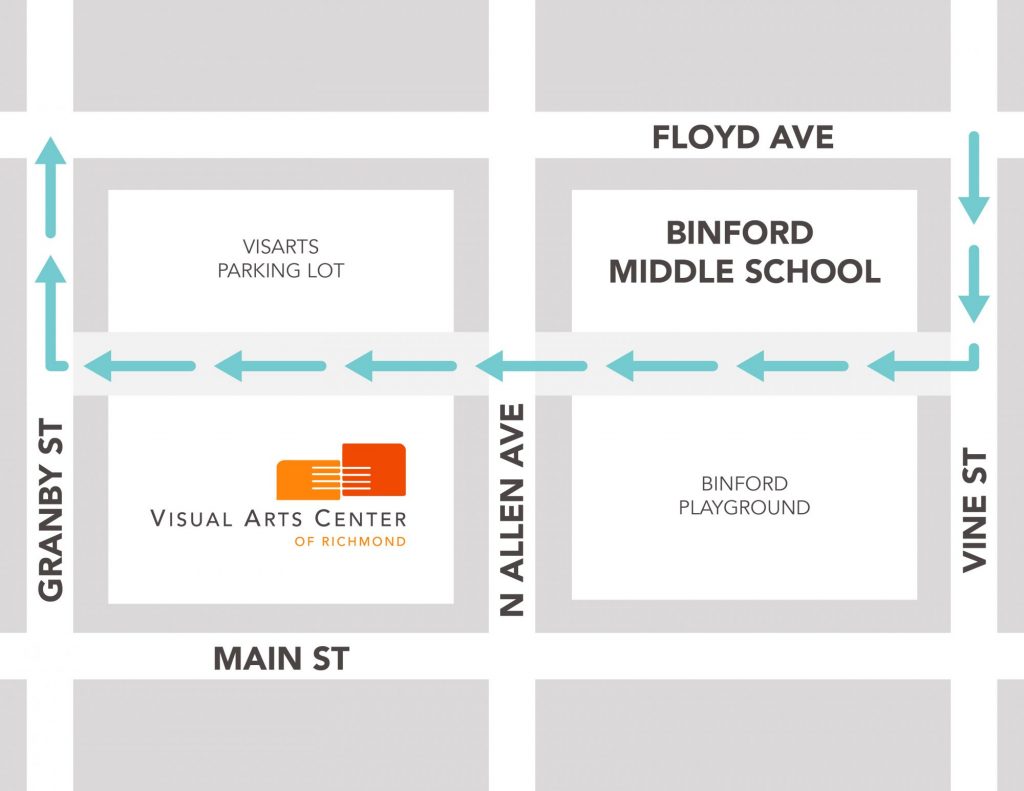 DIRECTIONS for students walking to camp
In the PikMyKid app, your student will automatically be registered to be picked up and dropped off in our "car line," but you can change your student's settings to "walker" if you would like the student to walk home on their own or if you need to walk up to the back gate and pick them up. Walkers must check in and out with a staff member at our back gate, but they are allowed to enter and leave the building on their own.  
Parking
Please utilize the parking areas only if your student is designated as a walker.  
VisArts has two parking lots on its property. A small, asphalt parking lot is located at the corner of West Main Street and North Allen Avenue. This is where our handicapped parking spaces are located. A gravel parking lot is located behind the building, but will be blocked by the carline. Please plan accordingly.