Sketchbook Diaries – NEW!
Elevate small daily moments in sketchbook diaries. We often go through the day igrnoring all the little things that make our lives what they are. In this class, we will change all that by reflecting and creating a journal that brings those instants to life. We will go over the basic supplies used (and how to use them when you've never picked them up before), page layouts, page elements and all the extras (like 3D pockets & mixed media). We will also learn "how to cheat at drawing," so you can continue to journal even if you don't think you have the skills you need. When you leave you'll have all the tools to continue working in your sketchbook diary.
Special Notes
Each student will get a journal, pencil, pen & water-brush to start their journey. They can bring any types of medium they already have at home (markers, crayons, colored pencils, watercolors) but will get to experiment with some in class. The teacher will spend the first bit of class going over supplies and then students will spend the remaining time working in their sketchbooks as the day continues.
Materials List
All materials are provided.
About the Instructor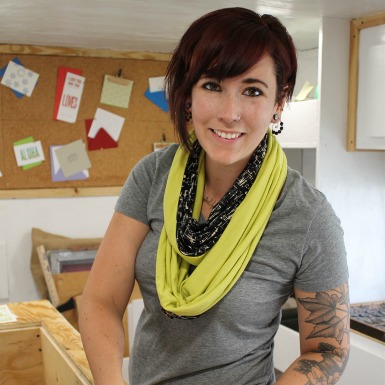 Natalie Kay
Natalie Kay is the owner of Off the Beaten Press. She lives and works in Richmond, VA but plays all over. An avid traveler, she finds inspiration for her designs everywhere she goes. Natalie grew up in the Washington, DC area and has a degree in Graphic Design from James Madison University, where they taught her the difference between a typeface and a font. She has a huge passion for design which translated naturally to printmaking. She loves to letterpress and shares that love with her students through classes at the local art center.
Website: offthebeatenpress.com
See More Classes By Instructor
Back to Classes