Introduction to Woodblock Printing
Explore woodblock printing, humanity's oldest printmaking process. You'll learn to design and transfer an image onto the block and cut the block to produce a relief image. Then, we'll cover how to transfer the image to paper, both printing it by hand and by press.
Special Notes
This class will meet on Saturday from 10 AM - 4 PM, and Sunday from 1 PM to 4 PM.
Classes are confirmed one week prior to the start date. In order to help us confirm classes, please register as early as possible.
Materials List
All materials are provided for this class.
About the Instructor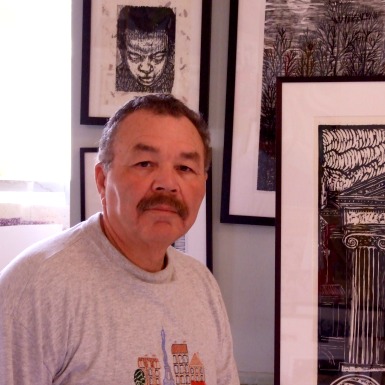 Dennis Winston
Dennis R. Winston is on the faculty of the Virginia Museum and the Visual Arts Center of Richmond and has received honors both locally and nationally as an artist and as an educator. He has been included in an educational multimedia series entitled, "African American Artists: Past and Present," and recently was included in the textbook publication "Below the Surface; Ethnic Echoes in America's Modern and Contemporary Art". Winston's work can be found in many private and public collections including the Virginia Museum of Fine Arts, the University of Virginia Medical Center, Capital One Corporation, Lynchburg College Museum, University of Richmond Museum, National Civil Rights Museum, Longwood University, and Museum of African American Art of Dallas.
He recently received the 2016 and 2017 award of distinction for printmaking in the Virginia Artists Exhibitions at the C.H. Taylor Art Center in Hampton, Virginia and is included in the VMFA ON THE Road Art mobile.
Website: worksbywinston.com or Look-See.co/DennisWinston
See More Classes By Instructor
Instructor Website
Back to Classes