Art Explorers (Ages 5-6)
Create eclectic 2-D and 3-D art collections using clay, wire, fabric, paint and other materials.
About the Instructor Dan Kaczka
Dan Kaczka is a graduate of Penn State University with a degree in art education. As a professionally licensed art teacher, Dan has an interdisciplinary knowledge of contemporary teaching practices and a broad understanding of various art media including 16 years of experience creating ceramic artworks. Dan believes that art is something everyone can enjoy and that everyone can make art.
See More Classes By Instructor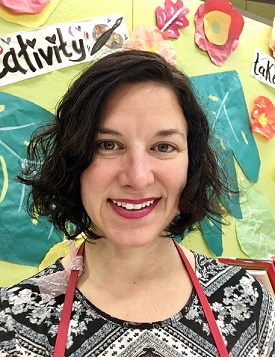 Jacque Minarik
Jacque Minarik obtained a BFA in Painting and Printmaking from Virginia Polytechnic Institute 1997 and a Master of Art Education from Virginia Commonwealth University in 1999. She has been teaching art to students in JK-12 for 19 years. One of her passions is teaching students to love and appreciate art and watching them express their creativity through the arts. Jacque pursued National Board for Professional Teaching Standards Certification in 2005 and is currently a NBCT. She served as President of the Central Region Art Education Association and on the Virginia Art Education Association from 2006-2009 and is a member of the NAEA. In 2005, she was awarded the National Southeastern Art Educator of the year from the National Art Education Association. Currently, she serves on the Teacher's Advisory Council at the Virginia Museum of Fine Arts and teaches art at Saint Catherine's where she also chairs the Garden Club. In 2009, she was awarded the Dillon-Barnett Teaching Grant to travel and study in Nazca and Cuzco, Peru. In 2016 she was awarded a sabbatical to trek the Camino de Santiago in France and Spain and to donate her students' art to nursing homes and hospitals across the Eastern United States. She is excited to join the VisArts team this summer!
See More Classes By Instructor
Back to Classes