Richmond-based Illustrator Jamie Douglas Celebrates Artists of All Ages in VisArts' Spring 2019 Catalog Cover Design
Richmond-based Illustrator Jamie Douglas is the artist behind the cover design of the Visual Arts Center of Richmond's spring 2019 class catalog. As part of VisArts' Illustrator-in-Residence program, Douglas created a design that celebrates the idea that people of all ages can learn and grow as artists.  
"I wanted to make a picture about growing up in an environment that is supportive and nurturing for young artists, and also celebrates people who choose to continue learning and making art part of their lives as they grow up and get older," he said. "Whether it's taking classes or exploring on our own, we don't create in a vacuum, we need feedback, collaboration and love to progress as artists." Douglas' journey as an artist started when he was a child. He has always loved picture books and cartoons. In college he studied illustration, graphic design and creative writing at the Rochester Institute of Technology in upstate New York. 
By day, Douglas works at The World Art Group, an art decor publishing company that designs, prints and embellishes art for companies all over the world. He works in the embellishment department, doing screen printing with metallic foil, as well as various textures and finishes on artwork.  
His freelance illustration and personal projects get done at night. "Too often, I stay up late with my own work, drawing and scheming," he said. 
Douglas' mantra is "keep your pen moving." He believes inspiration doesn't find you on it's own, the key to creativity is just getting to work.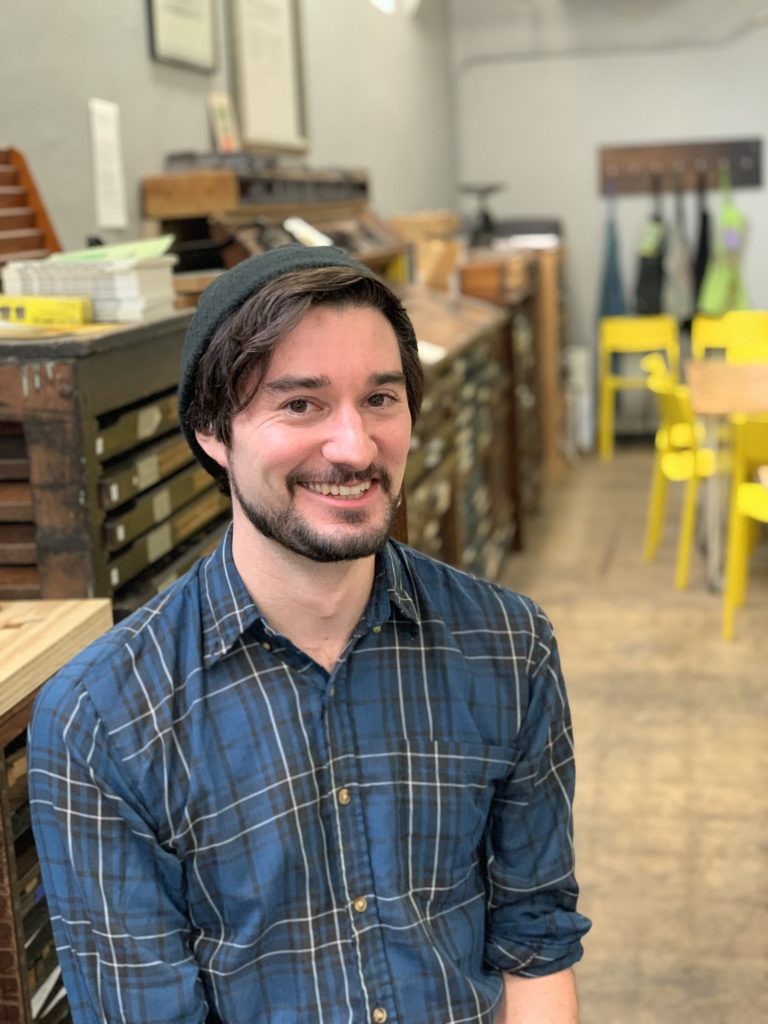 "The media we consume, our environment and experiences are fueling the things we make," Jamie said. "If I can't think of what to draw, I need to read a poem or go for a walk or have a good conversation. Something will come up." 
Douglas' sketchbook is central to his artistic practice. He started sketching in his high school art classes and though he didn't enjoy it much at first, he became obsessed with sketching during his college years.  
"I try to carry it everywhere. It's multipurpose. It's for different types of drawing, such as doodling, drawing from observation for practice and drawing thumbnails or rough sketches for finished pieces," he said. "But it's also a journal, a notebook, a place to write down dumb jokes I think of or quotes from my friends. It's a bank of notes and ideas to refer to later, and a record of my life." 
Douglas will share his passion for sketchbooks with VisArts in a special weekend workshop this spring. During two Saturdays in April, he'll guide his students through the process of creating a sketchbook and maintaining the habit of sketching.  
Each year, the Visual Arts Center of Richmond selects four artists to serve as illustrators-in-residence. The artists illustrate a catalog and are invited to lead a workshop on the topic of their choice. Take a look at our past illustrators-in-residence. 
Registration for spring classes is open! VisArts is offering over 250 adult art classes and 44 youth and family classes. Browse the printable catalog online or pick it up in print at our front desk.