Remains (to be seen)
March 30 – June 3, 2018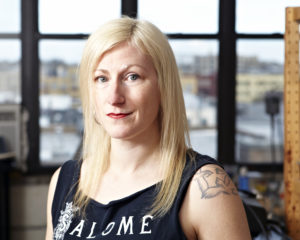 Trish Tillman will be a resident in the Quirk/VisArts residency program in January 2018 and will use the time and access to the studios at the Visual Arts Center of Richmond to develop a body of new works for her subsequent exhibition in the True F. Luck gallery. Using a combination of found and constructed elements, Tillman creates free-standing and wall-mounted sculptures that both reference and subvert functional objects.
Biography
Trish Tillman is a visual artist who grew up in Washington, DC and now lives in New York City. She received a Bachelor of Fine Arts from James Madison University in Virginia, and studied at the University of Wolverhampton in the United Kingdom before pursuing her Master of Fine Arts from School of Visual Arts in New York. She is a recipient of the Joan Mitchell Foundation 2009 MFA Grant and has participated in programs through the D.C. Commission on the Arts and Humanities and the Baltimore Office of Promotions and Arts. She was an Untitled Art Fair Miami Beach Fellow at The Fountainhead Residency in 2015, and had a solo booth at NADA NY with Asya Geisberg Gallery in 2016.
Tillman is also a writer and an educator, and has been a professor and lecturer at Monmouth University, George Washington University, Rutgers University and the University of Maryland. She has been on panels with ArtTable, Buffalo State College, and Pyramid Atlantic. Selected exhibitions include Regina Rex, NYC; Emerson Dorsch Gallery, Miami, FL; Elephant Art Space, Los Angeles, CA; Present Company, NYC; Slag Gallery, NYC; Nudashank, Baltimore, MD; and Civilian Art Projects, Washington, DC. Tillman is represented by Asya Geisberg Gallery in New York.