Various Artists
May 27 - June 5, 2022
Opening reception on May 27, 2022, from 5:30-7 pm
Our lives are a gold thread unspooling, 
Out past trails out behind.
As we twine our way
Through this shared world
We weave beauty from that which we find.
Many cultures speak of the invisible thread that weaves us all together: Six months ago each of us began our independent journeys as residents at the Visual Arts Center of Richmond, overlapping in the shared studio spaces. We each have a unique vision. It's our practice of creativity that ties us together.  
Artists: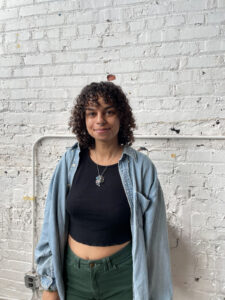 Deena Ramadan
Deena Ramadan is an interdisciplinary artist, scholar, and activist. Her mediums include digital and analog photography, videography, and graphic design. She has a Bachelor's degree from Virginia Commonwealth University with a focus in Africana, Film, and Women's studies. Currently, she serves as Assistant Director and Social Media Manager for the MS Taman Foundation, a non-profit that provides grants and scholarships. One of her most recent initiatives includes the establishment of several free community fridges in Richmond, VA. Deena is also a NNAAC 2021 Transformative Leadership Fellow with the Arab Film and Media Institute.
deenaramadan.myportfolio.com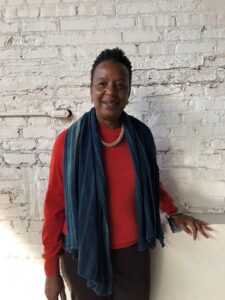 Ibe' Crawley
Ibe' Crawley was born in Danville, Virginia. While living in Washington, D.C., IBe' Crawley picked up the mallet after 25 years and began to shape stories in stone. Her son's question, "Mommy, who made that sculpture?" reminded her of her talent beyond teaching. She is creating a body of work and narrating stories. IBe' Crawley was the Fall Book Arts Resident at the Women's Studio Workshop. With a team of experts and interns, she produced an edition of books constructed of handmade paper and clay. IBe' Crawley is excited to be a Visarts 2021-22 Artist Resident.
ibearts.org //instagram.com/ibearts.ed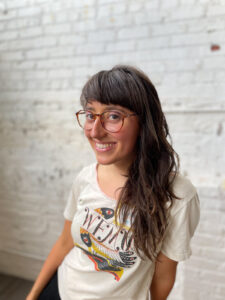 Ellanor Milkowski Dahlgren
Ellanor Milkowski Dahlgren is a multifaceted artist currently based in Richmond, Virginia. Her work is in conversation with our relationship to the land and the ways we can mend and harmonize together. She has mainly focused on illustration and gardening for the past year and a half but has delved into many mediums through the years, including puppetry, performance, book arts and printmaking. She also creates events called Seekings, which searches for objects hidden in the landscape that relate us to our environment and to one another.
www.instagram.com/Ellanor.applecore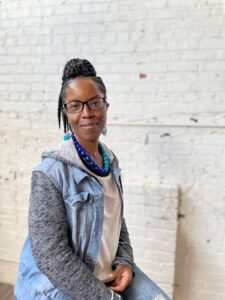 Beth Younger
Beth Younger, is an artist, designer and founder of B. Younger, a designer wearable arts company. She uses color, shape and contrast to paint colorful and vivid contemporary paintings that express the chosen subject matter and environment. She has had experience creating with pastels, oils, and clay, but currently, Beth's chosen medium is acrylic paint and sometimes mixed media. Her artwork is also used as inspiration for making her designer scarves, jewelry, and other accessories.
Beth received a Bachelor of Fine Arts degree in Communication Arts & Design from Virginia Commonwealth University. Her artwork is included in private collections in the U.S. and has been shown and exhibited in various galleries, art shows and exhibitions. She is a lifelong learner and enjoys finding ways to incorporate art and fashion into everyday life.
www.shopByounger.com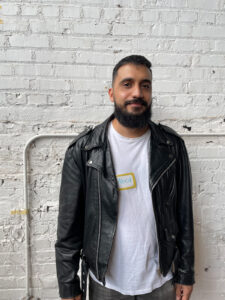 Abed Shalabi

Abed Elmajid Shalabi is a Palestinian Artist from Isreal, currently living and working in Richmond VA. After earning a BFA from Shenkar College in Tel Aviv, and the Berlin University of The Arts in 2019, he graduated with an MFA from the Sculpture + Extended Media department at Virginia Commonwealth University, in 2021. Shalabi was awarded the 2020-2021 Graduate Fellowship from the Virginia Museum of Arts.
abedelmajidshalabi.com
https://www.instagram.com/abedelmajidshalabi/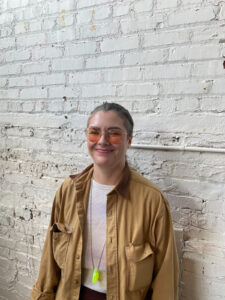 Chelsea Lee
Chelsea Lee is an artist currently living in Richmond, Virginia. Lee earned her MFA from Virginia Commonwealth University in 2017, where she received a graduate assistantship for three semesters. She was born in Bismarck, North Dakota, where she grew up in an artist's home. She graduated with a BFA from Minnesota State University Moorhead in 2010. Lee's work has been exhibited in the InLight exhibition with 1708 Gallery exhibition in Richmond, Virginia, the Ann Arbor Art Center, the Plains Art Museum in Fargo, North Dakota, and the Minneapolis Institute of Art. She currently teaches art foundations classes at Virginia Commonwealth University and John Tyler Community College.
http://chelsealeeartist.com/home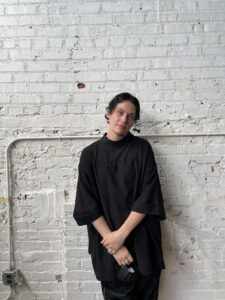 Ari Buffenstein
Ari Buffenstein is a textile artist whose work addresses the materiality of queer life and subcultural aesthetics. They maintain a low-waste studio practice and work in primarily recycled and secondhand materials.
https://www.instagram.com/tarhomo/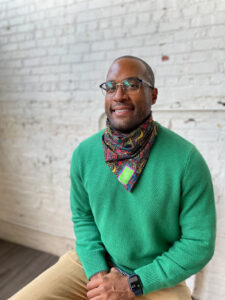 Cliff Chambliss III
Cliff Chambliss, III, a native of Richmond, Va., is an emerging artist in the visual arts discipline. His primary mediums are fiber/textile, photography, and printmaking. The formal vessel of his artistic practice is TRINITY. The signature works of TRINITY employ a dowel-suspended textile field with various appliqués sewn into the field, including a novel expression of photojournalism. 
He acquired an interest in photography when his father taught him how to use a camera at the age of 12. What began as a passionate hobby turned into a lifelong commitment to the art of photography after studying photojournalism at the Maggie L. Walker Governor's School. Later in his practice, Cliff began to incorporate textiles and printmaking. He uses a sewing machine and serger to create the textile and fiber works.
instagram.com/trinitycreations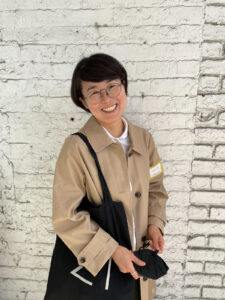 Min Haeng Kang
Min Haeng Kang was born in Korea. She recently received her MFA in Craft & Material Studies(glass area) from Virginia Commonwealth University in U.S.A. She received her BA, BFA in Korean Literature and Photography at SangMyung University in Korea and studied glass in Japan. She graduated as an honor student at Toyama City Institute of Glass Art in Japan. She created her work at the Utatsuyama craft workshop in Japan for three years with a scholarship and was awarded an honor researcher prize twice. She is the first person to receive the grand prize as a foreigner at the 69th annual Kanazawa Craft competition held in Kanazawa, a well-known 'craft city' in Japan, and the first Korean to receive the grand prize at the Triennial International Exhibition of Glass Kanazawa competition in Japan. She also received a silver prize and special prize at the Cheongju International Craft Biennale competition in Korea. Her work was included in the exhibition "COLOURS" at Hempel Glasmuseum in Denmark. She was chosen by French fashion designer Agnès b. to participate in the exhibition with her company in Tokyo. Her work is in the permanent collections of the Cheongju International Biennale Committee, the Toyama Glass Art Museum, the Notojima Glass Art Museum, the Utatsuyama Craft Workshop, Toyama City Institute of Glass Art and Anderson gallery in Richmond Virginia, and can be found in catalogs that were produced for several of the exhibition mentioned above as well as in New Glass Review 34.
www.instagram.com/minhaengkang
Christina Sadovnikov
Christina Sadovnikov is an artist/forager/community caretaker living in Richmond, VA (on Pamunkey land). She creates work where time scales collapse, objects take on new material properties, and landscapes become interstitial spaces for play. She is interested in questioning how we navigate our material relationships to the places we inhabit and to ourselves. She received her BFA from the Craft and Material Studies program at VCU in 2019. These days, you can find her foraging for fruit or riding her bike around the city.
c-sadovnikov.com
https://www.instagram.com/christinasadov/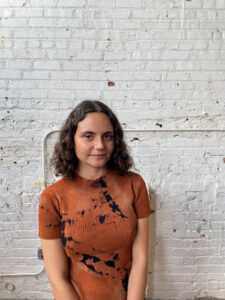 Mariana Parisca
Mariana is an interdisciplinary artist and art educator from the USA and Venezuela. They received an MFA in Sculpture + Extended Media department at Virginia Commonwealth University and a BFA in Studio Art and Anthropology from Washington University in St. Louis. Through a decolonial feminist approach, she creates performances, sculptures, installations, videos, and printed matter that question and redefines the social abstractions that shape value, resource distribution, and consumption in the Americas. Mariana's work has been shown at rudimento in Quito, Ecuador, NARS Foundation in New York City, the New Wight Biennial in Los Angeles, CA, the Virginia Museum of History and Culture, Anderson Gallery, and Cherry Gallery in Richmond, VA, the Virginia MOCA, in Virginia Beach, VA, Bruno David Gallery, St. Louis, MO, and New Works Gallery in Chicago, IL among others. They have received various awards, including an Emergency Grant from the Foundation for Contemporary Arts, the Eliot Scholarship, and the Paul F. Miller Scholarship. They have been an artist in residence at Nave Proyecto, Vermont Studio Center, the St. Louis Story Stitchers, and Sirocco artist residence. She is critically engaged in shaping art institutions and education and currently teaches photography at the University of Richmond.
marianaparisca.com
instagram.com/maripari9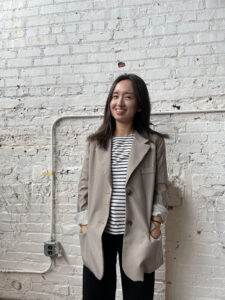 Emily Yaeyoung Park
Emily Park finds a way to transform her thoughts and experiences in different visual languages as a working mom of two kids, a graphic designer, an immigrant from South Korea. She works as an associate art director at VCUarts and is in the process of expanding her visual capacity to express her identity in such a complex world.
emilyparkstudio.com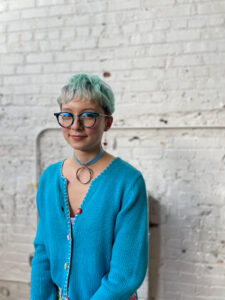 Rebecca Shkeyrov
Rebecca Shkeyrov is a painter who discovers vibrant colors and geometric structures in figures and spaces. Using a formalist approach to image-making, they explore surreal narratives, self-identity, and personal relationships in their work. An activist at heart, they have raised thousands of dollars for crucial causes through selling their artwork. They received their BA from William and Mary in 2020.
instagram.com/theboldstylo
rebeccarov.com