|
|
|
Mira, Miru: Annual Resident Exhibition
Mira, Miru: Annual Resident Exhibition
Mira, Miru
Annual Resident Exhibition
March 11th – April 24th, 2022
Closing event on April 22nd, 5:30-7 p.m.
Artist Talk at 5:30 p.m. on April 22nd
The Visual Arts Center of Richmond presents "Mira, Miru," an exhibition of work by the VisArts' Annual Resident Artists Amarise Carreras, Eric Riviera Barbeito and Sayaka Suzuki. Over the past six months, these artists used resources available at VisArts to develop their creative practices, explore varied media and make new work.
The words "mira" and "miru" translate "to look" in Spanish and in Japanese, a nod to the common thread these artists share in exploring cultural identities and histories from both personal and globally-focused perspectives. Guest curated by Caroline Wright, this exhibition features mixed-media installations by all three artists, highlighting their individual explorations and recent use of new materials within VisArts' studios.
AMARISE CARRERAS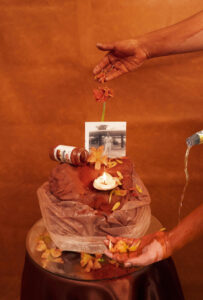 A photo-based performance artist from Queens, New York City, Amarise Carreras examines their past and present history through photographic and installation-based narratives that center on matriarchal and queer lineages. Carreras utilizes photography for both documenting and observing while engaging in performative conversations. The resulting images of quotidian moments convey living, contemporary histories through traditional artistic forms of altars and still lifes. By means of object, color, and composition, Carreras' works offer a window to a place of reflection and contemplation of the divine. The performative aspect is directly referential to the deeply personal connection to the Boricua women that raised them, a focal aspect of their investigation into familial ancestral practices.   
Within Caribbean ritual, collecting objects can symbolize and represent a greater physical or metaphysical form," Carreras explains. "Upon inspection and study, each item narrates a lost history that invites a displaced body; queer, trans, diasporic and migrant, to enter. These altars and images, document survival and the process of my body's renewal."
Amarise Carreras received their BFA in Photography and Film from Virginia Commonwealth University in 2018. Carreras has been shown in galleries such as Candela Gallery, Transmitter, and WallWorks New York, as well as currently being featured in Aperture Magazine and Nueva Luz. 

ERIC RIVERA BARBEITO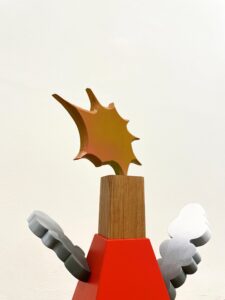 A native of Bayamón, Puerto Rico, Eric Rivera Barbeito integrates a multidisciplinary practice to analyze Puerto Rico's social-political relationship with the United States. His practice documents Puerto Rico's colonial dynamic with the US, addressing inherent cultural, political, and economic systems and their implications on smaller, more personal levels. Through sculpture, painting, drawing, and digital media, his work focuses on the portrayal of concepts such as designed inefficiency, inequality, imperialism, and to an increasing extent, climate change. 
Rivera Barbeito's recent work investigates ways in which the idea of Manifest Destiny has been and continues to be an underlying driver of United States foreign policy. "Through its exportation of its resource-guzzling military industrial complex," he states, "the US continues to precipitate the severity of climate change, and the intensity of natural disasters. This results in a double-tiered wave of violence of global proportions through the imposition of "American" values; the unyielding hunt of capital growth at the expense of all else, even self-inflicted doom." 
Eric Rivera Barbeito received his BFA from the Maryland Institute College of Art in 2017 and relocated to Richmond, VA, where he currently lives and works. He was an Artist-in-Residence at the Vermont Studio Center and ACRE in Steuben, Wisconsin. His work has been included in group exhibitions at Towson University, School 33, Terrault Contemporary and Tiger Strikes Asteroid Philadelphia. 
SAYAKA SUZUKI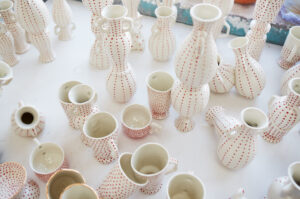 Originally from Yokohama, Japan, Sayaka Suzuki creates works that explore her deep roots in Japanese culture through the lens of her newly adopted status as an American immigrant. Using colors, designs, and traditions of Japanese textiles, she examines her dual identity in the form of sculpture and installation. Her interwoven works welcome meditation and historical reflection, self-care and self-identity through introspective and interactive environments. Suzuki encourages the viewer to contemplate the gravity of Japanese-American history and our current state of cultural globalization.  
Through red and gold dots on ceramics and wallpaper, she translates the "1,000 stitches belt" known as Senninbari. Immersive dots on screen-printed wallpaper signify the 120,000 Japanese and Japanese-Americans who were incarcerated in concentration camps in the United States during World War II, while an evolving porcelain installation focuses upon the community aspect of Senninbari, with clay forms representing ongoing human interactions and exchanges. 
Sayaka Suzuki earned her BFA from Tulane University and her MFA from Virginia Commonwealth University. Her works have been exhibited nationally and internationally, including solo exhibitions at the Virginia Museum of Contemporary Art and the Pensacola Museum of Art, as well as group shows at the Washington Project for the Arts-Corcoran, New Mexico Museum of Art, Czong Institute for Contemporary Art in Korea, and Museo Crocetti in Italy. Suzuki is a recent recipient of the Virginia Museum of Fine Arts Fellowship and was a recent fellow at the Vermont Studio Center. She currently teaches at Virginia Commonwealth University and leads workshops around the country.