The VisArts Artists Helping Artists Auction is a multi-week, online art auction that brings together artists and collectors to raise funds for Richmond's visual arts community.
Each week, VisArts will highlight and auction a piece of art representing one of the 12 art media available in the center's 18 professional studio spaces. Works selected for the auction will go up for auction online each Thursday.
VisArts is committed to supporting Richmond's art community, from professional artists to students, during the ongoing COVID-19 pandemic. The goal of the VisArts Artists Helping Artists Auction is to help ease some of the losses artists may have incurred during this period of social distancing. Proceeds from sales will benefit the artists who created the pieces, VisArts' Annual Fund, the CultureWorks COVID-19 Arts and Culture Relief Fund and the Oakwood Arts and VisArts initiative which provides free, weekly art kits filled with supplies and lessons for Richmond Public Schools students.
The auction will run on a weekly basis from April 23 through October 29, 2020.
Up for auction: October 22-29, 2020
Artist: Wendy Umanoff & Steve Hedberg
Title: Illuminating Lives
Media: Plug-in, painted metal and wood sconce
12 x 5.75 x 4 in.
Special thanks to the artist for donating a portion of the proceeds from this work to the VisArts Annual Fund and Oakwood Arts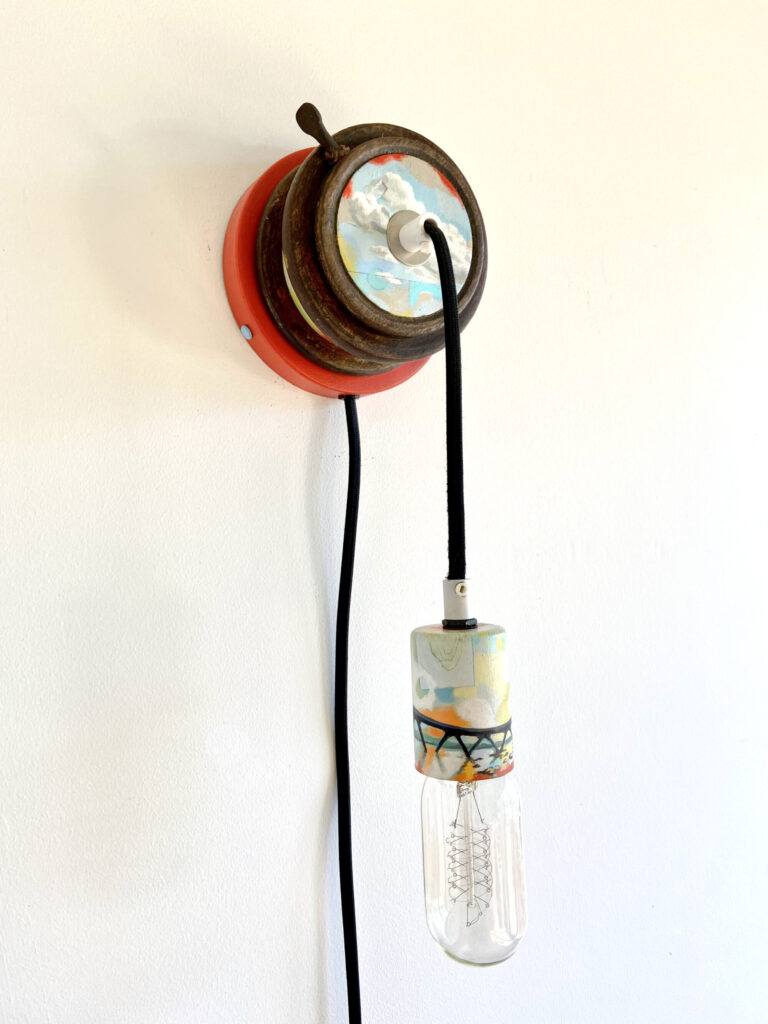 Bidding closes at 6 p.m. on Thursday, October 29.
About the Artist
Once Wendy Umanoff, principal of UMANOFF DESIGN LLC, decided to focus her creative energy designing custom light fixtures, her opportunities flourished. In between her custom lighting projects, Wendy continues to design and build one of a kind and small collections available for purchase on her website. Wendy has been a part of the design community in Richmond VA for the past 20 years. She credits her passion for architecture and her love of abandoned antiquities with greatly influencing her unconventional approach to design. For the past 12 years, Wendy has focused her talents on designing custom, one-of-a-kind lighting fixtures. Her work can be seen hanging in restaurants, museums, theatres, hotels and homes across the United States and Canada. With an education in the fine arts and an even deeper interest in sculpture, Umanoff Design provides an opportunity for stylistic self-discovery. Through a collaborative process, Wendy works closely with residential and hospitality clients across the country, to create lighting that helps establish balance and beauty in their personal and professional spaces. Umanoff DESIGN has been featured in prominent regional and national media, including HGTV, Better Homes and Gardens, New York Magazine, Virginia Living, Distinctions Magazine and R Home Magazine, Young House Love and 3 Rings Designer Pages. Wendy received her Bachelor of Fine Arts degree from Parsons School of Design in New York City.
Richmond artist Steve Hedberg paints both representational and abstract works, finding much of his inspiration from the streets, trails, hills and riverbanks of Richmond. Hedberg's paintings are included in a number of collections, such as the Federal Reserve Bank of Richmond, Facebook, Capital One and U.S Department of State. Steve, his wife and two daughters call Forest Hill on the South Bank of Richmond their home. See more work at stevehedberg.com
"VisArts as an organization as well as the community that supports its mission, have always been an inspiring connection for me. I think the energetic feeling of alignment best describes how I feel when I'm in their space. 'Illuminating Lives' was imagined as a collaborative project that pairs an artist to paint a Umanoff Design light fixture. It's always a collaborative experience with the intent to raise funds to help support art non-profits." – Wendy Umanoff
"Wendy's work is stunning and it was honestly difficult to paint on this piece knowing that I was covering up this beautifully dark and distressed wood that makes up the base. I took a reserved approach in how I painted the piece to allow some of the wood to remain exposed. I started with clouds. And I realized that I still had the light fixture to paint and that when it hangs, it will fall below the skyline. The James River is central to my Richmond as it is to so many, and the Manchester Bridge has been a current subject of my work. Electricity shall flow through this sconce just as the river does through Richmond." – Steve Hedberg