The VisArts Artists Helping Artists Auction is a 12-week, online art auction that brings together artists and collectors to raise funds for Richmond's visual arts community.
Each week, VisArts will highlight and auction a piece of art representing one of the 12 art media available in the center's 18 professional studio spaces. Works selected for the auction will go up for auction online each Thursday.
VisArts is committed to supporting Richmond's art community, from professional artists to students, during the ongoing COVID-19 pandemic. The goal of the VisArts Artists Helping Artists Auction is to help ease some of the losses artists may have incurred during this period of social distancing. Proceeds from sales will benefit the artists who created the pieces, VisArts' Annual Fund, the CultureWorks COVID-19 Arts and Culture Relief Fund and the Oakwood Arts and VisArts initiative which provides free, weekly art kits filled with supplies and lessons for Richmond Public Schools students.
The auction will run on a weekly basis from April 23 through July 23, 2020.
Up for auction: May 28 – June 4, 2020
Artist: Susan Adams
Title: Bisbee Turquoise & Pearl Earrings
Media: 16 Carat turquoise, sterling silver, seed pearls, and baroque pearls
1 x 2.75 inches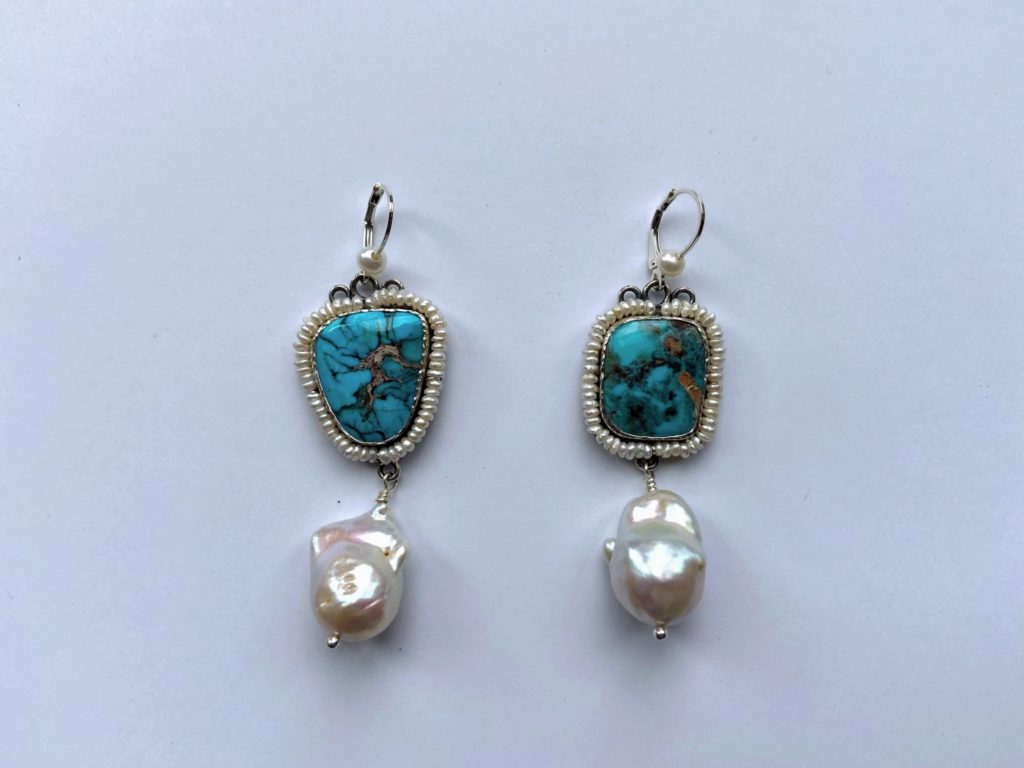 Special thanks to the artist for donating 100% of the proceeds from this work to Free Art Activity Kits.
Bidding closes at 6 p.m. on Thursday, June 4. 
About the Artist
Susan Adams is a Richmond, VA-born professional jeweler and metalsmith. She received her MFA from Cranbrook Academy of Art and has taught jewelry classes at the Visual Arts Center of Richmond, the Virginia Museum of Fine Arts, VCUarts and Richmond Public Schools. Versatility, skill and meticulous attention to detail allow her to design and produce unique decorative objects, jewelry and hollowware. She has created commissioned projects ranging from the cowgirl logo for the National Cowgirl Museum to wedding rings, commemorative gifts, corporate awards and props for movies. She is a recipient of the Virginia Museum of Fine Arts Fellowship and has awards from the Western Design Conference, the Southwest School of Art and VisArts' Craft + Design Show.
"It's been a great experience to teach at the Visual Arts Center of Richmond for over 25 years. I've had students ages 8-years-old to 91-years-old and we all share a love of making and creating." – Susan Adams