VisArts' 2023 Craft + Design Show at Main Street Station Nov. 17-19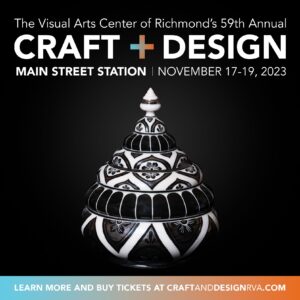 The Visual Arts Center's Craft + Design returns to Main Street Station in downtown Richmond, Va. November 17-19.  
This is the 59th year of the contemporary craft show that has grown in reputation over the years for showcasing the finest in museum-quality craft. Up to 10,000 people shop the three-day event where more than 150 artists from across the country present their original art for sale. All proceeds from Craft + Design go towards VisArts' community and educational programs.  
Pittsburgh-based Angela Humes was selected as the featured artist of the event this year. A Palestinian/American, inspiration for the ceramicist's work is driven by artistic expression from her culture she frequently witnessed in clothing, decor and more when visiting with family during her youth. Her pieces are hand-made using the hand-drawn Sgraffito design.   
A list of participating artists is available on the event website: craftanddesignrva.com.  
Tickets to the event, ranging in price from $10 to $90, can be purchased by visiting the Craft + Design website. Attendees planning to go to multiple events over the course of the weekend can purchase a weekend pass, $85 for members and $90 for the general public. Weekend passes include a ticket to two signature events of the weekend – one ticket to Patrons' Preview (with complimentary valet parking), one ticket to Rise + Shine Brunch – and unlimited admission during regular shopping hours. Members receiving free tickets to the Patrons' Preview will receive them in the mail before the event and at event check-in.  
The McKinnon and Harris Patrons' Preview Party will be held Friday., Nov. 17, 6 to 9 p.m., and will include beer, wine, hors d'oeuvres and the chance to shop early. Tickets are $60 for VisArts members and $65 for the general public.    
The Carole and Marcus Weinstein Rise + Shine Brunch pairs early shopping with a light breakfast, bloody marys and mimosas. The event will be held Saturday, Nov. 18, 9:30 to 11 a.m. Tickets  are $35 for VisArts members and $40 for the general public. Regular shopping hours are 11 a.m. to 5 p.m. on Saturday, Nov. 18 and Sunday, Nov. 19. General admission tickets cost $10.  
The Education Wing, presented by Richmond Family Magazine, is free and open-to-the-public during general shopping hours throughout the weekend. This art-making space is for adults and children who want to explore the media Craft + Design artists use to create their work and is a perfect resource for families visiting the show. 
Tickets can be purchased by visiting the Craft + Design website. Want to volunteer at Craft + Design? Sign up on the VisArts' volunteer page. 
###