"Self-Adjacent" opens Nov. 10; examines parenting and caregiving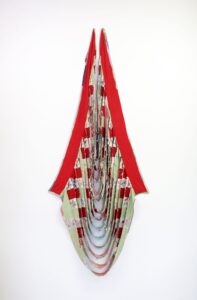 A new art exhibition at the Visual Arts Center of Richmond (VisArts) will explore the many dimensions of the job that is often called the hardest one in the world – parenting. The opening reception for the group exhibit, "Self-Adjacent," will be held 5:30-7:30 p.m. on Friday, Nov. 10 in the VisArts' True F. Luck Gallery. Curated by Sarah Irvin and Tracy Stonestreet, the exhibition will feature the work of 21 artists.  
Featured artists will perform as part of the exhibit on Saturday, Nov. 11 at 1p.m. 
VisArts is the first stop of the traveling exhibit before it moves on to the Massey Klein Gallery in New York City in Spring of 2024 and the Kennedy Museum of Art in Fall of 2024.
"We are excited to kick off this traveling exhibition in Richmond," says Sarah Irvin, one of the curators of the exhibit. "The work in the show will prompt discussions about the many circumstances faced by those who become parents, and we hope our local community will find many opportunities to reflect on the rich experiences of the artists involved."  
Through visual and performing art, the collection will examine the transforming experience of parenthood by artists navigating their many identities alongside and within the field of caregiving. Many factors influence the impact of juggling and attempting to balance these roles, varying from one parent to another and evolving over time.
The show emphasizes that the reconfiguration of the self – produced by caregiving – is not a given, but takes place in parallel with varied iterations of parent-as-process. Caretaking involves negotiating with the child's developing self, who, is both a mirror and rejection of the caretaker.
"Our goal was to highlight the strength of this topic across materials and media," says Tracy Stonestreet, the other curator. " We have sculptors, painters, printmakers, performance artists, and photographers from across the United States who are all exploring what it means to care for children, and what that experience can do to one's sense of self," she said. 
The Visual Arts Center of Richmond hosts at least five contemporary art exhibitions each year in the True F. Luck Gallery. The gallery is open 9 a.m. to 9 p.m. every day. Admission to the gallery is free.  
"I'm honored that VisArts has the opportunity to present this exhibition first in Richmond," says VisArts' executive director, Jordan Brown,  "This exhibitions shares a wide range of experiences across all lifestyles and invites us to spend time to slowly consider, celebrate and re-examine what it means to care for others."