Over 150 Artists to Exhibit at Craft + Design, October 14 – 16, 2022
Craft + Design is back in person and this year, the Visual Arts Center of Richmond welcomes over 150 artists to Craft + Design 2022. The 58-year-old contemporary craft show takes place at Main Street Station's train shed on the weekend of Oct. 14-16, 2022. All proceeds from Craft + Design go towards VisArts' community and educational programs.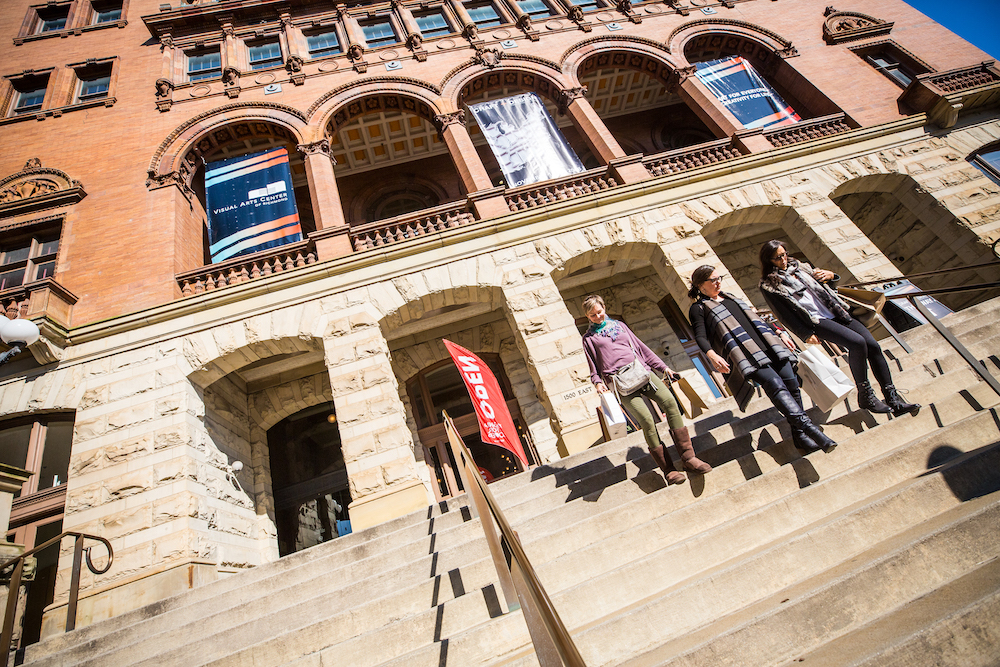 Over 40 artists are new to Craft + Design this year and over half of the show's artists are traveling from out of state. A complete list of participating artists is available on the event website. 
"It's an honor to know that the very best artists travel from all over the country to exhibit their work at Craft + Design," said Stefanie Fedor, executive director of the Visual Arts Center of Richmond. "We're thrilled to be back in person at Main Street Station celebrating our 58th year of Craft + Design with so many talented makers from Richmond and beyond." 
VisArts selected Brooklyn-based fiber artist Sarah Djarnie-Brown as the featured artist this year. 
Djarnie-Brown's vibrant and colorful heirloom dolls are handcrafted out of salvaged materials including wood, fabric, wool and various other recycled mixed materials. 
Sarah Djarnie-Brown's work has been shown in the 2022 Smithsonian Future Focus show. This will be Brown's first year at Craft + Design. 
Six 2019 Craft + Design award winners return to the show this year, including: 
Nicario Jimenz (Elisabeth Scott Bocock Best in Show Award, Presented by McGuireWoods LLP

 

Stephen and Tamberlaine Zeh (Claris Financial Innovative Use of Traditional Craft Materials)

 

Daniel Rickey (Friends of the Wood Studio at VisArts Wood and Recycled Materials Award)

 

Melissa Schmidt (Priscilla Burbank and Mike Schewel Glass Award)

 

E. Douglas Wunder (Genworth Best Booth Design Award)

Robert Patterson (Troutman Sanders Contemporary Design Award)

 
Local Richmond notable includes Paul Hansbarger, owner of Lineage in Carytown who will host and a Local Maker booth at this year's show.  
VisArts also invited 20 Richmond artists who are instructors at the center. Accepted teachers include: Angie Bacskocky, Claire Berry, David Camden, Merenda Cecelia, Lauri Jenkins, Paul Klassett, Claire McCarty, Shawn Norian, Christine Orr, Stephen Palmer, Al Pellenberg, Julia Pfaff, Kourtenay Plummer, Debbie Quick, Tracy Shell, Danielle Stevens, Nastassja Swift, Ashley Tamber, Sarah Tector, and Kristi Totoritis. VisArts teachers Alicia Dietz and Alyssa Salomon were accepted into Craft + Design 2022 through our juried application process. 
This year's show was juried by VisArts Master Teaching Artist Jay Sharpe, Craft + Design Committee Chair Anna Powers, and local craft collectors and arts patrons Karen Kelly, Virginia Lewis and Maggie Smith. 
 Craft + Design is nationally recognized for its competitive admission rate.  Additionally, artist feedback describes Craft + Design as an extremely hospitable show. The hosted housing program and artists' dinner are just two of the perks that set Craft + Design apart from other shows of its caliber. 
There will be several local maker booths at the show this year, featuring the work of Richmond-area craftspeople. Local brick-and-mortar retailers Dear Neighbor, Lineage, Na Nin and knifemaker Join or Die Knives will curate these special group booths. 
Richmond Magazine has partnered with Richmond-based modern furniture retailer, LaDiff to bring an interior design showcase to Craft + Design 2022. The beautifully designed space will feature works of art from participating artists Ashley Chiang, Jorgelina Lopez & Marco Duenas, Daniel Rickey and Robert Patterson. 
The McKinnon and Harris Patrons' Preview Party, which takes place on Fri., Oct. 14 from 6 to 9 p.m., includes beer, wine, hors d'oeuvres and the chance to shop early.  Tickets cost $60 for VisArts members and $65 for the general public.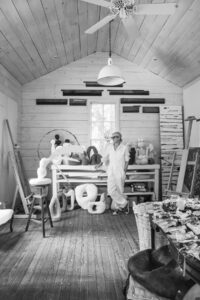 The Rise + Shine Brunch, which pairs another early shopping opportunity with a light breakfast, bloody marys and mimosas, will run from 9:30 to 11 a.m. on Sat., Oct. 15.  Tickets are $35 for VisArts members and $40 for the general public. At this year's brunch, Richmond magazine presents featured speaker, Susan Hable, the artist and designer behind Hable Construction Design Studio. Susan brings her multi-disciplinary arts background to her designs and her work is informed by experience in collage, sculpture, welding, drawing, printmaking and painting. Her book titled "A Colorful Home" (Chronicle Books, 2015), which was highlighted on architecturaldigest.com, shows how she translates the palettes found in nature, art, or objects to create an inspiring yet approachable guide to living with color.  
Susan's work, home and various collections have been covered in many publications including the New York Times Style Magazine, Elle Decor, and the Washington Post.  
During her Rise and Shine talk at 10 a.m., Hable will demonstrate how to integrate bold color and one-of-a-kind craft into your home.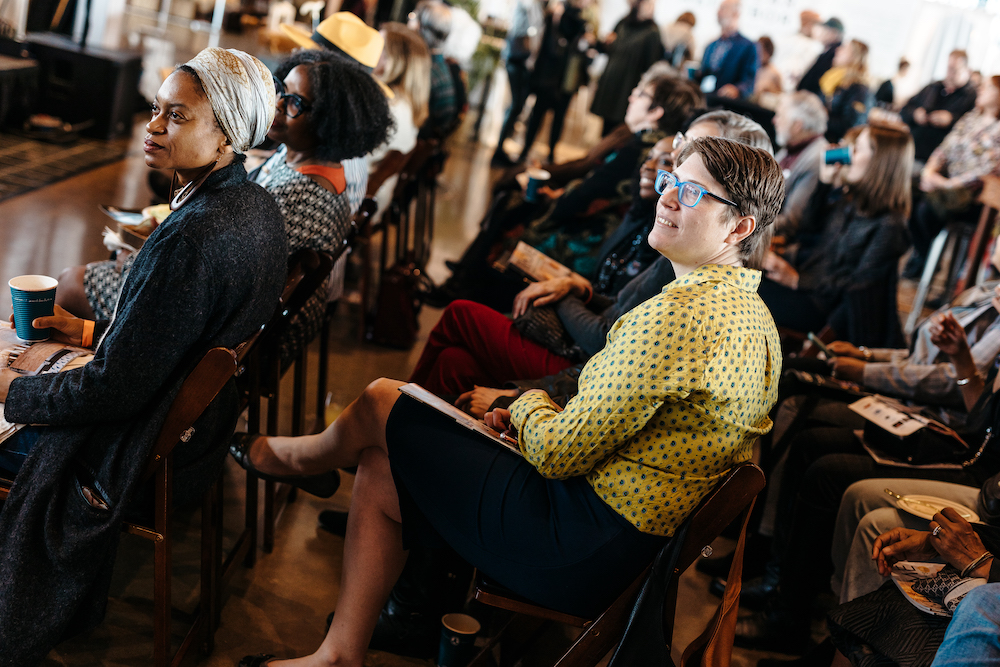 Regular shopping hours run from 11 a.m. to 5 p.m. on both Sat., Oct. 15 and Sun., Oct. 16. General admission tickets cost $10. VisArts members receive one or two free general admission tickets, depending on their level of membership. The education wing presented by Richmond Family Magazine, located on the lower level of Main Street Station, is a free, art-making space where both adults and children can explore the media Craft + Design artists use to make their work. 
Hardywood Park Craft Brewery is once again the exclusive beer sponsor of Craft + Design this year, serving beer throughout the weekend. The beer garden will be in the middle of Main Street Station's event space beside the Claris Financial Demonstration Stage, which will showcase live demonstrations by VisArts teaching artists. During Saturday and Sunday's regular shopping hours, Espresso-a-Go-Go, Goatocado, and Alamo BBQ will be serving food and refreshments on the lower level.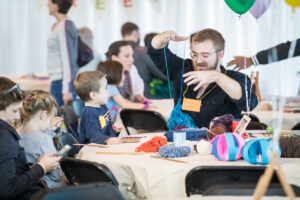 People who would like to attend multiple events over the course of the Craft + Design weekend should consider purchasing a weekend pass. Weekend passes are $85 for members and $90 for the general public and include a ticket to Patrons' Preview (with complimentary valet parking), a ticket to Rise + Shine, and unlimited admission during regular shopping hours.