Visual Arts Center of Richmond Accepting Applications for Three Artist Residency Programs
The Visual Arts Center of Richmond is accepting applications for three artist residency programs, including two brand-new programs.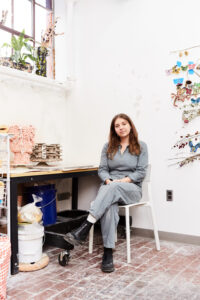 VisArts designed these three programs to support artists at all stages of their careers. The organization will prioritize applications from BIPOC artists and those who come from groups that have been historically underrepresented due to age, disability, sexual orientation, gender, gender identity, or socioeconomic status. 
"We are so excited to expand our residency opportunities this year," said Jordan Brown, VisArts Director of Education. "The COVID-19 pandemic has been challenging for so many artists in our community – from losing chances to sell their art to losing work space. We hope that by offering up new ways to work in our spaces, we can help artists get some of the support they need." 
Applications for the 2021 Pop-Up Residency and the Studio Access Residency are due on Monday, March 15 at 11:59 p.m. Applications for the Annual Artist Residency are due on Friday, April 2 at 11:59 p.m. 
2021 Pop-Up Residency 
The 2021 Pop-up Residency at VisArts provides visual artists with a three–month studio residency from May through July of 2021 to develop new work and to interact with the Richmond arts community. Residents will be provided with 24/7, private studio space and access to VisArts' 17 professional art studios which support work across a variety of visual art media.  
Studio Access Residency 
VisArts' Studio Access Residency is a six-month program designed to support emerging and established visual artists by providing free access to VisArts' 17 communal studio spaces during regular building hours.  
VisArts will offer two, six-month Studio Access Residencies each year (Spring + Summer/Fall + Winter).  The center has 17 professional art studios dedicated to clay, digital, drawing, painting, fiber, flameworking, glass, letterpress, metals, photography, printmaking and wood. Residents may use all of VisArts' studios to work across different media, or they can choose to focus on one studio. 
The spring and summer 2021 Studio Access Residency will run from April 15 to October 15, 2021.  
Annual Artist Residency 
VisArts' Annual Artist Residency is an 11-month program with funding from the Windgate Charitable Trust. This residency is open to artists and writers at a pivotal point in their career who could benefit from VisArts' studios, teaching community and who could use dedicated time and space to devote to their practice. 
Three emerging visual artists and one writer will be invited to spend the year at VisArts (September 1, 2021-July 31, 2022) making new work which will be included in a group exhibition and reading at VisArts midway through the residency (spring 2022).   
More information about all three of VisArts' residency programs can be found at visarts.org/artist-residencies/.