Visual Arts Center of Richmond Accepting Applications for Studio Access Residency Program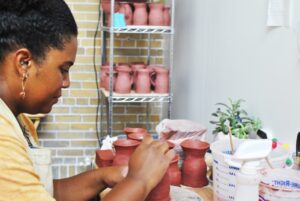 The Visual Arts Center of Richmond (VisArts) is currently accepting applications for the Fall/Winter Studio Access Residency program. Applications close September 1, 2021. VisArts' Studio Access Residency is designed to support two emerging or established visual artists to develop new ideas and foster artistic exploration by providing free access to VisArts' 17 communal studio spaces. 
VisArts thrives on the diversity of its art community and welcomes applicants of all backgrounds, faiths, genders, and sexual orientations to apply.
VisArts has 17 professional art studios dedicated to clay, digital, drawing, painting, fiber, flameworking, glass, letterpress, metals, photography, printmaking, and wood. Residents may use all of VisArts' studios to work across different media, or they can choose to focus on one studio. 
The fall and winter 2021-2022 Studio Access Residency will run from November 1, 2021 – April 1, 2022.  
About VisArts
The Visual Arts Center of Richmond (VisArts) has helped adults and children explore their creativity and make art since 1963. Each year, the organization touches the lives of more than 40,000 people through its classes, exhibitions, community outreach programs, camps, workshops, and special events.
VisArts offers more than 1,000 visual and creative arts classes each year in clay, wood, fiber, painting, photography, printmaking, glass, metal, drawing, writing, decorative arts, and other visual media. More than 125 instructors teach for the organization.
More information about all three of VisArts' residency programs can be found at visarts.org/artist-residencies/studio-access-residency.