Visual Arts Center of Richmond to Host Sixth Annual VisArts Chili Throwdown on Friday, Oct. 4
The Visual Arts Center of Richmond will host its Sixth Annual VisArts Chili Throwdown on Friday, October 4, 2019 from 5:30 to 8:30 p.m. This year's event will feature the chili of more than 25 Richmond restaurants and music by the Cary Street Ramblers.
Tickets are $25 for VisArts members and $30 for the general public. Kids under age 12 eat for $5 and kids under age 3 eat free. Adult admission includes a handmade ceramic bowl—made by a VisArts clay artist—and a drink ticket. Additional ceramic bowls will be available for purchase.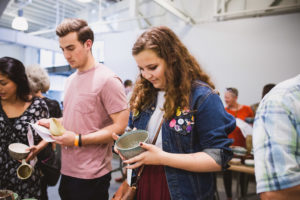 At the VisArts Chili Throwdown, Richmond restaurants contribute their best chili, which is taste-tested by both a blind jury and the event's attendees. VisArts names an overall winner and a people's choice winner. After guests have voted, they're welcome to go back for a full bowl of their favorite chili. This year's celebrity guest judges are Eileen Mellon (Richmond magazine Food Editor), Laura Sant and Nicole Lang (Hosts of Richmond Famous, a podcast about food, culture and community in RVA), and Philip Mills (VisArts Clay Instructor).
Last year, more than 500 people attended this indoor/outdoor event. The 2018 defending champions are Maple & Pine and Postbellum.
The following restaurants have already signed on to participate this year: 821 Café, Amuse, Bombolini Pasta, Brenner Pass, Buz and Ned's Real Barbeque, Curbside, Gadean's Smokin' Six O, Garnish Catering, Goatocado, The Graduate, The Grill, Hometeam Grill, Maple & Pine, Mean Bird, Mise En Place, Mosaic Catering, Mosaic Restaurant, Oak & Apple, Perch, Postbellum, Salt and Forge, Scuffletown Garden Smoke Pit Grill, Soul n' Vinegar, Tazza kitchen, Union Market, WPA Bakery, and ZZQ.
Interested in volunteering at this event? Please sign up on our volunteer page. For every two hours you work, you receive $10 off VisArts tuition.