Make Space Named Outstanding Mentoring Program of the Year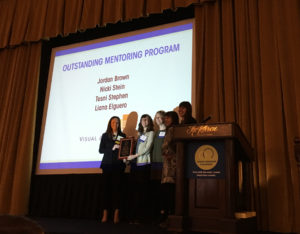 The Visual Arts Center of Richmond's Make Space program was recognized by Virginia Mentoring Partnership as an outstanding mentoring program at its annual luncheon, which was held at The Jefferson Hotel on March 23.
Each year, Virginia Mentoring Partnership celebrates the contributions of mentors and mentoring programs to the growth and development of Virginia's youth.
Make Space was named an Outstanding Mentoring Program of the Year, alongside Royall & Company's College Mentoring Partnership. Jonathan Showalter of Charlottesville Abundant Life Ministries, and Christopher Cooke, of Big Brothers Big Sisters Services, Inc. in Richmond, Hampton Roads and the Tri-cities, were also recognized.
Make Space pairs 12 sixth-grade girls—all of whom attend Anna Julia Cooper Episcopal School—with 12 women for a year of mentorship and art-making. VisArts launched the program in the fall of 2008, and since then, it has affected the lives of almost 200 women and girls. The program was formerly called A Space of Her Own.
The Visual Arts Center of Richmond was also recognized for meeting the standards of the National Mentoring Partnership's National Quality Mentoring System (NQMS), which means the program has met or exceeded national best practices for mentoring young people.
VisArts will recruit mentors for the 2017-18 academic year this July and August. Women need to have the capacity to commit to weekly classes on Thursday evenings from September through May as well as monthly mentor training sessions on Friday afternoons. In addition, they should be able to dedicate two weekends—the last weekend in April and the first weekend in May—to working on the girls' bedroom makeovers.