How to Style Contemporary Crafts in Your Home by Marissa Hermanson Moomaw
From dressing your dinner table to arranging an artful collection, here's how you can incorporate handmade wares into your home.
By Marissa Hermanson
Whether it be wood furnishings, metalwork or woven fibers, contemporary craft blends age-old artistry with modern aesthetics to create pieces that are functional and beautiful for you to use at home.
Handcrafted pieces add instant character to a dwelling, giving spaces a sophisticated, collected and one-of-a-kind look. Here's are a few ways that you can incorporate contemporary craft into your home.
CHINA CABINETS
China cabinets have long served the purpose of displaying precious heirlooms, while keeping them safe under lock and key. Grandma won't mind you adding a few new pieces alongside the china and crystal she's passed down.
Freshen up the old china cabinet with modern ceramics and glass pieces that add a contemporary contrast to the classic Delft and Imari. For ceramics, think sculptural silhouettes, bright colors and fun textures. One-of-a-kind glass sculptures by artists like Danielle Blade, Stephen Gartner, along with Erin and Grant Garmezy can jazz up a tired china cabinet.
WALL DISPLAYS
While the go-to for walls is traditionally paintings and prints, don't stop there. Craft has a place on walls too.
Hang a collection of plates by ceramicists like Bob Meier or Dwo Wen Chen. Arrange several in a row or cluster a half dozen or so in a grouping. Use a motif like flowers or a color scheme to tie them all together so the arrangement looks intentional. Display different patterns, textures and sizes to make the grouping look dynamic.
Don't forget fiber. Textiles add instant warmth and texture to a space. The go-to for walls are tapestries like Kate Koconis' contemporary woven pieces, but you can get creative too. Frame a beautiful textile like a scarf by fiber artists Catherine Joseph or Lisa Limer.
For textiles that you plan on using, like Dianne Nordt's hand-woven merino wool blankets, drape them over an antique ladder leaning against a wall so you can grab and use as needed.
For gallery walls, consider incorporating pieces that have texture and dimension, like Erika Rubel's funky mixed media mirrors or Jennifer McBrien's embroidered clothes that are framed in sewing loops.
In the nursery or playroom, you can't go wrong with one of fiber artist Jennifer Gubicza's mounted stuffed animal heads. The magical-looking creatures add wonder and whimsy to a child's room.
MANTELS + LEDGES
Mantels are ideal for displaying arrangements that you want front and center. A handmade wooden clock by Desmond Suarez is a classic go-to for a mantel display. Or for something more contemporary, create a cluster of monochromatic, sculptural ceramics in various shapes and sizes by potter Ryan Greenheck.
Narrow mixed-media sculptures by artists like Ed Byers, Holden McCurry and Nicario Jimenez also command the spotlight when placed on display. And the quirky sculptures also double as great conversation pieces.
Cloches are a unique way to highlight small figurines, like Colin Richmond's handmade animals. By enclosing the petite works of art in bell jars and arranging a few of them on a ledge, you are creating an interesting collection that looks like it's fit for a museum.
KITCHEN + BAR
If you have a wet bar or bar cart in your home, this is an opportune time to put out pretty glasses and barware. An intricate wooden tray by Robert Patterson can be topped with hand-blown glasses and bottle stoppers by Sean Donlon.
Use the open shelving in your kitchen as a place to exhibit your prized ceramics. You also can install a few hooks under your cabinets and hang your favorite mugs so they are out in the open, ready to be used and appreciated. Check out mugs by ceramicists Abbey Howarth and Abby Berkson, along with artful cups and saucers by Ann and Sandy Batton.
TABLETOP
Fine craft was meant for the dinner table with textiles, metalware and ceramics all coming together to create artistic tablescapes.
For dinner parties, drape your table with a handmade tablecloth, runner or fun textile like a scarf. Embellishments can include anything from metal vases and candleholders by Julie and Ken Girardini to handcrafted servingware by ceramicists Angelique Tassistro, Carla Pillsbury or Deanna Dorangrichia.
Gussy up your table further with items like metalsmith Benjamin Caldwell's glitzy silver and copper utensils and Martha Collins' wood candleholders and salt and pepper shakers. For flower arrangements, textured and colorful vases by ceramicists Ruchi Gupta and Catherine Satterlee make a nice addition to a dressed dining table.
ENTRYWAYS, MUDROOMS + CLOSETS
Metalsmiths Julie and Ken Girardini also make unique wire and metal coat hangers that add a contemporary-meets-industrial touch to entryways and mudrooms.
Wearable art can be displayed in entryways and mudrooms on a hall tree, coat hanger or in cubbies. Think Alyssa Salomon's graphic bags, Audrey Jung and Carrie George purses and an Elizabeth Holliday jacket. A place that you usually pass through can be dolled up to look like your very own personal boutique.
Hand-woven baskets by Stephen and Tamberlaine Zeh are great for organizing soft goods like mittens and caps, where you can easily grab them and go on your way out the door.
These same tips apply for closets as well. By thoughtfully arranging your clothing and accessories, you're highlighting your wearable artwork.
THE VANITY
When not worn, you can display jewelry in thoughtful ways at home. With pieces by artists like Alicia Goodwin, Christine Mackellar and Rashana Miller you don't want to tuck away their artful adornments, but display them on your vanity. Exhibit rings in a small bowl, necklaces on funky knobs or hooks and earrings on a wire rack.
WOOD FURNISHINGS
Handcrafted furniture that is mixed and mingled with other pieces creates a dynamic space. Different styles and eras make a collected and sophisticated home — and a handmade furnishings only enhances that feel. Handmade wood furniture also is constructed in a way where it will stand the test of time with its materials and craftsmanship.
Furnishings by woodworkers like Alicia Dietz, Daniel Rickey and Christina Boy add warmth to a space. Wood rocking chairs by Alec and Richard Gordon have a nostalgic touch, while John Spivey's midcentury lounge chair and ottoman embrace a retro vibe. And Kyle Lucia and Johanna Willsey combine wood and metal to create contemporary pieces with style.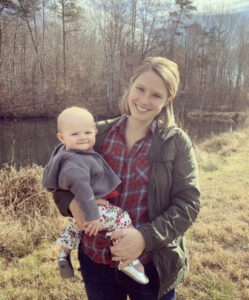 About the Author: Marissa Hermanson Moomaw is a freelance writer for a variety of lifestyle publications and brands, and copy editor for The Scout Guide's 60-some city publications across the United States. She currently writes about interior design for Lonny and The Washington Post, along with cabins, campers and #vanlife for Dwell.
She's also written about her travels for Southern Living ; journalism and career development for MediaBistro; leading restaurant professionals for Plate Magazine; the state of the organic industry for Delicious Living; interior design for Domino, Dwell and Lonny; and Swedish food and culture for The Kitchn and Umgås Magazine.