Craft + Design Online Jewelry Guide 
By Karen Kelly
Craft + Design Online features a variety of museum-quality craft from artists across the country. The largest featured media is jewelry, with nearly 50 artists represented in this year's show! From classic materials such as fine metals and precious stones to clay, newspaper, and wood, Craft + Design Online's jewelry artists create truly stunning, wearable art.  
Karen Kelly, a member of the Visual Arts Center of Richmond's board of directors and Craft + Design Committee, is an avid jewelry collector and one of the show's most stylish patrons. Here's Karen's guide to must-have jewelry from Craft + Design Online: 
I love the nature-inspired, bold pieces from Alicia Goodwin that focus on talismans and Victorian-era work. Alicia's etching process makes each piece unique and the styles are perfect for everybody. 
Many of Nina Zabal's bright and colorful polymer clay pieces are inspired by travel and fun destinations. These lightweight pieces in fun patterns are a must-have!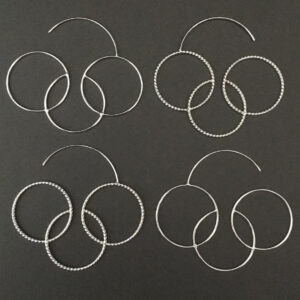 Sarah Tector features classic and minimal styles in a "less is more" approach that I adore.  You can also apply her approach to jewelry making by taking one of her classes at VisArts!  
 Marie Chamblin Dirom and Gabriel Ofiesh are masters of fine jewelry. Using gold, silver, diamonds, and precious/semi-precious stones, Marie creates casual elegance that can be worn with a gown or jeans and a t-shirt. Gabriel's designs are bold and modern with diamonds and juicy gems. I love his new square rings collection! 
Holly Anne Mitchell hand forms an everyday object, newspaper, into beads that are hand-stitched into intricate pieces such as bracelets and brooches.  
Statement Pieces from Past Craft + Design Award Winners
TARA LOCKLEAR, HILARY HERTZLER, MELISSA SCHMIDT
These artists feature bold pieces with their bold colors and hidden surprises. Melissa Schmidt often tucks tiny delicacies into blown glass for her designs while Tara Locklear recycles skateboards for her pieces. Hilary Hertzler's jewelry offers a dramatic play of color, materials and textures.  
 I'm a huge fan of Ann Chikahisa's use of mixed metals, especially where diamonds are used. Her work features principles of wabi-sabi: Asymmetry, roughness and simplicity that is incredibly elegant. The Talisman Collection makes a great gift!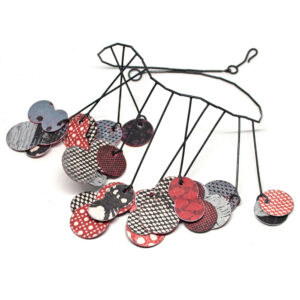 Alice Kresse uses paper, fiber, epoxy, and metal to make her styles physically light and delicate with a powerful presence.  
SHOP CRAFT + DESIGN ONLINE