VisArts Stained Glass Teacher Mary McNeil to be Honored with 2017 Shelly Shepherd Master Teacher Award at Collectors' Night
Mary McNeil, a longtime stained glass instructor, will receive the 2017 Shelly Shepherd Master Teacher Award at the Visual Arts Center of Richmond's Collectors' Night gala on Saturday night.
McNeil has been teaching stained glass classes at VisArts for over 20 years. She works primarily with middle school students who are part of the center's Art After School program.
She says her students' enthusiasm is what she loves most about teaching, and working with kids is particularly special because of the perspective they bring to the craft. "Adults come in expecting to churn out a Tiffany for their first piece," McNeil said, "Young students aren't such perfectionists."
Working with glass can be intimidating for young students at first, McNeil said, so it's important to teach kids to respect the medium. On the first day of class, she warns her middle school and high school-aged students that they're going to get an accidental cut at some point during the class. "I'm fairly laid back with the kids," McNeil said. "At the same time, I'm a stickler on safety."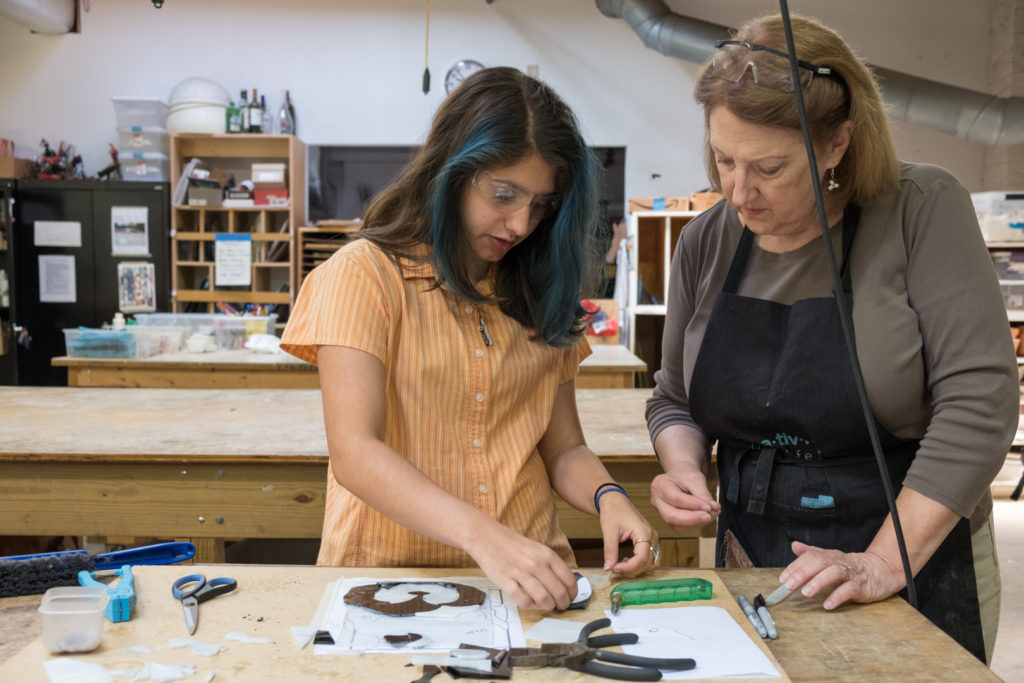 "Mary's warm nature combined with humor and excellent teaching abilities makes for an inviting classroom," said VisArts' education manager Tesni Stephen. "Students sign up for her classes repeatedly because she cultivates not only a place to learn hard skills in stained glass, but soft skills in kindness and community."
Outside of teaching, McNeil creates stained glass landscapes in her home studio. She takes photos of landscapes that strike her, then sketches the photos to create patterns.
McNeil took her first stained glass class at VisArts when it was still the Hand Workshop. Over the years, she took countless classes with glass instructor Wanda Greenwood Hollberg, then apprenticed with her before taking over as one of the center's busiest youth instructors.
For the last five years, Mary has also taught classes as part of Studio S, a program that provides free art classes to seniors in Richmond's East End through a partnership with Senior Connections and the Greater Richmond Senior Center.
VisArts has recognized one member of its faculty with the Master Teacher Award since 2001. The award was renamed in 2011 to honor the memory of long-time watercolor instructor Shelly Shepherd.
McNeil said winning the award is extremely humbling. "It's special because I knew Shelly and I thought she was the most amazing instructor and the most amazing person," she said. "VisArts is like family. I think it's the best place I've ever worked."
Previous recipients of the Shelly Shepherd Master Teacher Award include: Richard McCord, David Tanner, Jim Valentine, Jay Sharpe, Lisa Fisher Johnson, Tesni Stephen, Leslie Shiel, Jeff Vick and Tommy Van Auken.
McNeil will be presented with the Master Teacher Award at VisArts' Collectors' Night gala on Saturday, March 17. Click here for more information about the event and to buy tickets.