VisArts Releases Spring 2018 Catalog Featuring Chris Danger's Quirky Illustrations
Artist Chris Danger hopes everyone who picks up the Visual Arts Center of Richmond's' spring catalog enjoys the cheeky humor he infused into the illustrations.
Danger dreamed up the drawings in VisArts' newest catalog and he's also the center's illustrator-in-residence for the spring.
His take on the catalog features whimsical personifications of art supplies. "I've always had this compulsion to draw faces on inanimate objects," Danger said. Nestled among listings for the center's spring painting and drawing classes is a smirking pencil posing as a live figure model. "I got to be a little silly."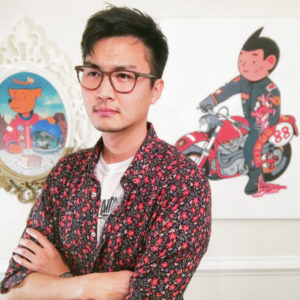 Danger used a limited palette of bold colors and textures in a style similar to the rest of his professional portfolio. He's busy with editorial work, including illustrating a new book series for Penguin Random House. Book covers are his favorite projects, but Danger's portfolio also boasts clients like Disney, Comedy Central, Cartoon Network and The Washington Post.
The artist is a newcomer to Richmond, but he's already enamored with the city, pointing out that he was drawn here by the art scene and laid-back lifestyle. Danger is settling into his new home studio, which he shares with another freelancing artist friend, and he's gearing up to teach a digital drawing course at VCU this spring. Danger will teach a similar digital illustration course at VisArts on four Sundays in April and May.
"I want students to see digital art as valid and ever-expanding," he said.
Though Chris is quite passionate about digital drawing as a medium, he welcomes an occasional break from the screen. Danger recently started painting again. As a student at the School of Visual Arts in New York City, he had been on track to become a professional oil painter. "I really like the physicality of painting," Danger said. He plans to keep painting, and some of his recent work is part of a group show at Charlottesville's Second Street Gallery.
VisArts selects four artists annually to serve as illustrators-in-residence. Each artist illustrates a catalog and is invited to lead a workshop on the topic of his or her choice. Past illustrators-in-residence have included Amelia Langford, Katie McBride, Elizabeth Graeber, Maria Fabrizio, Holly Camp, Jared Boggess and Victoria Borges.
Register for Danger's "Guide to Freelance Illustration" lecture on March 28 and check out his digital illustration class, which starts on April 15.