|
|
|
Scholastic Art & Writing Awards
Scholastic Art & Writing Awards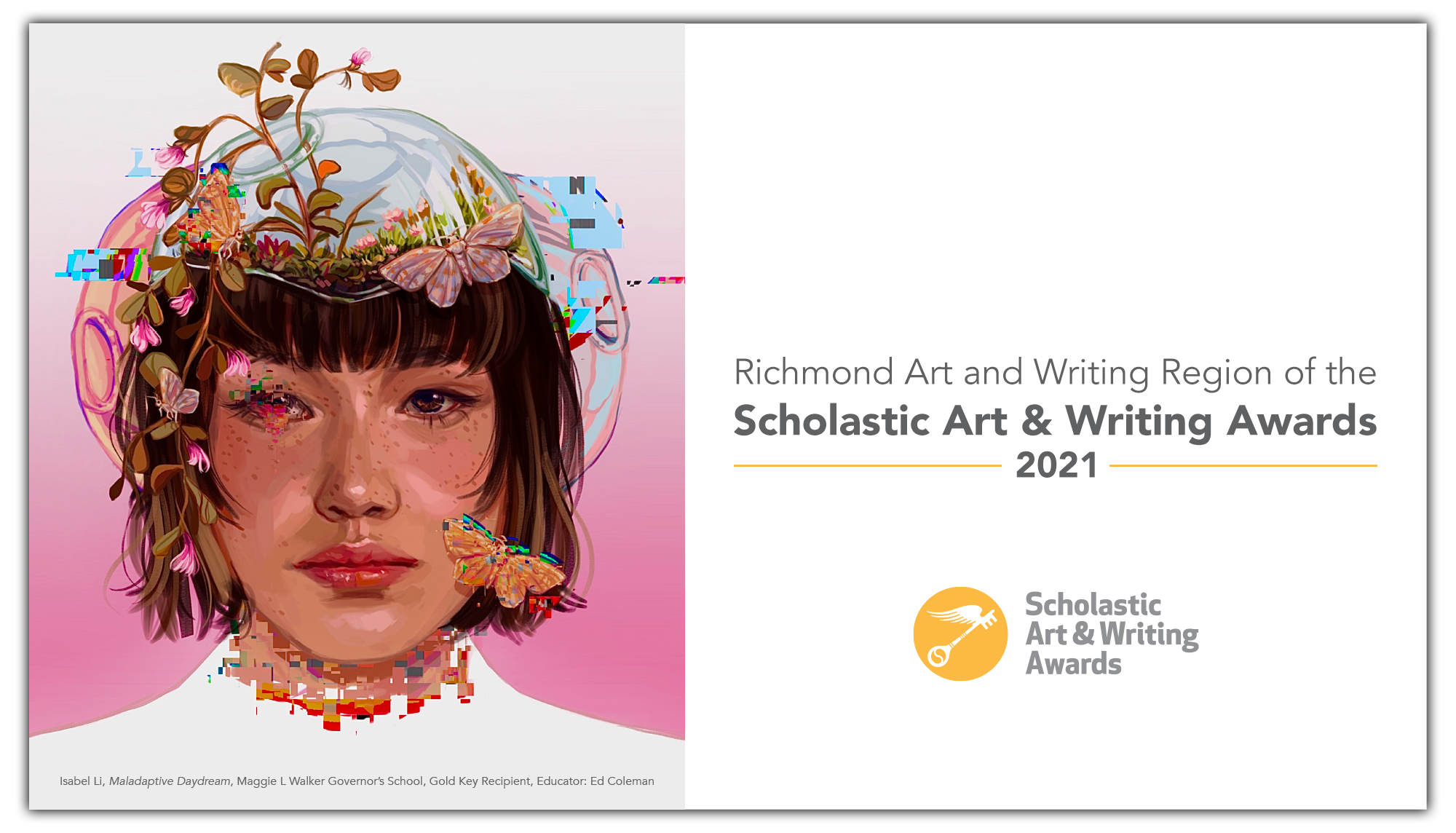 2021 Exhibition: February 6-21, 2021 (True F. Luck Gallery at the Visual Arts Center of Richmond)
Open to the public during VisArts' normal operating hours. Masks + social distancing required!
2021 Gold Key Award Ceremony (Hosted virtually through Zoom)
To celebrate this year's regional recipients, VisArts will host an invite-only, virtual ceremony on Saturday, February 13 from 1-2 p.m.
The Visual Arts Center of Richmond is honored to exhibit regional winners of the Scholastic Awards in Virginia, the nation's longest-running and most prestigious recognition program for creative students in grades 7–12. The Scholastic Art and Writing Awards partners with over 100 visual and literary arts organizations across the country to bring recognition and celebration to innovative young artists in local communities.
As the affiliate partner for the Richmond area, VisArts receives submissions from students at schools in Richmond City, Hanover County, Henrico County and Chesterfield County. Students apply in 29 various categories of art and writing and their work was evaluated by a select group of jurors. A small portion of submitted works are then selected for Honorable Mention, Silver Key, and Gold Key awards. Gold Key works will be on view in our True F. Luck Gallery from February 6-21, 2021.
---
CONTENTS
NATIONAL Art and Writing AWARD RECIPIENTS
View the 2021 Art Award Recipients – PDF Presentations
GOLD KEY, SILVER KEY + HONORABLE MENTION
read the 2021 Writing award recipients – pdfs
GOLD KEY SILVER KEY HONORABLE MENTION
ACKNOWLEDGEMENTS
JURORS + MODERATORS KEYNOTE SPEAKER + READER
OUTSTANDING EDUCATORS SPECIAL AWARDS
2021 Award Recipients – art
PORTFOLIO Gold Key Silver Key Honorable Mention
2021 Award Recipients – writing
PORTFOLIO Gold Key Silver Key Honorable Mention
---
Thanks to our jurors
| | |
| --- | --- |
| Thomas Batten | Creative Writing Instructor, College of William & Mary |
| Rachel Beanland | Author |
| Andrew Blossom | Visiting Assistant Professor, College of William & Mary |
| Claire Boland | Poet |
| Sanford Bond, FAIA | Principal Emeritus, 3North |
| Chelsea Brtis | Adjunct Instructor, Communication Arts at VCU & Lead 3D Artist for the Virtual Anderson |
| Jordan Brown | Director of Education & Programs, VisArts |
| Stephenie Brown | Writer & Lawyer |
| Jeff Byers | Content Marketing Manager |
| Shannon Castleman | Oakwood Arts Executive Director |
| Matt Clingempeel | Screenwriter |
| Adriane Dalton | Editor, Metalsmith Magazine |
| Liana Elguero | VisArts Instructor, Oakwood Arts Program Director |
| Paula Michelle Gillison | Owner of Lack Of Better Words & PGARTistry LLC |
| Taekia Glass | Artist |
| Jennifer Glave | Chief Consultant, Glave Kocen Consulting |
| John Glover | Humanities Research Librarian |
| Sam Guerin  | Art Janitor |
| Ariana Hamidi | Filmmaker |
| Neta Harris | |
| Hayden Ireland | Artist & Artist Mentor |
| Andy Jenkins | Songwriter |
| Aimee Joyaux | Artist & Educator |
| Sally Kemp | Founder, Milk River Arts |
| Oscar Keyes | Multimedia Teaching & Learning Librarian |
| Bizhan Khodabandeh | Assistant Professor |
| Lana Krumwiede | Author |
| Amelia Langford | Art Educator |
| Joanna Lee | Poet & Founder, River City Poets |
| Will Lenard | Sculptor & VCUarts Adjunct Faculty |
| Nicole Levaque | Artist |
| Lauren Miner | Writer & Teacher |
| Rob McAdams | Director, Partners in the Arts at University of Richmond |
| Laura McCann | Nonfiction Film Producer |
| Connor McCormick | PHD Candidate, VCU |
| David Marion  | Visual Artist, Designer, Architect & Philanthropist |
| Sarah Midkiff | Advisor & Assistant Professor, VCUArts |
| Kerry Mills | Assistant Professor of Art History, Mary Baldwin University |
| Jackie Finney Mullins | Academic Advisor & Assistant Professor |
| Nicole Rutledge, CID, NCIDQ, ASID | Interior Designer |
| Kevin Sabo | Artist |
| Oura Sananikone | Comic Book Creator |
| Melissa Scott Sinclair | Writer & Editor |
| Frankie Slaughter | Mixed Media Artist |
| Tanja Softic | Professor of Art, University of Richmond |
| April Sopkin | Writer & Adjunct Instructor |
| Gordon Stettinius | Owner, Candela Gallery |
| Leigh Suggs | Studio Artist |
| Rose Szabo | Author, What Big Teeth |
| Theodore Taylor III | Illustrator |
| Ethan Cade Varnado | Professor of English, San Jacinto College |
| Kat Vivaldi | Creative Technologist/Filmmaker |
| Justin Wafawanaka | MFA Candidate in Fiction, VCU |
| Sasha Waters Freyer | Professor of Photography + Film, VCUarts |
| Dean Whitbeck  | Editorial Photographer |
| Emily White | Artist |
| Dennis Williams II | High School Teacher & Adjunct Professor |
| Dennis R. Winston | Retired Coordinator for Arts Education and Humanities Center, RPS & Artist |
| Courtnie N. Wolfgang | Art Education, VCU |
| Christine Young | Designer & Owner, Young Frankk |
| Hillary Zell | Art Educator |
| Michael Zetlan  | Artist |
Thanks to our moderators
| | |
| --- | --- |
| Amanda Beck | Art Educator & Graduate Student, VCUarts |
| Oz Bender | Student |
| Elson Bickford | Guest & Student Services Associate, VisArts |
| Jordan Brown | Director of Education & Programs, VisArts |
| Aimee Decker | Behavior Analyst |
| Anjali Diezman | Moderator |
| Alana Edwards | Textiles Artist |
| Caeleigh Griffin | Freelance Painter |
| Jin Kim | Intern & Volunteer |
| Emma Knight | Artist |
| Arissa Storm López | Guest & Student Services Associate, VisArts |
| Catherine M. Mazzola | Dean of Student, Thomas Dale High School |
| Alex Neckopulos | Artist |
| Sophia Saucer | VCU Student & Volunteer |
Keynote Speaker
David Marion – Visual Artist, Designer, Architect & Philanthropist
Student Reader
Adachi Amaram, "The Lifecycle of a Black Universe", Appomattox Regional Governor's School
---
Blick + plaza Outstanding Regional Educator Award
Amanda Berneche, Clover Hill High School
Julie Elmore, St Catherine's School
Jeff Hall, Maggie L Walker Governor's School
Ian Horwitz, Patrick Henry High School
Amy Harnsberger, Glen Allen High School
Jamie Weinstein, George Wythe High School
---
Candela BOOKS + GALLERY PHOTOGRAPHY Award
| | | | | | |
| --- | --- | --- | --- | --- | --- |
| NAME | CATEGORY | TITLE | GRADE | SCHOOL | INSTRUCTOR |
| Megan Cash | Photography | 11 | Justice | Glen Allen High School | Amy Harnsberger |
American Visions Nominees (ART)
| | | | | | |
| --- | --- | --- | --- | --- | --- |
| NAME | CATEGORY | TITLE | GRADE | SCHOOL | INSTRUCTOR |
| Mira Coutlakis | Drawing & Illustration | I Matter | 12 | St Catherine's School | Diego Sanchez |
| Yoshita Papasani | Drawing & Illustration | Big Brother | 9 | Deep Run High School | Michael Guyer |
| Devyn Powers | Mixed Media | Blue Face | 11 | Maggie L Walker Governor's School | Jeff Hall |
| Rebecca Short | Ceramics & Glass | Midnight Cloud Vase | 12 | Trinity Episcopal School | Amy Chaplin |
| Sonae White | Painting | The Recital | 11 | Appomattox Regional Governor's School | Susann Whittier |
American VOICES Nominees (WRITING)
| | | | | | |
| --- | --- | --- | --- | --- | --- |
| NAME | CATEGORY | TITLE | GRADE | SCHOOL | INSTRUCTOR |
| Julian Bessenger-Vose | Humor | The Cockroach of House 13 | 8 | Sabot at Stony Point | Sarah Lile |
| Amina Adeyola | Poetry | In Moonlight, Black Boys Look Blue | 11 | Appomattox Regional Governor's School | Cindy Cunningham |
| Jayden Huynh-Vuong | Dramatic Script | Red Butterfly | 12 | Glen Allen High School | Shelby Mugford |
| Katrin Brinkman | Science Fiction & Fantasy | Fawning Mornings | 11 | Appomattox Regional Governor's School | Patty Smith |
| Nat Lurie | Short Story | The Mother | 10 | Collegiate School | Will Dunlap |
visual arts center of richmond award for artistic merit (Art)
| | | | | | |
| --- | --- | --- | --- | --- | --- |
| NAME | CATEGORY | TITLE | GRADE | SCHOOL | INSTRUCTOR |
| Skye Cummings | Painting | Sunshine | 8 | Binford Middle School | Kirstie Hein Sadler |
| Nikhita Saravanan | Fashion | Cupid's Phoenix | 8 | George H Moody Middle School | Kim Frola |
| Ava Wladar | Sculpture | Feelin' Woozy | 11 | Midlothian High School | Elizabeth Vesely |
visual arts center of richmond award for artistic merit (Writing)
| | | | | | |
| --- | --- | --- | --- | --- | --- |
| NAME | CATEGORY | TITLE | GRADE | SCHOOL | INSTRUCTOR |
| Caroline Berselli | Poetry | The Girl I Grew Up With | 8 | Short Pump Middle School | Caroline Velazquez |
Plaza cover art award
| | | | | | |
| --- | --- | --- | --- | --- | --- |
| NAME | CATEGORY | TITLE | GRADE | SCHOOL | INSTRUCTOR |
| Isabel Li | Digital Art | Maladaptive Daydream | 12 | Maggie L Walker Governor's School | Ed Coleman |
Chop Suey WRiting Award
| | | | | | |
| --- | --- | --- | --- | --- | --- |
| NAME | CATEGORY | TITLE | GRADE | SCHOOL | INSTRUCTOR |
| Serena Grant | Short Story | Keep the Curtains Drawn | 12 | Mills Godwin High School | Christine Maddox |
VisArts Promising Artist Award
| | | | | | |
| --- | --- | --- | --- | --- | --- |
| NAME | CATEGORY | TITLE | GRADE | SCHOOL | INSTRUCTOR |
| Sabah Eissa | Drawing & Illustration | Attachment | 10 | Douglas Freeman High School | Shari Beazley |
---
Portfolio – Art
| | | | | | |
| --- | --- | --- | --- | --- | --- |
| NAME | AWARD | TITLE | GRADE | SCHOOL | INSTRUCTOR |
| Lily Burnam | Gold Key | Modern Eyes | 12 | Deep Run High School | Michael Guyer |
| Kathryn Hart | Gold Key | Perspective | 12 | Henrico High School Center for the Arts | Genevieve Dowdy |
| Christian Johnson | Gold Key | Struggle and Hope | 12 | St Christopher's School | Amanda Livick |
| Aris Ruff | Gold Key | Multifaceted | 12 | Richmond Community High School | Nina Ford |
| Mariah Session | Gold Key | The Many Faces of Joy | 12 | Manchester High School | Marina Dublin |
| Kolton Almany | Silver Key | Connection Unstable | 12 | Clover Hill High School | Amanda Berneche |
| Bianca DeCarli | Silver Key | Social Discourse | 12 | Deep Run High School | Michael Guyer |
| Rylan Karjane | Silver Key | empty girls met with empt eyes | 12 | Maggie L Walker Governor's School | Jeff Hall |
| Jordan Miller | Silver Key | Six Forms | 12 | Deep Run High School | Michael Guyer |
| Isabella Perago | Silver Key | Your Emotions Can Kill You | 12 | Trinity Episcopal School | Amy Chaplin |
| Rebecca Short | Silver Key | Pottery and the Natural World | 12 | Trinity Episcopal School | Amy Chaplin |
| Paige Taylor | Silver Key | abandoned | 12 | Patrick Henry High School | Jill Palumbo |
| Jazmin Arriola | Honorable Mention | Tres Generaciones | 12 | Patrick Henry High School | Jill Palumbo |
| Ria Bakshi | Honorable Mention | familiarity | 12 | Maggie L Walker Governor's School | Jeff Hall |
| Ethan Bond | Honorable Mention | Despair | 12 | Patrick Henry High School | Jill Palumbo |
| Bianca DeCarli | Honorable Mention | Own Worst Enemy | 12 | Deep Run High School | Michael Guyer |
| Shreya Malani | Honorable Mention | faces across generations | 12 | Maggie L Walker Governor's School | Jeff Hall |
| Jumana Meri | Honorable Mention | Abstract Reflection | 12 | Appomattox Regional Governor's School | Jumana Meri |
| Patrick Morano | Honorable Mention | Me, Myself, and I | 12 | Patrick Henry High School | Ian Horwitz |
| Aidan Sankowsky | Honorable Mention | Tribute to Japan | 12 | Deep Run High School | Michael Guyer |
| Ryan Tsui | Honorable Mention | Sen | 12 | Glen Allen High School | Amy Harnsberger |
| Julianne Zielinski | Honorable Mention | untitled | 12 | Maggie L Walker Governor's School | Jeff Hall |
Gold Key ART
| | | | | | |
| --- | --- | --- | --- | --- | --- |
| NAME | CATEGORY | TITLE | GRADE | SCHOOL | INSTRUCTOR |
| Kolton Almany | Photography | Take A Byte | 12 | Clover Hill High School | Amanda Berneche |
| Kolton Almany | Photography | Poison Makes Heart Grow Fonder | 12 | Clover Hill High School | Amanda Berneche |
| Kolton Almany | Photography | Cartoon Confinement | 12 | Clover Hill High School | Amanda Berneche |
| Kolton Almany | Photography | A Walk On A Quiet Night | 12 | Clover Hill High School | Amanda Berneche |
| Jazmin Arriola | Photography | Las Madres | 12 | Patrick Henry High School | Jill Palumbo |
| Callie Baughan | Digital Art | Asynchronous | 11 | Monacan High School | Melinda Carson |
| Ella Baughan | Digital Art | Friend of Many | 11 | Monacan High School | Erin Murtagh |
| James Bell | Photography | Shadow Black and White Image | 11 | Collegiate School | Jere Williams |
| Cherish Bland | Photography | What's To Come | 10 | Clover Hill High School | Amanda Berneche |
| Ania Blinova | Drawing & Illustration | Grip | 11 | Mills Godwin High School | Lindsey Hurlburt |
| Henry Bruns | Photography | Drowning in Tears | 11 | Trinity Episcopal School | Allison Minehart |
| Katie Burbridge | Comic Art | What's Right in Front of You | 10 | Deep Run High School | Michael Guyer |
| Lily Burnam | Drawing & Illustration | Shot Dog | 12 | Deep Run High School | Michael Guyer |
| Georgia Calley | Drawing & Illustration | Dr. Pimple Poppers Craziest Patient Yet! | 10 | James River High School | Anne Constanzer |
| Peyton Carpenter | Photography | Minimalistic Portrait | 10 | St Christopher's School | Amanda Livick |
| Megan Cash | Photography | Justice | 11 | Glen Allen High School | Amy Harnsberger |
| Ty Colina | Architecture & Industrial Design | Modern House Design 8: River House 1 | 11 | Collegiate School | Jere Williams |
| Mira Coutlakis | Drawing & Illustration | I Matter | 12 | St Catherine's School | Diego Sanchez |
| Jacob Credle | Drawing & Illustration | 12 Years a Slave | 12 | Steward School | Sejal Vaywala |
| Kennon Cummings | Printmaking | Play Ball! | 12 | Steward School | Sejal Vaywala |
| Skye Cummings | Painting | Sunshine | 8 | Binford Middle School | Kirstie Hein Sadler |
| Ava Dalton | Ceramics & Glass | Face Jug | 11 | St Catherine's School | Claire McCarty |
| Ava Dalton | Ceramics & Glass | Teeth Jar | 11 | St Catherine's School | Claire McCarty |
| Payton deBruler | Drawing & Illustration | Me and you and you and me | 10 | Appomattox Regional Governor's School | David Bartlett |
| Payton deBruler | Drawing & Illustration | Just Pick One | 10 | Appomattox Regional Governor's School | David Bartlett |
| Payton deBruler | Drawing & Illustration | Too Good to be True | 10 | Appomattox Regional Governor's School | David Bartlett |
| Bianca DeCarli | Painting | It's Fine | 12 | Deep Run High School | Michael Guyer |
| Bianca DeCarli | Drawing & Illustration | What? Cat Got Your Tongue? | 12 | Deep Run High School | Michael Guyer |
| Bianca DeCarli | Drawing & Illustration | Shattered Image | 12 | Deep Run High School | Michael Guyer |
| Bianca DeCarli | Painting | Monster Under the Bed | 12 | Deep Run High School | Michael Guyer |
| Emily Deskevich | Photography | Modern Sky | 11 | Collegiate School | Taylor Dabney |
| Alder Dickey | Photography | Mouth Full | 10 | St Catherine's School | Amanda Livick |
| Sydney Endicott | Digital Art | Corner Cafe | 11 | Patrick Henry High School | Ian Horwitz |
| Jenna Estes | Digital Art | Modern Monet | 10 | Patrick Henry High School | Ian Horwitz |
| Lilah Field | Digital Art | stream | 8 | Binford Middle School | Kirstie Hein Sadler |
| Viktoria Fisher | Painting | Drama | 11 | Henrico High School Center for the Arts | Genevieve Dowdy |
| Elizabeth Friedman | Photography | Easing Into Darkness | 12 | Midlothian High School | Marie OKleasky |
| Lauryn Giddings | Mixed Media | The Main Act | 12 | Appomattox Regional Governor's School | Patricia Lyons |
| Tajma Graham | Painting | No Pictures, Please | 11 | Henrico High School Center for the Arts | Genevieve Dowdy |
| Eva Green | Photography | Bloom | 10 | St Catherine's School | Claire McCarty |
| Bella Griffin | Mixed Media | Quilt | 10 | Veritas Classical Christian School | Sunny Rosebro |
| Lyn Haigler | Mixed Media | Tranquility | 12 | Deep Run High School | Michael Guyer |
| Grace Hak | Comic Art | Culture Shock | 8 | Henrico High School Center for the Arts | Genevieve Dowdy |
| Ava Hammond | Photography | Trees in puddle | 11 | Midlothian High School | Marie OKleasky |
| Lane Harding | Drawing & Illustration | My Coach and I | 8 | St Catherine's School | Diego Sanchez |
| Kathryn Hart | Sculpture | Land of the Free | 12 | Henrico High School Center for the Arts | Genevieve Dowdy |
| Jack Hill | Photography | Black Ice | 11 | Collegiate School | Taylor Dabney |
| Ella Holloway | Photography | The Floodwall | 8 | Binford Middle School | Kirstie Hein Sadler |
| Grace Hugo | Painting | Outcast | 11 | Collegiate School | Pamela Sutherland |
| Parker Husick | Photography | Fingerprints | 10 | Midlothian High School | Marie OKleasky |
| Danielle Jankowski | Photography | The Neck of Our Future | 11 | St Christopher's School | Amanda Livick |
| camryn johnson | Photography | Morning Mood | 10 | St Catherine's School | Amanda Livick |
| Christian Johnson | Photography | Lost | 12 | St Christopher's School | Amanda Livick |
| Christian Johnson | Photography | Stand Off | 12 | St Christopher's School | Amanda Livick |
| Rylan Karjane | Drawing & Illustration | Get Off My Doc's | 12 | Maggie L Walker Governor's School | Jeff Hall |
| Karl Kastenbaum | Painting | PBJ | 10 | Collegiate School | Pamela Sutherland |
| Hannah Kyriakakis | Photography | Runaway | 12 | Deep Run High School | Ashley Dogoli |
| Eva Lareau | Drawing & Illustration | Orchid Still Life | 10 | Collegiate School | Pamela Sutherland |
| Tina Le | Design | Youth Art Month | 12 | Maggie L Walker Governor's School | Jeff Hall |
| Sophie Levengood | Photography | June 2, 2020 | 11 | St Catherine's School | Diego Sanchez |
| Isabel Li | Digital Art | Maladaptive Daydream | 12 | Maggie L Walker Governor's School | Ed Coleman |
| Isabel Li | Digital Art | Exploration | 12 | Maggie L Walker Governor's School | Ed Coleman |
| Lautaro Lo Prete | Painting | Rosa Nelly Cupito | 8 | – | Jennifer Lo Prete |
| Malena Lo Prete | Drawing & Illustration | Refill, Please | 11 | – | Jennifer Lo Prete |
| Malena Lo Prete | Drawing & Illustration | Stop It! | 11 | – | Jennifer Lo Prete |
| Joe Mahan | Digital Art | Crazy | 10 | Hanover High School | Deborah Campbell |
| James Mancuso | Expanded Projects | Happy Birthday, Charlie! | 12 | Henrico High School Center for the Arts | Mary Scurlock |
| Maya Marshel | Painting | Pilgrim to Priest | 10 | James River High School | Anne Constanzer |
| Kamini Mason | Painting | belle åme | 8 | Binford Middle School | Kirstie Hein Sadler |
| Elena Mazurek | Mixed Media | shapes | 8 | St Catherine's School | Diego Sanchez |
| Elena Mazurek | Mixed Media | Funny Face | 8 | St Catherine's School | Diego Sanchez |
| Matthew McKeague | Photography | Small World | 11 | Clover Hill High School | Amanda Berneche |
| Jumana Meri | Jewelry | Circular Motion | 12 | Appomattox Regional Governor's School | Jumana Meri |
| Samuel Nance | Film & Animation | The Rabbit Hole | 11 | Henrico High School Center for the Arts | Mary Scurlock |
| Mariet Nester | Photography | I'm Fine, Why? | 10 | Clover Hill High School | Amanda Berneche |
| Quyen Nguyen | Digital Art | "Pawn" | 10 | Clover Hill High School | Jaime Barnett |
| Deanna Paetzold | Digital Art | Alana | 12 | Glen Allen High School | Amy Harnsberger |
| Yoshita Papasani | Drawing & Illustration | Big Brother | 9 | Deep Run High School | Michael Guyer |
| Mikaila Pegram | Mixed Media | golden goddess | 12 | Manchester High School | Marina Dublin |
| Isabella Perago | Sculpture | Delilah, The Giant Trash Angel | 12 | Trinity Episcopal School | Amy Chaplin |
| Devyn Powers | Mixed Media | Blue Face | 11 | Maggie L Walker Governor's School | Jeff Hall |
| Henry Proctor | Photography | Beautiful Nightmare | 9 | St Christopher's School | Amanda Livick |
| Nicole Quiram | Photography | Veins of Life | 11 | Midlothian High School | Marie OKleasky |
| Jenna Raggio | Painting | Wrestlers | 12 | Collegiate School | Pamela Sutherland |
| Jenna Raggio | Painting | Self Portrait | 12 | Collegiate School | Pamela Sutherland |
| Kindall Reeder | Photography | The Conversation | 11 | Monacan High School | Erin Murtagh |
| Cate Riley | Painting | Painter | 9 | Collegiate School | Pamela Sutherland |
| Cate Riley | Painting | Portrait of My Brother | 9 | Collegiate School | Pamela Sutherland |
| Jane Roberts | Photography | Head in the Clouds | 9 | Collegiate School | Jere Williams |
| Audrey Ryland | Photography | Pig Dog | 10 | The New Community School | Aaron Webb |
| Audrey Ryland | Photography | Deceived | 10 | The New Community School | Aaron Webb |
| Ananya Iyer Sairaman | Drawing & Illustration | Romantic | 10 | Maggie L Walker Governor's School | Jeff Hall |
| McKenzie Saltz | Digital Art | Animal | 12 | Glen Allen High School | Erin Mable |
| Nived Sanjay | Drawing & Illustration | Skin-deep | 10 | Maggie L Walker Governor's School | Jeff Hall |
| Nikhita Saravanan | Fashion | Cupid's Phoenix | 8 | George H Moody Middle School | Kim Frola |
| Lillian Schnettler | Drawing & Illustration | Gas Masks | 11 | Appomattox Regional Governor's School | Susann Whittier |
| Rebecca Short | Ceramics & Glass | Opal Vase | 12 | Trinity Episcopal School | Amy Chaplin |
| Rebecca Short | Ceramics & Glass | Midnight Cloud Vase | 12 | Trinity Episcopal School | Amy Chaplin |
| Eva Siminiceanu | Drawing & Illustration | Hands | 8 | Collegiate School | Pamela Sutherland |
| Allison Smith | Photography | Bike | 11 | Atlee High School | Madison Fairburn |
| Keira Snell | Drawing & Illustration | Unkown | 11 | Henrico High School Center for the Arts | Genevieve Dowdy |
| Casey Stapleton | Photography | Retrospect | 8 | Hermitage High School | Emilia Texer |
| Isabella Sun | Drawing & Illustration | Apathy in Grey Ink | 8 | J R Tucker High School | Melvina Roane |
| Bella Topich | Mixed Media | Eye of the Tiger | 10 | Steward School | Sejal Vaywala |
| Eleanor Trask | Fashion | tattered figure | 11 | Appomattox Regional Governor's School | Susann Whittier |
| Eleanor Trask | Photography | growth and rot | 11 | Appomattox Regional Governor's School | Patricia Lyons |
| Eleanor Trask | Painting | from my bedroom window | 11 | Appomattox Regional Governor's School | Susann Whittier |
| Jonathan Wang | Drawing & Illustration | The Persistence of Time | 12 | Deep Run High School | Michael Guyer |
| Sonae White | Painting | Memories I've Made | 11 | Appomattox Regional Governor's School | Susann Whittier |
| Sonae White | Painting | Because Making It Home is Not Enough | 11 | Appomattox Regional Governor's School | Susann Whittier |
| Sonae White | Painting | The Recital | 11 | Appomattox Regional Governor's School | Susann Whittier |
| Sonae White | Digital Art | OMG!!! | 11 | Appomattox Regional Governor's School | Susann Whittier |
| Riley Winefordner | Film & Animation | Lonely | 12 | Trinity Episcopal School | Ali Moriarty |
| Ava Wladar | Sculpture | Dem Bones | 11 | Midlothian High School | Elizabeth Vesely |
| Ava Wladar | Sculpture | Feelin' Woozy | 11 | Midlothian High School | Elizabeth Vesely |
| Ava Wladar | Sculpture | Stuck2U | 11 | Midlothian High School | Elizabeth Vesely |
| YouFan Wu | Digital Art | Pandemic Alphabet | 12 | Collegiate School | Pamela Sutherland |
| Emilie Yang | Mixed Media | A Window, A Reflection | 12 | – | Pamela Sutherland |
Silver Key ART
| | | | | | |
| --- | --- | --- | --- | --- | --- |
| NAME | CATEGORY | TITLE | GRADE | SCHOOL | INSTRUCTOR |
| Andrew Allums | Drawing & Illustration | Self Portrait | 12 | Richmond Community High School | Nina Ford |
| Kolton Almany | Photography | Last Stop | 12 | Clover Hill High School | Amanda Berneche |
| Kolton Almany | Photography | Natural Silence | 12 | Clover Hill High School | Amanda Berneche |
| Susannah Andress | Photography | Hand Above Lamp | 11 | Midlothian High School | Marie OKleasky |
| Jeddah Arnold | Photography | Gluten free | 11 | Maggie L Walker Governor's School | Bird Cox |
| Jazmin Arriola | Photography | Arriba | 12 | Patrick Henry High School | Jill Palumbo |
| Drew Atiyeh | Photography | Shadow tree | 10 | Collegiate School | Taylor Dabney |
| Carly Ault | Photography | The Boy in the Woods | 12 | Patrick Henry High School | Jill Palumbo |
| Callie Baughan | Painting | Vigil | 11 | Monacan High School | Melinda Carson |
| Callie Baughan | Painting | Precipice | 11 | Monacan High School | Melinda Carson |
| Ella Baughan | Drawing & Illustration | Smile More | 11 | Monacan High School | Erin Murtagh |
| Arynn Beach | Drawing & Illustration | More Issues | 12 | Appomattox Regional Governor's School | David Bartlett |
| Yaa-Nailah Bell-Barber | Painting | Tamale | 8 | Binford Middle School | Kirstie Hein Sadler |
| Caroline Berselli | Drawing & Illustration | Strawberry | 8 | Short Pump Middle School | Caroline Velazquez |
| Lamar Booker Jr. | Photography | estrella | 9 | Collegiate School | Jere Williams |
| Jones Brackett | Photography | Growth | 11 | Collegiate School | Jere Williams |
| Andrew Brown | Film & Animation | Blackout | 12 | St Christopher's School | J.D. Jump |
| Leo Bukalski | Digital Art | Brick Foundation. | 12 | Deep Run High School | Carey McCray |
| Lily Burnam | Drawing & Illustration | Girl with a Progressive Eara | 12 | Deep Run High School | Michael Guyer |
| Georgia Calley | Drawing & Illustration | Updated Self Portrait | 10 | James River High School | Anne Constanzer |
| Megan Cash | Photography | Wanderlust | 11 | Glen Allen High School | Amy Harnsberger |
| Megan Cash | Photography | Warped | 11 | Glen Allen High School | Amy Harnsberger |
| Jonas Clark | Photography | Gone are the Days of Summer | 10 | Clover Hill High School | Amanda Berneche |
| synai clark | Drawing & Illustration | Self Portrait of Synai | 8 | Elijah House Academy | Mary Merritt |
| Kai Coe | Photography | Untitled Abstract | 10 | Midlothian High School | Marie OKleasky |
| Ty Colina | Architecture & Industrial Design | Modern Hotel Design 1: River Hotel | 11 | Collegiate School | Jere Williams |
| Owen Cosner | Digital Art | Fulmination | 10 | Clover Hill High School | Jaime Barnett |
| Mira Coutlakis | Digital Art | Parasite | 12 | St Catherine's School | Diego Sanchez |
| Jacob Credle | Drawing & Illustration | False Alarm | 12 | Steward School | Sejal Vaywala |
| Madison Dale | Drawing & Illustration | Discarding Old Beauty Standards | 11 | Manchester High School | Marina Dublin |
| Payton deBruler | Painting | Pin | 10 | Appomattox Regional Governor's School | David Bartlett |
| Payton deBruler | Drawing & Illustration | Changed and Changing | 10 | Appomattox Regional Governor's School | David Bartlett |
| Payton deBruler | Painting | Perfunctory | 10 | Appomattox Regional Governor's School | David Bartlett |
| Bianca DeCarli | Painting | Inner Beauty | 12 | Deep Run High School | Michael Guyer |
| Bianca DeCarli | Painting | Suspicious Smoke | 12 | Deep Run High School | Michael Guyer |
| Bianca DeCarli | Painting | Warped Image | 12 | Deep Run High School | Michael Guyer |
| Ashley Deeds | Drawing & Illustration | Country House with Garden | 9 | Appomattox Regional Governor's School | Susann Whittier |
| Alder Dickey | Photography | How the Cookie Crumbles | 10 | St Catherine's School | Amanda Livick |
| Kieran Donohue | Photography | Reflections | 11 | Atlee High School | Madison Fairburn |
| Mackenzie Dwyer | Photography | Tinfoil | 12 | Midlothian High School | Marie OKleasky |
| Sydney Endicott | Digital Art | Drifting | 11 | Patrick Henry High School | Ian Horwitz |
| Abhishek Garg | Photography | Rediscovering youth | 7 | Richmond Montessori School | Peter Turkaly |
| William Garrison | Photography | Searching The Web | 9 | Veritas Classical Christian School | Sunny Rosebro |
| Lauren Ghaemmaghami | Drawing & Illustration | Maelstrom | 9 | Glen Allen High School | Julie Johnson |
| Lauren Ghaemmaghami | Drawing & Illustration | Jordan | 9 | Glen Allen High School | Julie Johnson |
| Lauryn Giddings | Painting | Always Blooming | 12 | Appomattox Regional Governor's School | Susann Whittier |
| Paola Gonzalez | Photography | Dear Woman | 12 | Patrick Henry High School | Jill Palumbo |
| Grace Graviet | Photography | Nestled | 12 | Midlothian High School | Marie OKleasky |
| Helen Hahn | Painting | Still Life Sports | 9 | Deep Run High School | Michael Guyer |
| Lyn Haigler | Digital Art | Weeping Sunflowers | 12 | Deep Run High School | Michael Guyer |
| Lyn Haigler | Digital Art | Pagan Tea Party | 12 | Deep Run High School | Michael Guyer |
| Lyn Haigler | Painting | Manipulation | 12 | Deep Run High School | Michael Guyer |
| Parker Hansen | Painting | Self Portrait | 8 | Binford Middle School | Kirstie Hein Sadler |
| Clara Hogeland | Digital Art | Girl With A Pearl Earring | 9 | Veritas Classical Christian School | Sunny Rosebro |
| Ella Holloway | Photography | The Belle Isle Suspension Bridge | 8 | Binford Middle School | Kirstie Hein Sadler |
| Imanie Houdhan | Mixed Media | What lies below the surface | 12 | Deep Run High School | Michael Guyer |
| Christian Johnson | Photography | Progress | 12 | St Christopher's School | Amanda Livick |
| Christian Johnson | Photography | Waiting | 12 | St Christopher's School | Amanda Livick |
| Christian Johnson | Photography | Prowl | 12 | St Christopher's School | Amanda Livick |
| Christian Johnson | Photography | Roses in the Gutter | 12 | St Christopher's School | Amanda Livick |
| Wood Johnson | Sculpture | House of Slate | 10 | Maggie L Walker Governor's School | Georgianne Stinnett |
| Rylan Karjane | Painting | Papilio troilus | 12 | Maggie L Walker Governor's School | Jeff Hall |
| Rylan Karjane | Painting | Acherontia atropos | 12 | Maggie L Walker Governor's School | Jeff Hall |
| Rylan Karjane | Painting | Speyeria diana | 12 | Maggie L Walker Governor's School | Jeff Hall |
| Ava Keppler | Photography | Where We Are | 9 | Douglas Freeman High School | Shari Beazley |
| Amanda Kochany | Photography | Expendable | 10 | Clover Hill High School | Amanda Berneche |
| Hannah Kyriakakis | Photography | Past | 12 | Deep Run High School | Ashley Dogoli |
| Yooeun Lee | Drawing & Illustration | Self-Doubt | 11 | Deep Run High School | Michael Guyer |
| Emily Lenosky | Fashion | Kinder | 12 | Appomattox Regional Governor's School | Susann Whittier |
| Emily Lenosky | Sculpture | FairyWingz | 12 | Appomattox Regional Governor's School | Susann Whittier |
| Isabel Li | Digital Art | the flowershop | 12 | Maggie L Walker Governor's School | Ed Coleman |
| Zhiyu Li | Drawing & Illustration | Possessed | 8 | George H Moody Middle School | Mae Berglas |
| Diamond Lightfoot | Drawing & Illustration | Self Portrait: Aura | 11 | Collegiate School | Pamela Sutherland |
| Diamond Lightfoot | Drawing & Illustration | Early Morning | 11 | Collegiate School | Pamela Sutherland |
| Malena Lo Prete | Drawing & Illustration | Super Chess Snapshot | 11 | – | Jennifer Lo Prete |
| Malena Lo Prete | Drawing & Illustration | Self Portrait: 17 | 11 | – | Jennifer Lo Prete |
| Amy Lockeman | Ceramics & Glass | Sore Throat | 12 | Appomattox Regional Governor's School | Susann Whittier |
| Amy Lockeman | Mixed Media | Water the Plants for Me | 12 | Appomattox Regional Governor's School | Susann Whittier |
| Emerie Loftis | Drawing & Illustration | The Faces of Activism | 12 | Trinity Episcopal School | Ali Moriarty |
| Caroline Longest | Photography | too normal | 11 | Midlothian High School | Marie OKleasky |
| Logan Macklin | Digital Art | Hello? | 11 | Glen Allen High School | Erin Mable |
| Logan Macklin | Photography | Just Another Thursday Night | 11 | Glen Allen High School | Erin Mable |
| Joe Mahan | Drawing & Illustration | Free Food | 10 | Hanover High School | Deborah Campbell |
| Ada Malpani | Mixed Media | Pieces of Me | 10 | Douglas Freeman High School | Shari Beazley |
| James Mancuso | Comic Art | Writhe | 12 | Henrico High School Center for the Arts | Mary Scurlock |
| James Mancuso | Expanded Projects | Spoiled | 12 | Henrico High School Center for the Arts | Genevieve Dowdy |
| Stella McCormack | Painting | Dancing Gold | 7 | St Catherine's School | Pamela Shelor |
| Cameryn McNeil | Drawing & Illustration | Secure | 11 | Henrico High School Center for the Arts | Genevieve Dowdy |
| Augusta McNulty | Jewelry | Swirling Seas | 9 | Midlothian High School | Kristen Joswick |
| Angelina Miles | Photography | Story of my life | 10 | – | Janelle Stevenson |
| Kathleen Miller | Photography | Dark City | 11 | Atlee High School | Madison Fairburn |
| Emily Minnix | Painting | Towards Happiness | 11 | Deep Run High School | Michael Guyer |
| Emily Minnix | Painting | Perfectly Imperfect | 11 | Deep Run High School | Michael Guyer |
| Ella Mitchell | Painting | Une Déclaration d'Amour | 10 | Collegiate School | Pamela Sutherland |
| Sahaana Mohan | Film & Animation | All We Have Left | 11 | J R Tucker High School | Andrea Lund |
| Patrick Morano | Digital Art | Vincent is Dead | 12 | Patrick Henry High School | Ian Horwitz |
| Maria Fernanda More | Painting | Mama Gloria | 10 | Deep Run High School | Michael Guyer |
| Liam Mullins | Digital Art | The Plague Doctor | 10 | Glen Allen High School | Erin Mable |
| Bodie Narron | Mixed Media | "Hopefully Larger Than Life" | 9 | Veritas Classical Christian School | Kathleen Hutton |
| Will Neuner | Photography | Rust | 11 | Collegiate School | Taylor Dabney |
| Hanna Ngai | Sculpture | thorns in my side | 11 | Maggie L Walker Governor's School | Jeff Hall |
| Kim Nguyen | Architecture & Industrial Design | Air Conservation Center | 8 | George H Moody Middle School | Mae Berglas |
| Deanna Paetzold | Digital Art | Of Mice and Mushrooms | 12 | Glen Allen High School | Amy Harnsberger |
| Deanna Paetzold | Digital Art | Where? | 12 | Glen Allen High School | Amy Harnsberger |
| Ahniya Parham | Printmaking | Layer v. Depth | 12 | Appomattox Regional Governor's School | Susann Whittier |
| Lexi Pasternak | Digital Art | The Stronghold | 11 | Maggie L Walker Governor's School | Jeff Hall |
| Claire Patterson | Drawing & Illustration | Charcoal Portrait of Molly | 11 | Appomattox Regional Governor's School | David Bartlett |
| Angie Portillo | Drawing & Illustration | Cubist Still Life | 9 | Douglas Freeman High School | Shari Beazley |
| Reaghan Powell | Photography | Lucid Tea Time | 10 | Clover Hill High School | Amanda Berneche |
| Ashley Powers | Comic Art | Trust the Process | 12 | Glen Allen High School | Erin Mable |
| Kylie Redden | Mixed Media | Paper Cut | 12 | Midlothian High School | Christina Good |
| Kindall Reeder | Sculpture | Funtime Heist | 11 | Monacan High School | Erin Murtagh |
| Ashley Richardson | Digital Art | Mouth and Rainbow | 8 | Quioccasin Middle School | Jessica Goodman |
| Cate Riley | Drawing & Illustration | Acid | 9 | Collegiate School | Pamela Sutherland |
| Josie Rogers | Printmaking | I'll Fly Away | 11 | Veritas Classical Christian School | Sunny Rosebro |
| Audrey Ryland | Photography | Versions | 10 | The New Community School | Aaron Webb |
| Audrey Ryland | Photography | Topher | 10 | The New Community School | Aaron Webb |
| Audrey Ryland | Photography | There In Spirit | 10 | The New Community School | Aaron Webb |
| Audrey Ryland | Photography | Postcard | 10 | The New Community School | Aaron Webb |
| Ananya Iyer Sairaman | Drawing & Illustration | Enigma | 10 | Maggie L Walker Governor's School | Georgianne Stinnett |
| Savannah Sandlin | Digital Art | Derealization | 10 | Clover Hill High School | Jaime Barnett |
| Nived Sanjay | Drawing & Illustration | Up & Down | 10 | Maggie L Walker Governor's School | Jeff Hall |
| Aidan Sankowsky | Painting | Kikazaru, Iwazaru, and Mizaru | 12 | Deep Run High School | Michael Guyer |
| Vivian Sarych | Mixed Media | Fall(ing) For You | 9 | Patrick Henry High School | Jessica Bruce |
| Tyler Schumacher | Digital Art | Getting Lost | 10 | Glen Allen High School | Erin Mable |
| Cleo Scott | Drawing & Illustration | Poisson d'Avril | 10 | Appomattox Regional Governor's School | David Bartlett |
| Lucy Scott | Mixed Media | Cause and Effect | 12 | J R Tucker High School | Anne-Marie Slinkman |
| Grace Sekelsky | Photography | Alien Tears | 9 | Deep Run High School | Michael Guyer |
| Brooklyn Sellers | Drawing & Illustration | Two-faced | 8 | Binford Middle School | Kirstie Hein Sadler |
| Jory Shapiro | Photography | Calathea Musaica | 11 | Northstar Academy | Kira Rhorer |
| Mira Shapiro | Mixed Media | MiraCircleWeaving | 8 | Short Pump Middle School | Caroline Velazquez |
| Rebecca Short | Ceramics & Glass | Tree of Life | 12 | Trinity Episcopal School | Amy Chaplin |
| Rebecca Short | Ceramics & Glass | Indigo Float Vase | 12 | Trinity Episcopal School | Amy Chaplin |
| Kyndal Singh | Photography | Lost | 11 | Midlothian High School | Marie OKleasky |
| Sam Smith | Photography | Locker Thoughts | 10 | Collegiate School | Jere Williams |
| Kate Snodgress | Sculpture | Wounded Rat | 11 | Appomattox Regional Governor's School | Susann Whittier |
| Matthew Son | Photography | Flyover on Final Approach | 11 | Midlothian High School | Marie OKleasky |
| Grace Song | Drawing & Illustration | The Other End | 12 | Collegiate School | Pamela Sutherland |
| Gwen Stankiewicz | Fashion | Roses and Thorns | 11 | Maggie L Walker Governor's School | Jeff Hall |
| Jayden Stanley | Design | Power to the People | 11 | Patrick Henry High School | Ian Horwitz |
| Casey Stapleton | Painting | A Component of Life | 8 | Hermitage High School | Emilia Texer |
| Casey Stapleton | Photography | Chaotic Thing | 8 | Hermitage High School | Emilia Texer |
| Rebecca Stevens | Photography | Running Deep | 10 | Appomattox Regional Governor's School | Susann Whittier |
| Rebecca Stevens | Photography | Clutter | 10 | Appomattox Regional Governor's School | Susann Whittier |
| Rebecca Stevens | Sculpture | One With Nature | 10 | Appomattox Regional Governor's School | Susann Whittier |
| Alfred Stratford | Photography | Church on a Hill | 12 | Collegiate School | Taylor Dabney |
| Shane Taliaferro | Printmaking | Just Me | 7 | Short Pump Middle School | Caroline Velazquez |
| Paige Taylor | Photography | broken bed | 12 | Patrick Henry High School | Jill Palumbo |
| Llana Thach | Ceramics & Glass | Black Mamba | 10 | Glen Allen High School | Lindsay Steele |
| Eleanor Trask | Sculpture | Masonic Lane | 11 | Appomattox Regional Governor's School | Susann Whittier |
| Eleanor Trask | Photography | Taylor Samantha Francis Gayot | 11 | Appomattox Regional Governor's School | Patricia Lyons |
| Eleanor Trask | Mixed Media | autumn | 11 | Appomattox Regional Governor's School | Susann Whittier |
| Jenna Trueman | Mixed Media | Garden of Eden | 12 | Manchester High School | Marina Dublin |
| Sarah Wagner | Drawing & Illustration | Boy in a Dark Hallway | 9 | Maggie L Walker Governor's School | Jeff Hall |
| AJ Walsh-Corbett | Digital Art | Behind the Sun | 12 | St Catherine's School | Diego Sanchez |
| Alan Watts | Photography | Back Alley Bars | 11 | Maggie L Walker Governor's School | Georgianne Stinnett |
| Alan Watts | Photography | Adjusting the Light | 11 | Maggie L Walker Governor's School | Georgianne Stinnett |
| Ella Williams | Photography | A World At Your Fingertips | 11 | Clover Hill High School | Amanda Berneche |
| Rachel Williams | Drawing & Illustration | Prosperously Endured | 11 | Deep Run High School | Michael Guyer |
| Hannah Wright | Ceramics & Glass | Hanging Phases | 11 | Glen Allen High School | Lindsay Steele |
| Hannah Wright | Ceramics & Glass | Somehow together | 11 | Glen Allen High School | Lindsay Steele |
| Ashley Xiao | Painting | She's always watching | 9 | Deep Run High School | Eunice Li |
| Emilie Yang | Painting | Confession | 12 | – | Jere Williams |
| Emilie Yang | Painting | Nuclear Family | 12 | – | Pamela Sutherland |
| Andrew Young | Drawing & Illustration | Masked Emotions | 11 | Veritas Classical Christian School | Sunny Rosebro |
HONORABLE MENTION ARt

Heth Alexander
Grace Alger
Andrew Allums
Kolton Almany
Nina Argel
Wilber Arias
Drew Atiyeh
Laurel Ayi-Bamah
Jazmine Barrows
Yaseen Bhatti
Cherish Bland
Ania Blinova
Jaela Bradford
Nate Broughton
Karee Brown
Robert Buchanan
Nkosi Budd
Lily Burnam
Lily Caldwell
Georgia Calley
Megan Cash
Elizabeth Celentano
Anna Clark
Grace Clark
Ty Colina
Leo Coogan
Alexis Covington
Elisabeth Coward
Leo Crayton
Claire Cumberbatch
Skye Cummings
Ava Dalton
Ishaan Dave
Peyton Davidson
Eloise Davis
Victoria Davis
Payton deBruler
Bianca DeCarli
Ashley Deeds
Sarina DePalma
Kieran Donohue
Finley Drake
Abigail Draper
Victoria Duell
Annabel Eastep
Lucy Edwards
Rachel Eid
Sabah Eissa
Sydney Endicott
Falinna Fang
Katherine Farmer
Alexandra Feinstein
Manuela-Lynn Francis
Mallory French
Melanie Garber
Delphie Garrison
Hannah Gill
Cierra Glasspie
Cameron Golden
Arnav Golia
Astrid Gonzalez
Paola Gonzalez
Liam Gordon
Addison Grant
Grace Graviet
Eva Green
Gayatri Guda
Madeline Guidon
Kara Gustafson
Helen Hahn
Lyn Haigler
Parker Hansen
Kelley Harris
Kathryn Hart
Jack Hill
Jackson Hill
Parker Hill
Aleyah Hoffman
Eliza Hogeland
Rhianna Holdren
Zack Holt
Imanie Houdhan
Parker Husick
Anna Jackson
Sophia Jagels
Alayzia Johnson
Christian Johnson
Jordyn Johnson
Vilma Jones
Lillian Josefiak
Harshini Kanala
Callie Karjane
Sarala Kennedy
Ala Killen
Hannah Kyriakakis
Jack Lacy
Carson Lamb
Yooeun Lee
Adella Leftwich
Ellie Leipheimer
Sophie Levengood
Connor Little
Lautaro Lo Prete
Malena Lo Prete
Amy Lockeman
Luke Logan
ChiChi Lu
Khanh Ly
Logan Macklin
Shreya Malani
Alyssa Manalo
James Mancuso
Jenna Markey
Sutton Marks
Isabel Martin
Brianna Maurice
Alina McMahon
Augusta McNulty
Ava Michaux
Jordan Miller
Makailah Miller
Ella Mitchell
Sophia Moussa
Smriti Murali
Ellie Murray
Samuel Nance
Anju Natarajan
Hanna Ngai
Lindy Nunnally
Claudette Nunziato
Molly Nystrom
Lana O'Flynn
Blake Olsen
Luci Owens
Deanna Paetzold
Anthony Paiva
Andrew Palmer
Ahniya Parham
Kyan Amir Patel
Claire Patterson
Avery Pelletier
Aiden Phelps
Courtney Phillips
John Potter
Leah Pound
Ashley Powers
Audrey Price
Alyia Pritchett
Henry Proctor
Tegan Quinn
Olivia Quintero
Jenna Raggio
Aiden Rapone
Kylie Redden
Kindall Reeder
Zahria Reid
Cate Riley
Josie Rogers
Kaylen Rogers
Grace Rohler
Andrea Rojas Ramirez
Fei Rosebro
Audrey Ryland
Gabrielle Salomone
Savannah Sandlin
Aidan Sankowsky
Anushree Shah
Vinnie Shelah
Layla Shell
Sara Kate Smith
Jack Smithson
Grace Song
Gwen Stankiewicz
Savannah Stephens
Brude Stoever
Lydia Sulc
Alden Sweeney
Eliza Sweeney
Ethan Tabassian
Paige Taylor
Betsy Tinsley
Bella Topich
Eleanor Trask
Ohm Tripathi
Cooper Tsow
Ryan Tsui
David Valverde
Daniella Erika Vito
Emily Wallace
AJ Walsh-Corbett
Jonathan Wang
Rosanne Wang
Alan Watts
Audrey Weisenberger
Dai'Mesha Wiggins
Ella Williams
Nicholas Williams
Rachel Williams
stella williams
Riley Winefordner
Ava Wladar
John Woodfin
Isabella Zeballos
---
PORTFOLIO – WRITING
| | | | | | |
| --- | --- | --- | --- | --- | --- |
| NAME | AWARD | TITLE | GRADE | SCHOOL | INSTRUCTOR |
| Adachi Amaram | Gold Key | The Lifecycle of a Black Universe | 12 | Appomattox Regional Governor's School | Cindy Cunningham |
| Yasmeen Jaaber | Gold Key | I Want to Talk About Love | 12 | Appomattox Regional Governor's School | Cindy Cunningham |
| Lauryn Giddings | Silver Key | Lauryn Giddings | 12 | Appomattox Regional Governor's School | Patty Smith |
| Patience Wallace | Silver Key | The Experiences That Guide Me | 12 | Appomattox Regional Governor's School | Gail Giewont |
| Alayna Asim | Honorable Mention | from me to you | 12 | Appomattox Regional Governor's School | Cindy Cunningham |
| Jayden Huynh-Vuong | Honorable Mention | Chromatic Transcendence | 12 | Glen Allen High School | Alyssa Shevchuk |
Gold key – writing
| | | | | | |
| --- | --- | --- | --- | --- | --- |
| NAME | CATEGORY | TITLE | GRADE | SCHOOL | INSTRUCTOR |
| Amina Adeyola | Poetry | In Moonlight, Black Boys Look Blue | 11 | Appomattox Regional Governor's School | Cindy Cunningham |
| Amina Adeyola | Poetry | The Mansion for Two | 11 | Appomattox Regional Governor's School | Cindy Cunningham |
| Adachi Amaram | Poetry | To the Scalpel | 12 | Appomattox Regional Governor's School | Gail Giewont |
| Caroline Berselli | Poetry | The Girl I Grew Up With | 8 | Short Pump Middle School | Caroline Velazquez |
| Julian Bessenger-Vose | Humor | The Cockroach of House 13 | 8 | Sabot at Stony Point | Sarah Lile |
| Katrin Brinkman | Science Fiction & Fantasy | Fawning Mornings | 11 | Appomattox Regional Governor's School | Patty Smith |
| Paxton Calder | Flash Fiction | The Figure | 11 | Maggie L Walker Governor's School | Lisa Williams |
| Rebecca Earnest | Poetry | Hey There | 10 | Appomattox Regional Governor's School | Gail Giewont |
| Lauryn Giddings | Novel Writing | Paper Dolls | 12 | Appomattox Regional Governor's School | Patty Smith |
| Lauryn Giddings | Short Story | Broken Shadows | 12 | Appomattox Regional Governor's School | Patty Smith |
| Akanksha Gomatam | Short Story | The Prison Yard | 8 | George H Moody Middle School | Patricia Walker |
| Serena Grant | Short Story | Keep the Curtains Drawn | 12 | Mills Godwin High School | Christine Maddox |
| Gretchen Gulosh | Science Fiction & Fantasy | A Raven and A Wolf | 8 | Holman Middle School | Abbey Warren |
| Zehma Herring | Critical Essay | When the Innocent are Imprisoned | 11 | Collegiate School | Mil Norman-Risch |
| Jayden Huynh-Vuong | Dramatic Script | Red Butterfly | 12 | Glen Allen High School | Shelby Mugford |
| Hilda Joseph | Personal Essay & Memoir | Devour Me | 11 | J R Tucker High School | Linda Mills |
| Elizabeth Kaufman | Short Story | Fall Into the Night | 8 | St Catherine's School | Julie Elmore |
| Isabel Li | Personal Essay & Memoir | The Dog Tied to the Shed | 12 | Maggie L Walker Governor's School | Ed Coleman |
| Madigan Lucas | Short Story | The Fence | 8 | St Catherine's School | Julie Elmore |
| Nat Lurie | Short Story | The Mother | 10 | Collegiate School | Will Dunlap |
| Ava McKinney | Humor | Dave, Mobile | 12 | St Catherine's School | John Morgan |
| Camden Meacham | Poetry | Poems of the Perspicacious | 8 | Sabot at Stony Point | Sarah Lile |
| Quinn Menger | Humor | Scissors | 12 | St Catherine's School | John Morgan |
| Kate Morris | Short Story | The Storm That Changed Everything | 8 | St Catherine's School | Julie Elmore |
| Katie Mulligan | Poetry | Grisha | 12 | Collegiate School | Pete Follansbee |
| Isabel New | Short Story | Waves of Emotion | 8 | St Catherine's School | Julie Elmore |
| Mason Rowley | Flash Fiction | Okaga, CA | 11 | Appomattox Regional Governor's School | Gail Giewont |
| Aashka Shah | Critical Essay | Corruption in the American Health Care System | 9 | Maggie L Walker Governor's School | Georgianne Stinnett |
| Ashley Tyson | Personal Essay & Memoir | My Everything | 10 | Manchester High School | Rebecca Lynch |
| Audrey Weisenberger | Poetry | Sister | 10 | Henrico High School | Nicholas Ingraham |
Silver key – writing
| | | | | | |
| --- | --- | --- | --- | --- | --- |
| NAME | CATEGORY | TITLE | GRADE | SCHOOL | INSTRUCTOR |
| Averie Abernathy | Short Story | A Saved Breath | 8 | St Catherine's School | Julie Elmore |
| Adachi Amaram | Poetry | Colors He Painted With My Skin | 12 | Appomattox Regional Governor's School | Gail Giewont |
| Adachi Amaram | Personal Essay & Memoir | The Girl on the Other Side of the Cafeteria | 12 | Appomattox Regional Governor's School | Cindy Cunningham |
| Adachi Amaram | Personal Essay & Memoir | Can I Paint What I'm Not Allowed to Say? | 12 | Appomattox Regional Governor's School | Cindy Cunningham |
| Adachi Amaram | Poetry | Barefoot Queen | 12 | Appomattox Regional Governor's School | Cindy Cunningham |
| Adachi Amaram | Poetry | Brutus is to Caesar As Bleach is to Black | 12 | Appomattox Regional Governor's School | Gail Giewont |
| Serenity Bassett | Poetry | Word Bender | 10 | Appomattox Regional Governor's School | Patty Smith |
| Nora Brakman | Novel Writing | Claws of the Forest | 8 | Sabot at Stony Point | Sarah Lile |
| Katrin Brinkman | Science Fiction & Fantasy | In Too Deep | 11 | Appomattox Regional Governor's School | Gail Giewont |
| Andrew Brown | Critical Essay | A Bad Idea | 12 | St Christopher's School | Stuart Ferguson |
| Tessa Brown | Short Story | Silence | 8 | St Catherine's School | Julie Elmore |
| Maria Clark | Flash Fiction | Una Familia Rota | 11 | Manchester High School | Rebecca Lynch |
| Turner Clark | Short Story | Inferior | 8 | St Catherine's School | Julie Elmore |
| Andrew Eastep | Dramatic Script | Untitled Restaurant Sitcom | 12 | Collegiate School | Mil Norman-Risch |
| Jane Edmunds | Short Story | Mirrors | 8 | St Catherine's School | Julie Elmore |
| Olivia Fairlamb | Poetry | Self-Discovery | 11 | Collegiate School | Pete Follansbee |
| Greyson Fisher | Poetry | Such is the Code of Life | 11 | Appomattox Regional Governor's School | Gail Giewont |
| Greyson Fisher | Poetry | Lobster, Jellyfish, and Menhaden | 11 | Appomattox Regional Governor's School | Gail Giewont |
| Matilda Frantz | Short Story | Alice | 8 | Sabot at Stony Point | Sarah Lile |
| Alexander Gatewood | Humor | The Proper Way to Hydrate | 8 | Sabot at Stony Point | Sarah Lile |
| Sophia George | Critical Essay | US State Governments and Their Role in Women's Reproductive Rights | 10 | Deep Run High School | Elizabeth Berry |
| Lauryn Giddings | Short Story | Hermingham's Toy Shop | 12 | Appomattox Regional Governor's School | Patty Smith |
| Lauryn Giddings | Novel Writing | Elysian | 12 | Appomattox Regional Governor's School | Patty Smith |
| Lauryn Giddings | Short Story | Distraction | 12 | Appomattox Regional Governor's School | Patty Smith |
| Lauryn Giddings | Flash Fiction | Open for Business | 12 | Appomattox Regional Governor's School | Patty Smith |
| Addison Goad | Short Story | Blood and Water | 8 | St Catherine's School | Julie Elmore |
| Sojo Higgins | Science Fiction & Fantasy | First Contact | 8 | St Catherine's School | Julie Elmore |
| Jayden Huynh-Vuong | Critical Essay | When Will Schools Reach Out a Helping Hand? | 12 | Glen Allen High School | Alyssa Shevchuk |
| Yasmeen Jaaber | Personal Essay & Memoir | German II. Vocabulary Quiz | 12 | Appomattox Regional Governor's School | Cindy Cunningham |
| Jada Johnson | Poetry | Unwanted Advances | 11 | Manchester High School | Rebecca Lynch |
| Jaelynn Johnson | Flash Fiction | The Mindless Wander | 8 | Holman Middle School | Abbey Warren |
| Lauryn Jones | Humor | Employees Must Wash All Their Hands Before Returning for Work | 12 | Manchester High School | Rebecca Lynch |
| Hilda Joseph | Dramatic Script | One of Us | 11 | J R Tucker High School | Linda Mills |
| Natalie Koehn-wu | Short Story | The Stranger's Gift | 8 | Maggie L Walker Governor's School | Michele Surat |
| Lautaro Lo Prete | Critical Essay | Capitalism vs. The World | 8 | – | Jennifer Lo Prete |
| Claire Mansfield | Short Story | Who Can You Trust? | 8 | St Catherine's School | Julie Elmore |
| Grace Marcus | Novel Writing | The Deeper Ocean | 8 | Sabot at Stony Point | Sarah Lile |
| Raiya Nathan | Flash Fiction | Whispers and Screams | 11 | Henrico High School | Keith Hollowell |
| Emily Nation | Poetry | Intelligent Design | 11 | Appomattox Regional Governor's School | Cindy Cunningham |
| Cari Pallo | Flash Fiction | Invisible Girl | 8 | – | Vicki Pallo |
| Lexi Pasternak | Personal Essay & Memoir | Reservations | 11 | Maggie L Walker Governor's School | Ed Coleman |
| Nya Patel | Poetry | The Magical Place | 8 | St Catherine's School | Kamal Patel |
| Nya Patel | Poetry | A Flock Flies Free | 8 | St Catherine's School | Kamal Patel |
| Ellary Porter | Short Story | Isabella's Daydream | 8 | Holman Middle School | Abbey Warren |
| Akshaya Ramasamy | Short Story | The Portal to 44 | 8 | George H Moody Middle School | Patricia Walker |
| Aniyah Rose | Short Story | Breaking Away | 11 | Appomattox Regional Governor's School | Gail Giewont |
| Aniyah Rose | Poetry | Melicoccus Bijugatus | 11 | Appomattox Regional Governor's School | Gail Giewont |
| Mason Rowley | Flash Fiction | Exit Music | 11 | Appomattox Regional Governor's School | Gail Giewont |
| Mason Rowley | Flash Fiction | The Moon | 11 | Appomattox Regional Governor's School | Gail Giewont |
| Prater Sanderson | Short Story | Escaping the Corridors | 8 | St Catherine's School | Julie Elmore |
| Emma Schlussler | Short Story | Voices | 8 | St Catherine's School | Julie Elmore |
| Collin Shiflett | Short Story | The Crimson Room | 10 | Appomattox Regional Governor's School | Gail Giewont |
| Collin Shiflett | Poetry | Stop Writing Fire | 10 | Appomattox Regional Governor's School | Gail Giewont |
| Collin Shiflett | Poetry | Oceans Drain, Embers Ignite | 10 | Appomattox Regional Governor's School | Gail Giewont |
| Emmy Sumpter | Short Story | The Missing Faces | 8 | St Catherine's School | Julie Elmore |
| Scarlett Townsend | Short Story | The Evil Within Us All | 8 | St Catherine's School | Julie Elmore |
| Phu Vo | Personal Essay & Memoir | Hearts That Don't Beat | 9 | Maggie L Walker Governor's School | Michele Surat |
| Savannah Vonesh | Poetry | Moment of Peace | 11 | Maggie L Walker Governor's School | Devon Mattys |
| Paige Walworth | Critical Essay | Poetry, Patronage, and the Pastoral Realm: An Analysis of Vergil's Eclogue I | 11 | Maggie L Walker Governor's School | Michele Surat |
| Emerson Woodley | Dramatic Script | Scraps | 8 | St Catherine's School | Julie Elmore |
Honorable mention – writing
Adachi Amaram
Spencer Anthony
Jeddah Arnold
Meg Bowles
Paxton Calder
Wallace Cary
Maria Clark
Fielding Croft
Adam Erickson
Olivia Fairlamb
Kara Finley
Greyson Fisher
Caroline Fredette
Kyndle Fuller
Keyana Gardner
Aseye Gatty
Lauryn Giddings
Quáedyn Goins
Akanksha Gomatam
Tess Holdaway
Anne Hubard
Jayden Huynh-Vuong
Yasmeen Jaaber
Ronit Jain
Aiden Jun
Sumner Kerr
Ala Killen
Natalie Koehn-wu
Alexandra La Civita
Carter Lee
Malena Lo Prete
Nicole McCormick
Jumana Meri
Mary Moe
Nadia Moore
Clare Mullins
Pooja Muthuraj
Kayleann Myrthil
Layla Patel
Jayne Patrick
Bridget Plank
Smrithe Rajesh
zhenya rance
Kacey Randall
Elijah Redding
Mason Rowley
Rian Sherod
Drew Sherrod
Collin Shiflett
Scott Shockley
Anna Sleeker
Avery Spruill
Campbell Sullivan
Ethan Tabassian
Amanda Tan
Mia Tan
Riley Torrence
Michael van orman
Savannah Vonesh
Patience Wallace
Paige Walworth
Xiaochun Wang
Gabriella Watson
Adeline Whisnand
Hugh Williams
Ada Woo
Lucy Wooten