VisArts Honors Local Students' Work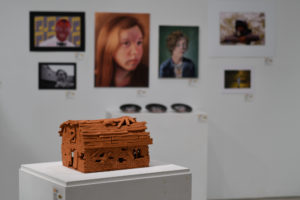 For two weeks in February, the Visual Arts Center of Richmond is the best place to appreciate the city's pool of emerging artistic talent. As the Richmond regional affiliate of the 2018 Scholastic Art & Writing Awards, VisArts juried more than 3,200 submissions by area middle and high school students and curated an exhibition of winning work.
Scholastics is a longstanding and prestigious scholarship and recognition program for creative students in grades 7 through 12. The Visual Arts Center last acted as a regional affiliate for the program around 10 years ago. By signing on as the regional affiliate for the national program, VisArts became Richmond's local touchpoint for young artists. In early January, the center invited 31 local creatives to jury more than over 3,000 pieces of work in 16 categories, such as photography, drawing and painting.
Scott Garka, president of CultureWorks, was among the group, which ultimately recognized approximately 900 students with Gold Key, Silver Key and Honorable Mention Awards. Garka said spending the day evaluating student art was a great way to rub elbows with his creative peers in Richmond and a incredible opportunity to help recognize young art talent. "It was interesting to talk to the other jurors about how different works impacted us individually." Garka also said that the work spoke volumes about the guidance and instruction offered by arts educators.
"The Scholastic Art & Writing Awards are hugely important to young artists in our community and to schools, educators and families that support them," said Jordan Brown, VisArts' director of education and programs. "Too often, young artists don't get the chance to be formally recognized for the work they are creating, unlike their peers who are involved in other academic areas or sports."
The Scholastic Awards provide that recognition on a local scale and give students the opportunity to compete at a national level, Brown said. Award recipients also get the chance to win scholarships that could help them continue to study art in college.
This year, nearly 350,000 works of art and writing were submitted to more than 100 affiliate partners across the country. As the affiliate partner for the Richmond area, VisArts accepted submissions from students at schools in Richmond City, Hanover County, Henrico County and Chesterfield County.
The works that were selected for Gold Key, Silver Key and Honorable Mention Awards are on view in VisArts' True F. Luck Gallery and throughout the building, from February 17 through February 25.
"We've seen so many people coming through the building for this exhibition," said Tesni Stephen, VisArts' education manager. "It's been so delightful to see all the joy this show has brought."
A closing reception for all award winners will be held at VisArts on Saturday, February 24 from 1 to 4 p.m. A ceremony for Gold Key recipients will be held on the same day at 2 p.m. at Binford Middle School. A full list of winners and more information about the Scholastic Awards can be found on VisArts' website.