Jared Boggess Illustrates Fall Catalog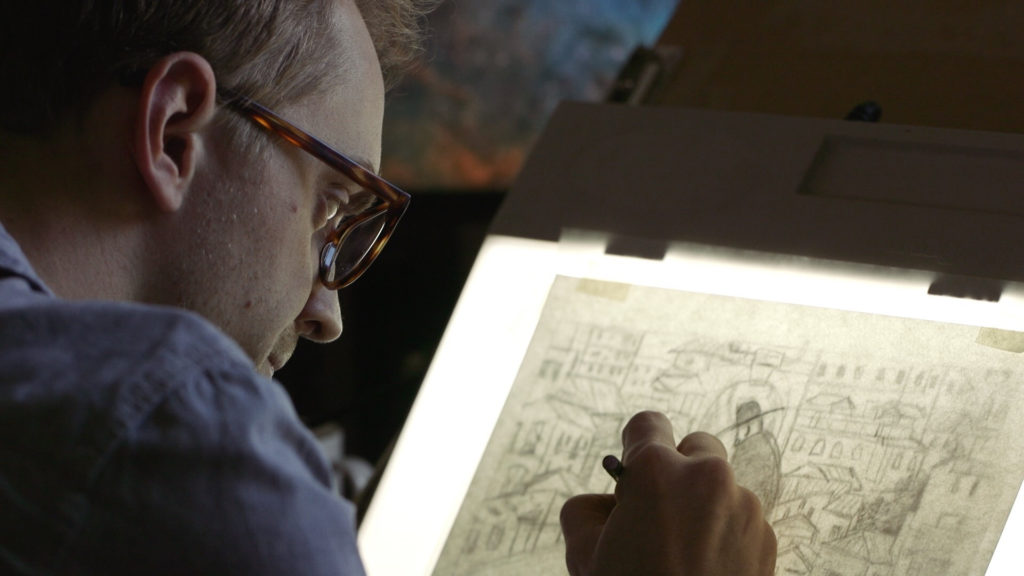 Jared Boggess was raised in Hanover County where he grew up copying Sonic the Hedgehog and Star Wars characters. He'd fill oversized sheets of paper with hundreds of tiny characters that were neither man nor alien but something in between.
Boggess is the second of four illustrators the Visual Arts Center of Richmond has commissioned to illustrate its 2016-17 course catalogs. He illustrated the fall 2016 catalog, which appeared in Style Weekly and is also available for pick-up at VisArts' 1812 West Main Street location.
As a student at Lee Davis High School, Boggess took as many art classes as his schedule allowed, including a couple of graphic design classes. By the time he enrolled at Virginia Commonwealth University, Boggess was committed to becoming a working artist, so he assumed that meant he'd become a graphic designer.
At VCU's School of the Arts Boggess met an art professor named Sterling Hundley. Hundley had built a successful career for himself as an illustrator, and in him Boggess immediately knew he'd found a mentor. The Department of Communication Arts offers courses in both graphic design and illustration, and Hundley helped Boggess recognize the pull of the latter.
"He helped me discover the world of illustration," said Boggess. "When I realized that I could make a living drawing, it was a no brainer for me."
Launching a career as an illustrator wasn't easy, but it wasn't impossible either. Hundley provided him with a roadmap, putting him in touch with other illustrators who could give Boggess good advice on how to get the ball rolling. Reaching out to these illustrators was doubly beneficial to Boggess—he learned how to go after work but he also expanded his artistic community.
Boggess got started creating illustrations for alternative weeklies like Style Weekly. He thinks local papers are great places for illustrators to cut their teeth. From there, there was work with publications such as Smithsonian magazine, Education Week and the Dallas Observer. When Boggess began to land jobs with the publishing industry, illustrating book covers, he knew he'd found his footing in the profession.
Boggess' childhood strategy—of filling one big piece of paper with lots of tiny sketches—is one that carried him through his collegiate career and into his professional life. He refined the way he works at the Illustration Academy, an intensive four-week workshop he attended in 2010.
At the beginning of a new project, Boggess avoids picking up a pencil for as long as possible. As much as he can, he tries to think purely in words and not images. "I find that when I'm not trying to come up with ideas, I come up with the ideas I like the most," said Boggess.
When he finally does put pencil to paper, Boggess will fill several sheets of paper with tiny conceptual images that are all shapes and lines. "I've never been one who has an image in my head I'm trying to transcribe," said Boggess. "Rather, I'm drawing to try to find the image."
At this stage in his process, he uses as few visual references as possible, trying to draw even complex machinery like the letterpress in his VisArts illustration from his head.
"Once I have the shapes in place, I pull out giant pieces of tracing paper. My sketches start out very loose but then I drill down into the details as I add more sheets of tracing paper," said Boggess. He uses a light board to assemble all those layers into a final drawing.
It's at that point—when all those shapes have come together into one drawing—that Boggess' journey on paper ends. He scans the drawing and imports it into Photoshop where he can begin layering color and building up more values.
For the catalog cover, Boggess wanted to capture the feeling of making art. "There's a mystery to it, and I wanted to make sure that came across," said Boggess.
Boggess' work will be followed by that of illustrators Holly Camp (Winter 2017) and Maria Fabrizio (Spring 2017). Victoria Borges illustrated the Summer 2016 catalog. Each artist serves as an illustrator-in-residence, offering a workshop or lecture in conjunction with the release of his or her catalog.
As part of his residency, Boggess will teach a weekend workshop, which he's calling "Drawing Like a Painter," on Sat., Oct. 29 from 10 a.m. to 4 p.m. In it, he'll walk students through his creative process.