Ceramics Meets Tattoo Art in "Of Mud & Blood" Exhibition Opening at the Visual Arts Center of Richmond, Nov 12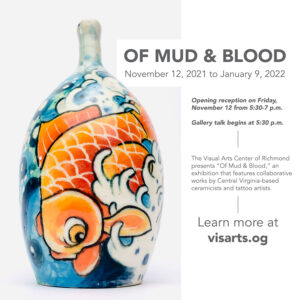 The Visual Arts Center of Richmond presents "Of Mud & Blood," an exhibition that features collaborative works by Central Virginia-based ceramicists and tattoo artists. This exhibit will open on Friday, Nov. 12, with a public reception from 5:30-7 p.m. and will be on view at the Visual Arts Center of Richmond's True F. Luck Gallery until Jan 9, 2022; masks are required inside the building.  
This exhibition explores these centuries-old crafts through various vessels, sculptures and any other form the work may take. Known for their traditional styles and techniques, the artistic practices of clay and tattooing come together to bridge these two worlds.
"The idea of this show came about while Katie was taking classes with me," says Jeff Vick, VisArts Master teacher and Clay Studio Manager about Katie Davis, owner of Salvation Tattoo, "she was beginning to develop a voice in her decorating process, which was exciting for me as a teacher. Our ideas soon developed into a larger concept to put together an exhibition in which our clay instructors create an object, and Katie would invite her tattoo friends to design and decorate them."
"In tattooing, imagery is a powerful way to commemorate a passage of time or feeling. Imagery can be placed on any subject matter to invoke those feelings… and ceramics is another age-old practice which brings the two together," says Katie Davis.
Over 50 pieces from this exhibition will be on silent auction at visarts.org starting Nov. 12. Proceeds will benefit two local Richmond organizations: MAD RVA and Health Brigade, and will also go towards supporting community partnership programs at VisArts.
_______________
Ceramic Artists:
David Camden, Merenda Cecelia, Missy Cochrane, Joanna Gragnani, Karen Hull, Dan Kaczka, Paul Klassett, Bernadette Larimer, Claire McCarty, Philip Mills, Christine Orr, Kathleen O'Connor, Al Pellenberg, Angelique Scott, Maria Stone, Kourtenay Plummer, Jeff Vick, Holly Zajur
Tattoo Artists:
Josh Autrey, Mike Baker, Amy Black, David A. Boisineau, Jason Brown, Brian Bruno, Nick Bryant, Andrew Conner, James Cumberland, Katie Davis, Sterling Frost, Timothy Hoyer, Marina Inoue, Willie Kirby, Kpham, Adam Marton, Nate Moretti, Jelena Nikolic, Ian Ó Nualláin, Fred Pinckard, Chris Porter, Nicholas Ruffilo, Miky Scheer, Holley Setzer, John Setzer, Rosemary Shackelford, Tim Skirven, Sophie Stell, Beth Stratton, Tannis, James Travis