Jewelry Artist Tara Locklear Selected as Craft + Design Featured Artist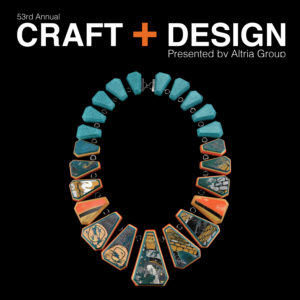 The Visual Arts Center of Richmond has selected North Carolina-based jewelry maker Tara Locklear as the featured artist of its 53rd annual Craft + Design Show, which will take place Nov. 17-19, 2017 at historic Main Street Station's newly renovated train shed.
Locklear uses materials like recycled skateboards and cast cement to create necklaces, earrings, rings, bracelets and more. With skateboards from her friends and community, she has developed a 48-piece collection called "PopRoxx."
The artist created a special necklace for VisArts to include on all its Craft + Design marketing materials. This hand-carved necklace is made of recycled skateboards and Durat, a post-consumer countertop plastic, combined with fabricated and patinated sterling silver findings. The piece is part of a collection of five necklaces that will be available for sale at Craft + Design.
Locklear's work has been featured in several national publications, including American Craft Magazine, Metalsmith Magazine, and the book "Art Without Waste" by Patty Wongpakdee. She has led workshops and given lectures on her process at the Pratt Institute School of Design in New York City and the Society for Contemporary Craft in Pittsburgh, Pa. She was also a 2014 finalist for the Society for Contemporary Craft Lydon Emerging Artist Award.
"Tara is a great fit for the Visual Arts Center because she's so focused on exploring new materials and processes," says Stefanie Fedor, executive director of the Visual Arts Center of Richmond. "By using reused and recycled materials, she's creating jewelry that is both stunning and responsible."
Locklear earned a Bachelor of Fine Arts from East Carolina University. She has exhibited at contemporary craft shows sponsored by the American Craft Council, the Smithsonian Institution and the Philadelphia Museum of Art and has had group exhibitions at Penland Gallery at the Penland School of Crafts in Spruce Pine, N.C. and the Reinstein and Ross Gallery in New York City.
This is Locklear's first time exhibiting at Craft + Design. With room for more artists this year, the show continues to draw participants from across the country. As a result of the previously announced venue change, Craft + Design will double the number of participating artists—going from 60 to 130.
Locklear works out of her studio in Raleigh, N.C.