Tool-Making for Jewelers
On May 12th and 13th, join VisArts in welcoming seven guest artists from the Penland School of Crafts in North Carolina. Each artist is a studio coordinator at Penland who will be taking over our studios and offering unique weekend workshops that bring new techniques and ideas to VisArts.
Put down those commercial tools and learn to make your own! You'll make a small riveting hammer and discover the remarkable properties that make steel so useful. You'll be able to go on to make your own chasing tools, burnishers, touchmarks and more. Demonstrations will include shaping and forging, decorative filing, hardening and tempering and handling of our hammers.
About the Instructor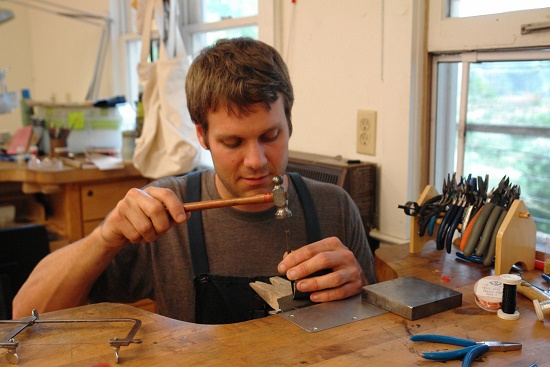 Ian Henderson
Ian Henderson is the Metals Studio Coordinator at Penland School of Crafts. He received a BA in Contemporary United States History from Brown University and was a Core Fellow at Penland. His work can be found at Blue Spiral 1 Gallery in Asheville, NC and at the Penland Gallery in Penland, NC.
See More Classes By Instructor
Back to Classes