Printing + Manipulating Cyanotypes
On May 12th and 13th, join VisArts in welcoming seven guest artists from the Penland School of Crafts in North Carolina. Each artist is a studio coordinator at Penland who will be taking over our studios and offering unique weekend workshops that bring new techniques and ideas to VisArts.
Experiment with cyanotypes, a great introduction to the historical processes of photography. You'll be shown how to mix chemicals, coat paper, expose images and wash prints. We'll make photograms and combine 21st century technology with the 19th century process by using digital negatives.Then, we'll cover toning, which can take our blue prints to shades of purple, gray, and brown. You'll also explore simple binding methods to create pamphlets with cyanotype covers.
About the Instructor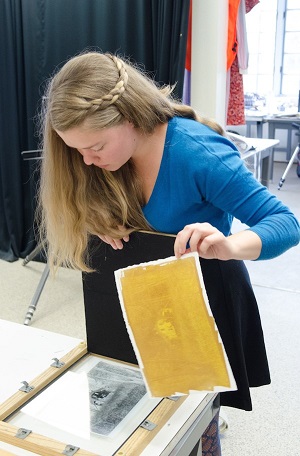 Betsy DeWitt
Betsy DeWitt lives in Penland, NC where she is the Photo Studio Coordinator and Programs Coordinator at the Penland School of Crafts. Betsy received her BA in Art History from the University of Georgia in 2007. Her work has been shown in the Turchin Center for the Visual Arts (Boone, NC), Asheville Area Arts Council (Asheville, NC), Vermont Center for Photography (Brattleboro, VT), Rebus Works (Raleigh, NC), Leeds Gallery at Earlham College (Richmond, IN), and St. Andrews Art Gallery (Sewanee, TN).
See More Classes By Instructor
Back to Classes