Kids Make Art with Professional Artists at the Visual Arts Center of Richmond's Summer Camp
At the Visual Arts Center of Richmond's ArtVenture Summer Camp, kids make art with the help of professional, working artists. Each summer, VisArts brings in painters, woodworkers, potters, photographers, graphic designers, filmmakers and other creative educators who design classes specifically for kids. These artists often have decades of experience in their medium or a bachelor of fine arts — many ArtVenture teachers have both.
David Tanner has been teaching painting classes at VisArts for nearly 20 years. Outside of the classroom, Tanner is a representational oil painter who focuses mainly on figurative compositions. Since receiving his Bachelor of Fine Arts from VCUarts in 1991, his work has been part of juried exhibitions including Oil Painters of America, Salon International and others. Tanner primarily teaches adult painting classes, but he taught his first ArtVenture class in 2010.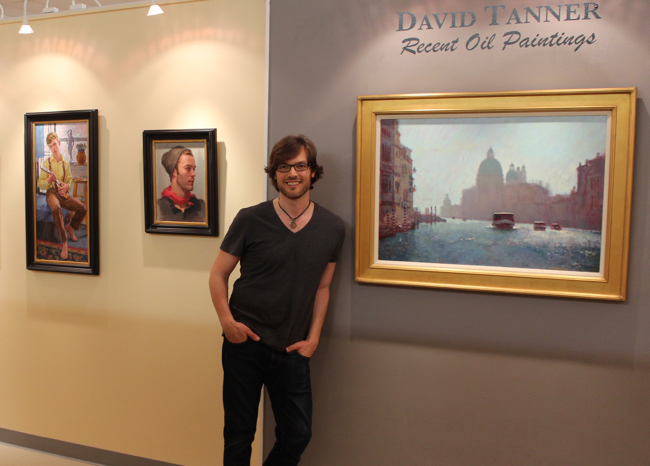 "My decision to start teaching an ArtVenture class grew out of desire to introduce painting principles to younger artists," he said. "However, my classes aren't dumbed down versions of my adult classes."
In Tanner's Paint Like a Pro class, kids learn the principles of observation and explore color mixing with acrylic paint. With expert guidance, students use still life scenes and reference photos to paint landscapes, animals and architecture.
"Students will come away from the class with three to five completed paintings, depending on how fast they work," Tanner said.
In VisArts' digital lab, freelance graphic designer and illustrator Grace Manno teaches ArtVenture classes such as Digital Fan Art, Digital Pattern Design For Printing and Digital Character Design and World Building. As a freelancer, Manno works with a variety of clients to produce graphics, images, video and more. She also creates collages, lettering and illustrative art in her own independent studio practice.
"Variety is the spice of life…and work. Teaching is a pleasure because I get to share my knowledge, but also see how students interact with art and creative practice," she said.
Manno's mantra as a teacher is: "If we're not having fun, we're not doing it right." Last year was her first year teaching ArtVenture, but since then she's started teaching both youth and adult classes at VisArts on a regular basis.
"All of my classes are designed to get students to jump into digital arts," she said. "Digital art programs can be a bit intimidating at first, but through a few simple tutorials, the students pick it up really quickly."
Pick up a print catalog at the center, which is located at 1812 West Main Street. One-week camp sessions for kids aged 5 to 14-years-old run from June 18 to August 31. Morning classes are from 9 a.m.–12 p.m. and afternoon classes are from 1–4 p.m. Parents who sign up for a week of both morning and afternoon classes can send their child with a lunch to eat at VisArts during a supervised lunch hour, free of charge. There's also an option to purchase the extended day add-on for just $50 in order to pick up any time between 4 and 5:30 p.m.
Register for ArtVenture at visarts.org.