VisArts Expands ArtVenture Summer Camp to Five Year Olds
The Visual Arts Center of Richmond's summer camp program, ArtVenture, is expanding to cater to Richmond's youngest artists.
In a new class called Art Explorers, five- and six-year-old campers will create an eclectic variety of artwork using clay, wire, fabric, paint and more. Each class is led by two teachers, and campers benefit from extra kid-friendly work spaces and plenty of breaks.
Jacque Minarik is scheduled to teach Art Explorers during two of the 11 one-week sessions. She has been an art teacher in the lower school at St. Catherine's for 12 years, but this is her first time teaching at VisArts.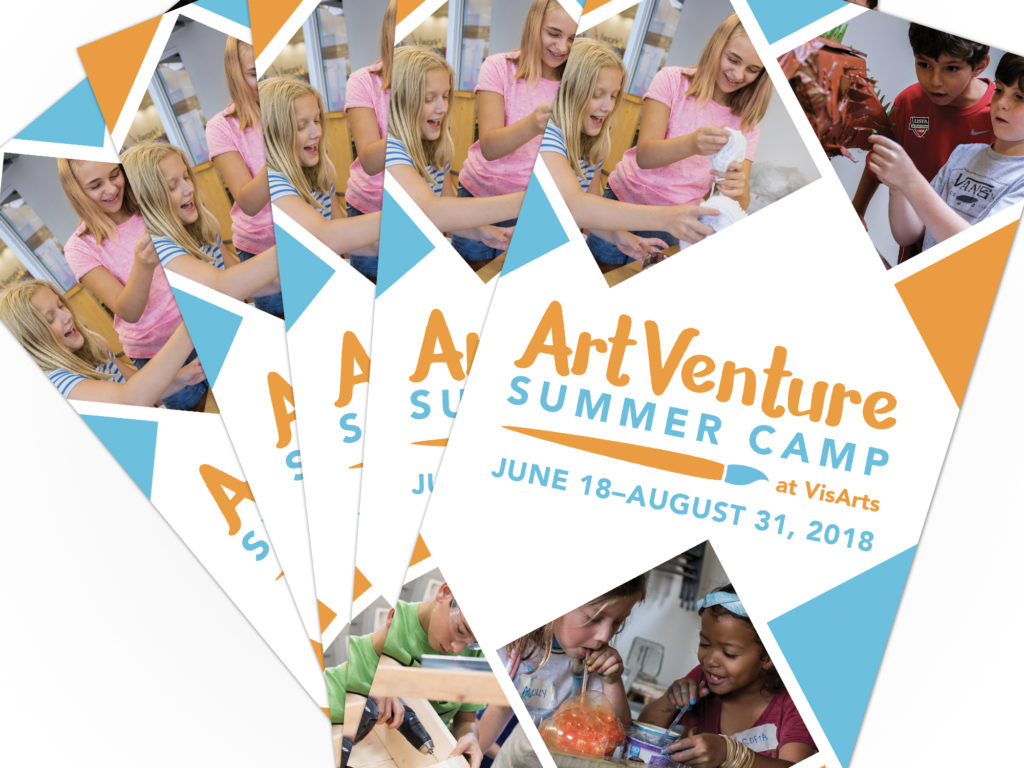 Minarik is looking forward to teaching the new class in a new setting. "This age is the perfect time for the exploration of different media and materials," she said. "They'll have the chance to develop skills and techniques, but it's mostly about having fun."
Drawing is the best point of entry for this age group since most kids have had exposure to it, Minarik said. She also plans to lead students through painting, printmaking, collage projects and more. Summer art classes can also help five-year-olds hit developmental milestones, Minarik said. "Visual literacy is really one of their first languages, so it's essential to experiment and explore.
Minarik's teaching partner for the first week of camp is Molly McManus, who teaches a class for teens with autism at VisArts. McManus said it's important to introduce art early in kids' development and pointed out that art is a beneficial practice at every age. "Not only is pushing boundaries in a healthy way important, it fosters a sense of confidence and curiosity," she said. "We can and should all be creatively thinking throughout our lives."
ArtVenture has established itself as one of the most popular day camps in the region, but this is the first year the program has accepted five-year-old campers.
"We decided to open up the camp to five-year-olds because we want ArtVenture to be accessible to even more families," said Jordan Brown, director of education and programs at VisArts. "We believe all ages can benefit from art education."
Tesni Stephen, VisArts' education manager, took art classes at VisArts (then the Hand Workshop) when she was a kid.
"It's been really meaningful to help plan ArtVenture because it was so formative for me as a young artist," Stephen said. "What's special about the camp is that kids get to use professional tools and work in real art studios."
Brown and Stephen have worked with teachers to design more than 200 classes such as darkroom photography, stop motion animation and mural painting. Classes like digital filmmaking are among the most popular offerings. Sewing and wheel throwing classes are also crowd favorites, according to Brown, because students get the chance to work with specialized equipment that they can't typically access elsewhere.
The center's one-week camp sessions for kids aged 5 to 14-years-old run from June 18 to August 31. Morning classes are from 9 a.m.–12 p.m. and afternoon classes are from 1–4 p.m. Parents who sign up for a week of both morning and afternoon classes can send their child with a lunch to eat at VisArts during a supervised lunch hour, free of charge. There's also an option to purchase the extended day add-on for just $50 in order to pick up any time between 4 and 5:30 p.m. Parents can learn more about ArtVenture on VisArts' website or pick up a print catalog at the center.