Over 15 New Artists Show Their Work at VisArts' Annual "[Work]" Exhibition
The Visual Arts Center of Richmond will open its annual "[Work]" exhibition on Friday, June 15. The show features over 60 pieces of art created by VisArts faculty, staff and board members. This year, there are over 15 new participants.
"One of the most exciting things about this year's [Work] show is how many new artists we're showing alongside artists who've been in the show for many years," said VisArts executive director Stefanie Fedor.
Sophie Treppendahl is an oil painter, a VisArts teacher and a new "[Work]" artist. The piece she chose for the show is a monochromatic pink rendering of the James River which embodies a fairly new technique in her repertoire.
"I've painted the James many times before," she said. "It's a really special space for me, but I wanted to mix up my palette."
Treppendahl makes trips to the river several times each week, often painting the landscape in afternoon light. Recently, she started experimenting with a monochromatic palette, a move she says has given her river scenes a more playful, abstract and dreamy quality.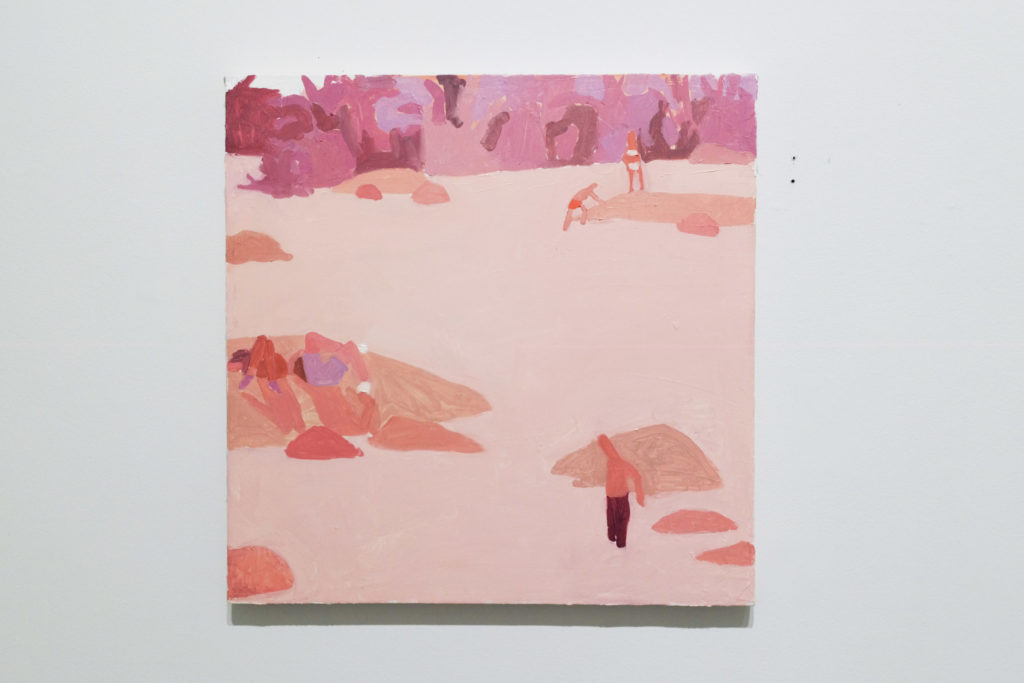 "I've been challenging myself to break from my comfort zone," Treppendahl said. "While I've never seen the James in all pink, it somehow still feels familiar, like an exaggeration of the golden hour, just turning up the intensity."
The Louisiana-born artist moved to Richmond in 2017, and she works in a private studio at Studio Two Three. This summer, she'll be in VisArts' studios teaching printmaking, painting, drawing and collage techniques to ArtVenture campers between the ages of 9 and 12 years old.
Treppendahl's painting will hang alongside the work of other new "[Work]" artists such as Theo Bignon, Emily Wicks, Kristi Totoritis and Dashiell Kirk. Returning to the show this year are Richmond artists Josh George, David Tanner, Barbara Atkinson and Liz Borsetti.
"It's really exciting that some of our returning artists are also submitting new kinds of work," said Jordan Brown, VisArts' director of education.
There's also a strong board presence at "[Work]." Artists David Shuford, Frankie Slaughter and Jere Williams sit on VisArts' Board of Directors and are contributing to this year's exhibition.
"[Work]" includes examples of all media taught at VisArts' 1812 West Main Street building, including: ceramics, creative writing, digital media, drawing, fiber, film, glass, jewelry, metal, painting, photography, printmaking and wood. On Friday, June 15, VisArts will host an opening reception between 6 and 8 p.m. in the center's True F. Luck Gallery. The show runs through August 19, with gallery hours between 9 a.m. and 9 p.m. every day.