Wheel Throwing A (Ages 12-14)
Learn the basics of wheel throwing, trimming and glazing. This extended, two-week class offers more time to practice on the wheel and more opportunities to complete projects. Create handmade functional pottery, experiment with various glazes and learn about safety in the ceramics studio.
Special Notes
Students will use clay that needs to be fired and picked up at a later date.

This is a two-week class and students must come to both weeks. Students may take walking field trips so need permission to do so. Class will not meet on Monday June 19th due to the holiday.

This is an On-site course. Students must follow current CDC + VDH guidance outlined on our website: visarts.org




About the Instructor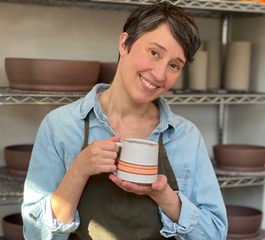 Jess Cullen
Jess Cullen is a ceramic artist living and working in the Fan District of Richmond, VA.
A life-long love of art and creating led Jess to wheel-thrown ceramics in 2001, and a background in education allowed her to begin teaching ceramics in 2016. Jess's current focus is mainly on functional pieces that are simple and timeless, and maintain the sense of warmth that hand-created work allows. She is inspired by clean lines and shapes, and great colors.
Website: jesscullenceramics.com
Instagram: @jesscullenceramics
See More Classes By Instructor
Back to Classes