Set it and Forget it! – NEW!
Learning to design and fabricate your own settings is a great way to liberate your making process. In this workshop, learn to make settings for stones, coins, ceramic shards, your child's first lock of hair and other special objects. We'll cover a variety of setting options, including the bezel, tab, frame, prong and tube. We'll also cover settings for asymmetrical objects and how to problem solve setting unique pieces. Discussions and demonstrations will cover ring band and pendant bail construction. Students will work with copper and/or silver, depending on their piece and individual desires. Each student should leave with at least two finished settings in either a pendant or ring to take home. Some basic metalworking skills such as sawing, soldering and filing will be helpful in this workshop.
Special Notes
This class will meet on Saturday and Sunday from 10 AM - 4 PM.
Classes are confirmed one week prior to the start date. In order to help us confirm classes, please register as early as possible.
About the Instructor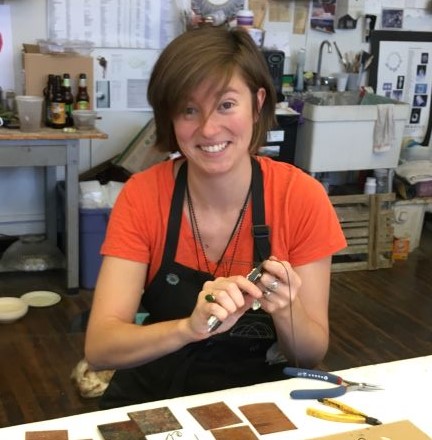 Jennifer Wells
Jennifer is a studio artist living and working between the U.S and Italy. She has completed several artist-in- residencies at: Arrowmont School of Arts and Crafts in Gatlinburg, TN, Pocosin Arts in Columbia, NC and the Jentel Foundation near Banner, WY. She has taught numerous workshops nationally and internationally and has taught at Indiana University in Bloomington, IN, in Italy with East Carolina University's Italy Intensives program and at Western State Colorado University in Gunnison, Colorado. Jennifer's work is in the collection of the Enamel Arts Foundation and the Racine Museum. Currently she is living and working in Italy where the textures of everyday life leave an impression on her work.
See More Classes By Instructor
Back to Classes