Screen Printing T-shirts and Posters (Ages 11-12)
Learn how to screenprint by making posters and t-shirts. We'll cover a wide range of approaches within this versatile medium. Create hand-drawn stencils and work directly with drawing fluid and screen filler. Learn about printing, registration and color mixing using water-based, non-toxic acrylic ink—experimentation is encouraged!
About the Instructor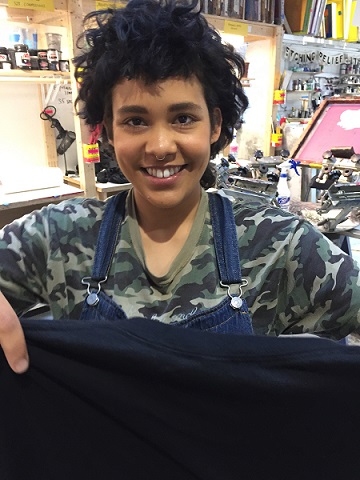 Elisa Rios
Elisa "cece" Rios is a Puerto Rican Screen printer residing in Richmond VA. She currently works out of Studio Two Three and is the Co- owner of a custom flag printing collaboration called Guard n' Flags. Their work focuses on reclaiming images, objects and structures of power and embracing identity, individuality and inclusivity. Their work is heavily influenced by companion plants, queer theory, and the zodiac. She received her BFA in the Painting and Printmaking department at Virginia Commonwealth University while also becoming a long term intern at Studio Two Three.
See More Classes By Instructor
Back to Classes