Pinata Party (Ages 6-7)
Create a paper mache piñata of your own! On Friday, celebrate by smashing a collaboratively made class piñata full of treats and treasures!
One-week camp sessions run from June 12 to August 25. Morning classes run from 9 a.m. to 12 p.m. and afternoon classes run from 1 to 4 p.m. Kids can be dropped off for morning classes beginning at 8:30 a.m. and for afternoon classes beginning at 12:30 p.m.
Special Notes
Need a full-day solution? Enroll in a morning and afternoon class, and you can take advantage of our extended day program. Extended day allows your child to bring a packed lunch and stay at VisArts from 12 to 1 p.m. as well as from 4 to 5 p.m. Extended day programs can be purchased when you add an afternoon class to your online shopping cart.
About the Instructor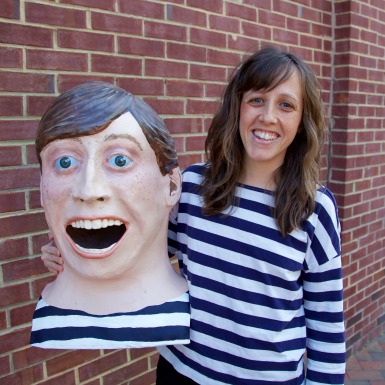 Tesni Stephen
Tesni Stephen holds a BFA in Apparel Design from Rhode Island School of Design and is currently pursuing a Master's in Art Education from Virginia Commonwealth University. Life has taken her through many jobs including being an English teacher in Japan, a visual merchandiser all over the world, a museum technician in a costume and textiles collection, and even learning the art of millinery with Ignatius Hats in Petersburg, Virginia! She loves teaching at the Visual Arts Center because of her love of discovering how things are created, meeting and forming relationships with people, and helping others to love learning and creating.
See More Classes By Instructor
Back to Classes