Intermediate Watercolor
Complete creative design challenges in the first half of class each week to discover your personal visual style and expressive language in watercolor. The challenges will cover plein air, oversized still life, speed painting, rendering from a clothed model, trompe l'oeil exercises and more. During the second half of class each week, you'll work on individual projects or challenges that you've selected with the instructor. A willingness to work on these paintings outside of class is beneficial for personal growth. (For the experienced watercolorist or students who are comfortable with the exercises in Introduction to Watercolor.)
Special Notes
Prerequisite: Introduction to Watercolor class or comparable experience. Jump right in by bringing a drawn scene on watercolor paper to the first class. Classes are confirmed one week prior to the start date. In order to help us confirm classes, please register as early as possible. Supply List: Students should bring preferred materials to the first class; instructor will discuss additional materials.
About the Instructor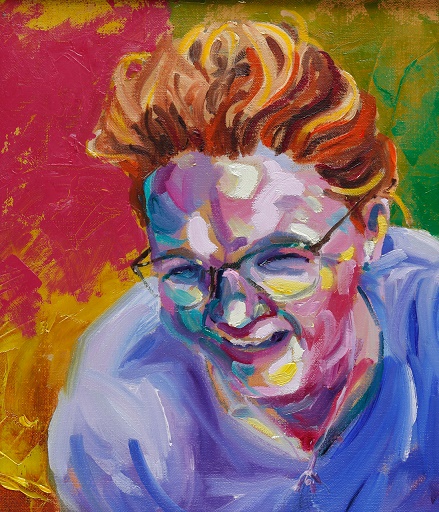 Kathy Calhoun
Bio
RVA based painter Kathy Calhoun's initial foray into art began in her mom's studio (a.k.a the kitchen table) with that groovy 70s stand-by, tole painting. She then furthered her studies by breaking into her older brother's room to hand copy his album covers. It was only after two art degrees (JMU and VCU), many solo exhibitions, stints in New York and Paris, and teaching on many different levels that Kathy discovered that this was following in a time honored master teaching technique. The copying that is, not the breaking and entering. Luckily her brother did not press charges.
Kathy's work now gets awards, occasional press and can be found in private and corporate collections, scattered around the United States and in Europe. She has also expanded from the kitchen table (though it sometimes still comes in handy) to a "real" studio as well as teaching regional workshops (The Art League, Nimrod Hall), at art centers (Visual Arts Center) and on a university level (Longwood).
Philosophy
Her approach to teaching art is a lot like the method she used to get her children to drive…learn how to start the car before planning the road trip! A firm believer in the "You gotta know the rules before you can break them" mantra, Kathy loves using the classical atelier approach to introduce the foundational design techniques needed for realism. She then encourages her students to discover how they want to express themselves and find their voice with these newly developed skills
Website: KathyCalhoun.com
See More Classes By Instructor
Instructor Website
Back to Classes