Contemporary Tapestry Weaving (Ages 7-8)
Take a trip through the ancient world of tapestry weaving and learn a variety of hand-knotting techniques with which to garnish your pieces. We'll take several field trips outdoors to gather organic materials to add to our work.
About the Instructor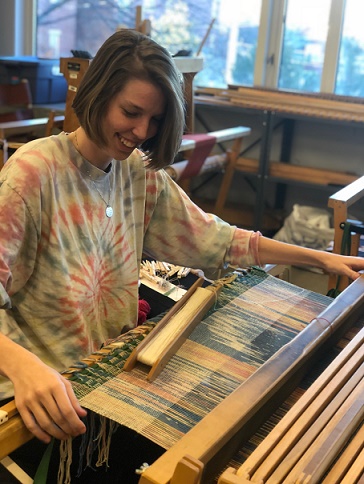 Noelani Jones
Noelani Jones, also known as the "Weaver Beaver," is a community-building fiber artist passionate about strengthening communities and individuals with art and an appreciation for the natural world. Recently graduated from Virginia Commonwealth University School of the Arts (VCUArts) with a focus in fibers and textile design, her work primarily consists of weaving, natural dyeing, felting, and screen printing. Noelani's work is concerned with restoring dignity, respect and proper understanding to the history of Hawai'i, its colonial origins, and ongoing tensions between indigenous and American white transplant populations. She was featured in the 2017 Juried Fine Arts Exhibition at the Anderson Gallery and has showed at Valet for the release of Gliese, a queer space zine in Richmond, Virginia, and Studio Two Three for the Craft/Material Studies Thesis Show in Richmond, VA. Most recently, she will be weaving on site at the Anderson Gallery in Richmond, Virginia in June 2018.
See More Classes By Instructor
Back to Classes