VisArts Announces Jude Schlotzhauer as Recipient of Shelly Shepherd Master Teacher Award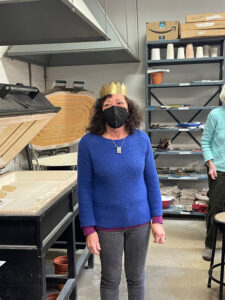 The Visual Arts Center of Richmond announced artist and long-time instructor Jude Schlotzhauer as the recipient of the 2022 Shelly Shepherd Master Teacher Award. The Master Teacher Award goes to an instructor who exemplifies VisArts' mission through their excellence, creativity, and dedication to their students. Students, staff, faculty, board members and the public nominate an instructor for the award.
Jude has been a teacher at VisArts for over 16 years, offering various classes in fusing and casting processes. "The glass program at VisArts is devoted and still growing, and this is largely due to the work Jude has done to cultivate community and elevate the classes and processes we teach," says Jordan Brown, VisArts' Director of Education.
Jude has been involved with VisArts, or as it was known then, the Hand Workshop since the 1980s. As an instructor, Jude has helped VisArts attract new students, encourage repeat students to grow, and has provided many hours of her time to VisArts staff to continue to improve the studio space. She has also been a frequent resource for new teachers, welcoming them into the space and sharing her skills and knowledge to ensure instructors have what they need to succeed.
Outside of VisArts, Jude is a full-time studio glass artist with a BFA in painting and an MFA in glass working. In addition to teaching glass kiln working at VCU for over 25 years, she has taught as a visiting artist at many universities and art centers throughout the country, in Mexico and Malaysia. Her work is in many private and corporate collections, including Capitol One, Verizon and Chesapeake Capitol Corp. Her public art commissions are installed locally at MCV, Randolph Community Center, Fire Station 16, Childrens' Museum, and VCU dining center, and as far away as a Marine Officers complex in Japan.
Jude joins an impressive cohort of Shelly Shepherd Master Teachers Award recipients. Jude Schlotzhauer will be honored at VisArts 36th Annual Collectors' Night on May 14, 2022 at the Visual Arts Center of Richmond.