"MIRA, MIRU," An Exhibition by VisArts Resident Artists Amarise Carreras, Eric Rivera Barbeito and Sayaka Suzuki Opens March 11
"Mira, Miru," an exhibition of work by the Visual Arts Center of Richmond's 2021-22 Annual Resident artists Amarise Carreras, Eric Rivera Barbeito, and Sayaka Suzuki opens in the True F. Luck Gallery at VisArts on Friday, March 11. The exhibition will be on view through April 24th. An artist talk will take place at the closing reception on April 22nd from 5-7:30 pm.
The words "mira" and "miru" mean "to look" in Spanish and in Japanese, a nod to the common thread these artists share in exploring cultural identities and histories from both personal and globally-focused perspectives. Guest curated by Caroline Wright, this exhibition features mixed-media installations by all three artists, highlighting their individual explorations and recent use of new materials within VisArts' studios over the past six months.
"These artists have unique voices, although individually, each one is exploring issues of identity and culture.  Each artist is also exhibiting work that reflects experimentation with new materials and processes–woodworking, ceramics, letterpress, to name a few — and each is developing exciting studio practices as a result," says Caroline Wright who is guest-curating the show. "The work shows why a residency like this is so important —and in some instances, career-changing—for emerging and mid-career artists."
About the Artists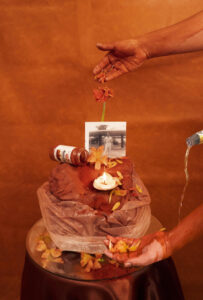 Amarise Carreras is a photo-based performance artist from Queens, New York City. They received their BFA in Photography and Film from Virginia Commonwealth University in 2018. They examine their past and present history through co-writing narratives that center their matriarchal and queer lineages. They explore identity within their diasporic experience through installation, performance, and documentation. Amarise has been shown in galleries such as Candela Gallery, Transmitter, and Wallworks. They are currently featured in Aperture Magazine and Nueva Luz, a photographic journal.  Read More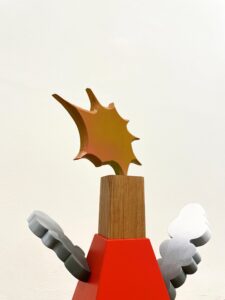 Eric Rivera Barbeito (b. 1994) integrates a multidisciplinary practice to highlight concepts describing Puerto Rico's social-political relationship with the United States. Born in San Juan, Puerto Rico, he received his BFA from the Maryland Institute College of Art in 2017, and relocated to Richmond, VA, where he currently lives and works. Rivera Barbeito was an Artist-in-Residence at the Vermont Studio Center and ACRE, and has been included in group exhibitions at Towson University, School 33, Terrault Contemporary and Tiger Strikes Asteroid Philadelphia. He is currently an Artist-in-Residence at the Visual Arts Center of Richmond. Read More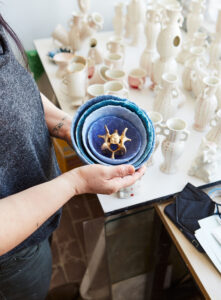 Originally from Yokohama, Japan, Sayaka Suzuki is currently based in Richmond, VA. Suzuki creates works that explore her deep roots in Japanese culture in conjunction to her new adopted identity as an American immigrant. Exploring colors, designs and traditions of Japanese textiles, she explores this dual identity in the form of sculptures and installations.
Suzuki received her BFA from Tulane University in New Orleans and her MFA from the Virginia Commonwealth University. Her works have been exhibited nationally and internationally including solo exhibitions at the Virginia Museum of Contemporary Art and Pensacola Museum of Art (FL) and include group shows at the Washington Project for the Arts-Corcoran (DC), New Mexico Museum of Art, Czong Institute for Contemporary Art (Korea), and Museo Crocetti (Italy) among others. Suzuki is a recent recipient of the Virginia Museum of Fine Arts Fellowship and was a recent fellow at the Vermont Studio Center. She continues to teach at The Virginia Commonwealth University as well as workshops around the country.  Read More
The Visual Arts Center of Richmond's Annual Artist Residency is an 11-month program that invites three emerging visual artists and one creative writer to use resources available at VisArts to develop their creative practices, explore various media and make new work. The Annual Artist Residency is funded in part by the National Endowment for the Arts, the Windgate Foundation, CultureWorks, Virginia Commission for the Arts, and the Allen and Margot Blank Foundation.