VisArts Teacher Tommy Van Auken to Receive Theresa Pollak Prize for Excellence in the Arts on Dec. 19
Long-time VisArts teacher and painter, Tommy Van Auken, will be honored with a Theresa Pollak Prize for Excellence in the Arts on Tuesday, Dec. 19.
Richmond Magazine is celebrating 20 years of awarding the Pollak Prize, which honors Richmond artist and educator Theresa Pollak. She started what evolved into the art schools of both Virginia Commonwealth University and the University of Richmond.
Van Auken has been an instructor at at VisArts since 2003. During most sessions, he teaches five classes—drawing fundamentals, introduction to oil painting, introduction to figure drawing, figure drawing and painting, and Art League courses, which are geared toward high school students.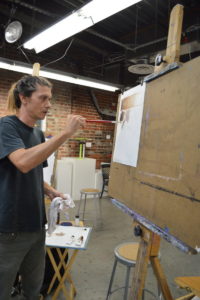 "Tommy has been with us for many years and we've seen his unique ability to inspire any audience," said Jordan Brown, director of education and programs at the Visual Arts Center of Richmond. "Tommy has worked with kids, teens and adults and has been a part of nearly every program of ours over his time here. His students say that he is a gifted teacher who can put himself in the shoes of his students and meet them where they are."
Van Auken grew up in Richmond and attended Corcoran in the 1990s. He has shown his work at Eric Schindler Gallery for more than two decades and has previously shown work at Joan Wisch & Co. in Houston; Second Street Gallery in Charlottesville; and ArtSpace and 1708 Gallery in Richmond.
Van Auken received the Shelly Shepherd Master Teacher Award in 2016. The award goes to an instructor who exemplifies the Visual Arts Center's mission through his or her excellence, creativity and dedication to students. Students, staff, faculty, board members and members of the greater Richmond community are invited to nominate their favorite instructor for the award.
Van Auken will receive the Pollak Prize at a ceremony on Tuesday, Dec. 19 from 6-8:30 p.m. at the Virginia Historical Society.