Make art at home on your own time!
These fun boxes are packed with the supplies and instructions you need to complete three, unique visual art projects, designed by professional art teachers. Each pack also includes access to video tutorials for two of the three projects, led by the teachers who designed them.
Packs are designed for kids ages 3-10 (Kids ages 3-7 will need assistance from a parent or guardian). We'll be releasing additional packs for ages 11+ later this fall! 

PRICES
Individual Packs: $65 per pack **Home shipping available for extra fee**
Subscription (one pack each month for 10 months): $600 one-time payment or $60 per month **Home shipping available for extra fee**
PACKS AVAILABLE NOW
Little Art Adventurer (Created by Kathleen O'Connor)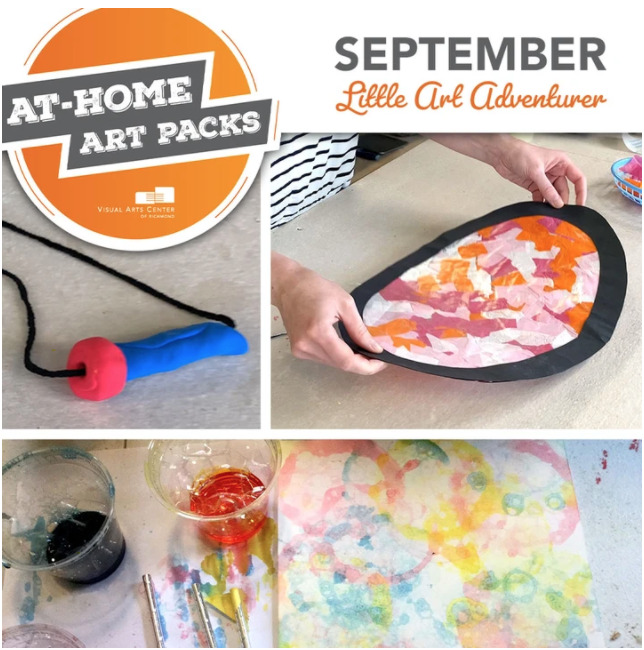 Go on an art adventure with this pack, which includes three, unique projects designed for kids ages 3 to 10!
Project Descriptions:
+Bubble Painting: Do you like blowing bubbles? Do you like painting? Combine the two to create fun bubble paintings. Explore texture and color using everyday kitchen items.
+Clay Bead Jewelry + Sculptures: Using model magic, we'll explore colors and shapes to create fun jewelry and abstract sculptures.
+Torn Paper Stained Glass Art: Using different types of paper, you and your young artist will have fun ripping up paper, exploring color, shapes, transparency, gluing, and cutting to create a stained glass window of your own.
About the Artist: Kathleen O'Connor is an artist living and working in Richmond, VA. Originally from Wichita, KS, Kathleen moved to Richmond to finish her MFA in the Craft/ Material Studies Department at VCU in 2016. Kathleen uses a wide variety of materials, including clay, papier-mâché, drawing, and writing. She enjoys helping students learn about different materials, ways of making, and where things overlap. In addition to teaching classes at the Visual Art Center of Richmond, she is the Program Coordinator and an instructor at Art on Wheels.